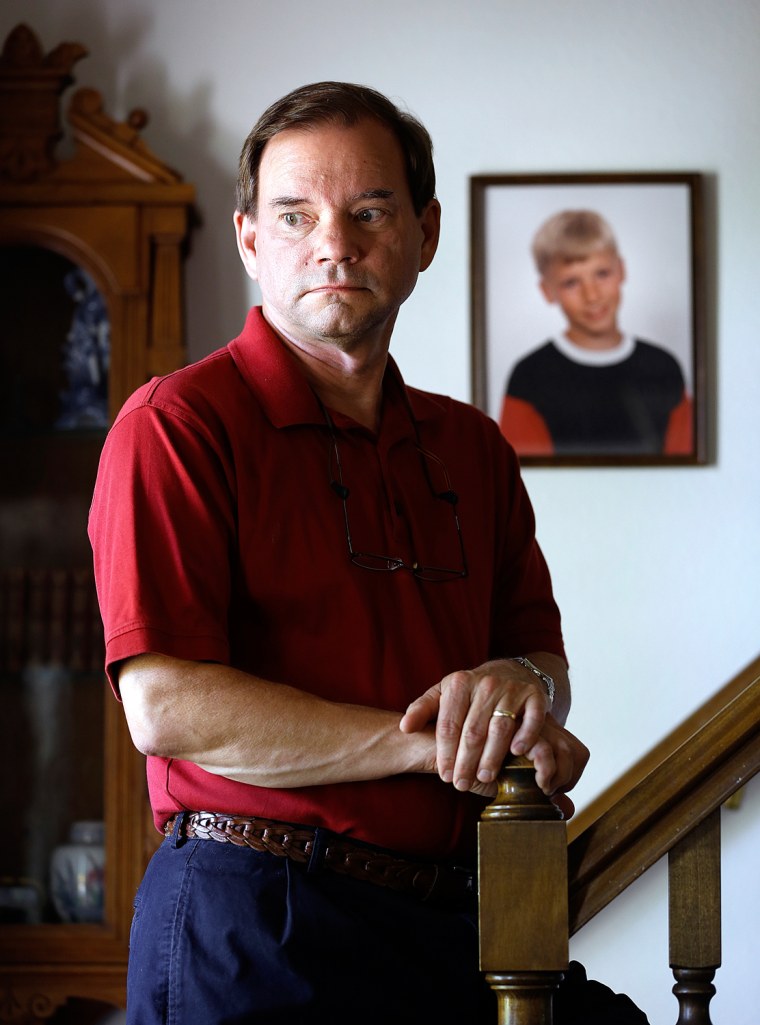 Denver-area residents – especially those who lived through the Columbine shootings near Littleton, Colo. – awoke to Friday's news, unleashed a collective gasp and murmured into their TVs, phones and laptops: "Not Colorado. Not again."
In Mile High City coffee shops and on shady neighborhood streets, most gazes were blank and most heads were silently shaking, as we shared a nauseating rush of déjà vu, a mutual boot to the belly.
Or, in the case of Tom Mauser, who lost his son, Daniel, during the 1999 shootings at Columbine High School, a painful sensation of another sort.
"Mine was more like a kick to the groin," Mauser said. "My phone had been ringing since 5 a.m. (with friends seeking to relay the news) but I didn't answer. At 6:30, another call. Then I turned on the TV. It was unreal to see this once more."
"A wave of horror," said Diane Carman, who covered Columbine for the Denver Post. "Although the incident was very different from Columbine, the impact on the community is similar in that the victims are so random and the crime is so senseless."
At a gym near his home in Niwot, Colo., northwest of Denver, Mike Hart noticed, he said, "the scene was weird, like everyone was walking around stunned, staring at the televisions throughout … Not Colorado, not again."
Before the movie theater rampage in Aurora early Friday that killed 12 and wounded dozens, the summer of 2012 had already been usually cruel in Colorado after a series of wildfires torched more than 500 homes and killed three people.
"It's one more awful tragedy in what has seemed like an apocalyptic summer," said Carman, now director of communications for the University of Colorado of Denver School of Public Affairs.
But it is the terrible echo of Columbine that truly has fueled local feelings that mass murder somehow seems stuck on a surreal loop. In that attack, carried out by two Columbine students, 12 teenagers and one teacher were killed and 21 other people were wounded.
"The main reaction from me is: what the hell is happening to us?" Mauser said.
"Haven't we had enough tragedy?" asked Hart.
"Columbine is just etched in everybody's memory. And nationally, it really became a jumping off point for discussions of violence in America," Hart said. "Whenever there's a senseless shooting of innocent people, in the articles written, they always say it's been nine years, or 10 years or 13 years since the last senseless mass murder – Columbine."
In that way, Hart believes, the cinema killings in Aurora won't make Colorado infamous as a beautiful state where ugly, mass tragedies go down.
"Unfortunately, I think we may already have a reputation," said Hart, Chief Operating Officer at Boulder-based Bolder BioTechnology, Inc. 
"Yes, we've had two mass shootings that especially resonated with people. Yes, we are tainted by gun violence. But our rate of gun violence in Colorado is no where near what it is in other states. If people are trying to make us into the Wild West, I think that's a bad rap," added Mauser, who today works as the spokesman for Colorado Ceasefire, the only gun control group in Colorado that endorses and supports certain candidates for elected office. He also recently self-published a book about losing his son at Columbine, "Walking in Daniel's Shoes."
"It's pretty early to draw a conclusion" as to whether the rest of the nation or the world will look at Colorado as an unruly, gun-happy place, Carman said.
"But let's face it, Colorado has always been very pro-gun-rights state. And there is an undercurrent of an old frontier mentality here. So I would suspect that people would divide along those kind of lines on this issue," she added. "Some will still feel that (gun ownership) is a strong tradition and value here. But there are some who will suggest that maybe it's time to reconsider that."
Related content from NBCNews.com: