Survivors of the Colorado movie theater shooting massacre say they initially thought the man dressed in black who entered through an emergency exit door was part of the premier of the new Batman movie.
"I thought it was a joke or part of the show," survivor Jennifer Seeger told TODAY. "He came in and threw in the gas can, and then I knew it was real." 
The gunman shot and killed 12 people and wounded dozens more at the movie theater in Aurora, Colo., about 20 minutes into the movie.A man identified as James Eagan Holmes has been arrested in the case. 
Seeger, 22, said she was sitting in the second row of the theater, and the shooting suspect was about five feet away from her when he entered.
Another survivor, Tanner Coon, 17, said he was at the showing with a friend and the friend's 10-year-old brother, sitting in the fourth row from the back of the theater.
"I saw a tear gas can fly over the audience," he said. "There was a loud bang and I saw a flash, and I just thought maybe fireworks, you know, people do that kind of stuff at midnight premiers, but I heard more flashes and I instantly knew those were gunshots."
Another survivor, Corbin Dates, said he was inside the theater when the shooting started. He described the masked gunman, saying he first thought the shooting was "a stunt" for the movie.
"I thought it was for a thrill," he said, "but then people are really, really screaming." 
After the suspect threw the gas cans in the air, Seeger said, he fired a shot toward the ceiling. She described the ensuing 20 minutes as "pure mass chaos" as the suspect turned his guns on the audience. 
"He pointed the gun right at me," Seeger said. "I got terrified. I didn't know what to do like a deer in headlights. At that point, I dove into the aisle, and curled up into a little ball and waited for him to go away. I got lucky because he didn't shoot me."
"But then he started to shoot people behind me, and thebulletsstarted falling on my head," she said. "It was like burning my head because it was so fresh. I could smell gun powder." 
At that point, Seeger said, she tried to think of an escape route. 
"I was crawling, and I told my friend, I said, 'Once he gets up there, he goes up to the stairs, we've got to get out of here, we've got to get out of here,'" she said. "So we start crawling, we start crawling and everybody's going for the door, and then everybody starts coming back in, they're saying, 'No, he's going to shoot the people trying to get out of the door, and he did.'"
A surviving victim of the shooting, Virginia Beach native Marcus Weaver, told NBC affiliate WAVY.com in Portsmouth, Va., that when shots finally stopped long enough to make a run for it, the theater became "frantic."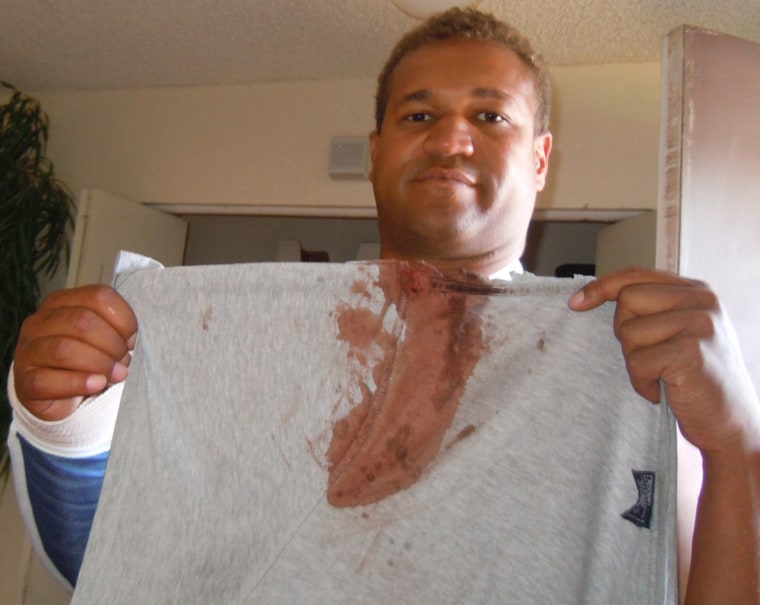 Profile of the shooting suspect
12 shot dead at 'Dark Night Rises' screening
"When I was jumping over the seats to get to the exit, there were people trampling over people who were lying on the ground," Weaver said from his hospital bed in Aurora, Colo. "It was just the most horrific scene I have ever seen."
Weaver said he suffered two gunshot wounds to his right shoulder. He was treated on the scene and taken to the hospital. He was released Friday morning.
Meanwhile, trapped inside the panicking theater, Seeger said, the gas began to take effect. 
"I was coughing, my eyes were tearing up," she said. "I was just scared and my adrenaline pumped in and I tried to get out. It felt like forever."
"They said, 'This guy's coming back, he's going to shoot you, he's going to shoot you,'" she said. "So I just ran as an instinct."
Seeger said she remembered seeing a number of children in the audience as she fled the theater, including a 6-year-old who was shot and killed on the scene.
"I was trying to escape and there was a little girl, like 12 or 14, just laying lifeless on the stairs," she said. "I didn't know what to do. I was just completely distraught. There were dead bodies everywhere, there were people hurt everywhere, there was blood and guts everywhere." 
More content from NBCNews.com: