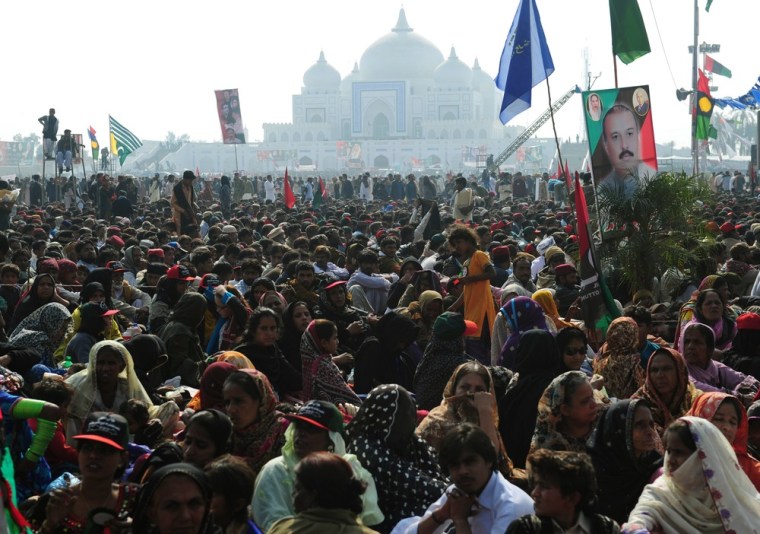 GARHI KHUDA BAKHSH, Pakistan --  In a country where ethnicity is more important than nationalism, little is celebrated collectively other than the odd cricket victory, and most fallen heroes are forgotten or berated, the commemoration of assassinated Prime Minister Benazir Bhutto has gone the other direction and is verging on deification.
Since Bhutto's death on Dec. 27, 2007, the region's deep obsession with mysticism and the occult has evolved to incorporate her legacy.
"I'm here because the 'martyred queen' was there for us," said Mustafa, a police officer from Bhutto's nearby hometown of Larkana who volunteered to oversee security during a rally last week at a massive Bhutto mausoleum, a modern rendition of the Taj Mahal.
As Mustafa talked, electricity seemed to fill what is now Pakistan's most politicized tomb, with nearly a quarter of a million followers thronging to Bhutto's ancestral graveyard. It was Pakistan's State of the Union, Woodstock and Thanksgiving Day Parade, all rolled into one.
"I have this honor to serve in uniform because she bequeathed it," the 29-year-old Mustafa told NBC News, as house music remixed with Sufi poetry and Bhutto's own speeches rang through state-of-the-art speakers in a walled-off compound the size of a dozen football fields. 
The posthumous granting of titular royalty upon Bhutto is hardly surprising. Bhutto's brand of populism raged in the days leading to the main event -- a speech on Thursday by her son, 24-year old Bilawal Bhutto Zardari, which propelled him into the rough and tumble mainstream of Pakistani politics.
An A to Z guide to the Islamic Republic of 'Banistan'
Considered Pakistan's most important political dynasty, the Bhuttos have crafted a critical brand over nearly five decades: Ivy Leaguers with feudal holdings; anti-military progressives with Islamic leanings; minority Sindhis who have challenged the Punjabi majority; loud and proud Shiites in an increasingly tense and sectarian Sunni country -- a modern cross between the Kennedys, the Tudors and the landed rajas of the subcontinent.
Bhutto's assassination just reinforced the existing cult of martyrdom widely followed by many in her constituency in the Sindh province and throughout Pakistan, according to Raza Rumi, who directs policy for The Jinnah Institute, one of Pakistan's leading and more liberal think tanks.
"The legends and myths of famous Muslim sacrifices through the centuries have set the parameter for this religious/magical/political framework that now dominates her narrative," he said. 
Hashish, whiskey
At last week's rally, the smell of hashish and whiskey whiffed from dark corners, mixing exotically with the aroma of the langar, a makeshift community cafeteria designed to feed thousands. But it was the combination of mysticism and politics that make the growing movement surrounding the Bhutto legacy unique.  
Full NBC News coverage of Pakistan
Dilawar, 28, and Samina, 20, who had trekked from neighboring Dadu with their 2-year-old child, swore about the magical powers of "Bibi Shaheed," which translates from Urdu as "Martyred Lady."
"It was this annual ziarat and dua (pilgrimage and prayers) to her grave that made our baby come into the world. Our conditions got better. That's why we come every year," Dilawar told NBC News.
7 aid workers shot and killed in Pakistan
Speaker after speaker took to the 40-feet high stage protected by bulletproof glass. "One Zardari outweighs them all!" the crowd chanted.
The reference was for the man who had just landed via helicopter, the current president and Bhutto's widower, Asif Ali Zardari, who has managed to keep her party -- Pakistan's most popular -- intact and in command, but barely, of the nation's divided and war-torn polity.
'Modern political goddess'
"[During the] last five years, the death anniversary of Bhutto has turned out to be a bigger event than many actual mainstream religious events across Pakistan," said Rumi, the policy analyst. "That's phenomenal politics. The invocation of Sufi legends with a modern political goddess have altered the spiritual consciousness of the rural population." 
The credit for sustaining the Bhutto brand through the institutionalization of this commemorative rally goes to Zardari. In a country accustomed to military coups, he has almost completing the full term of an elected civilian government for the first time since the Pakistan's independence 65 years ago.
Can social media propel 'rock star' politician Imran Khan to power in Pakistan?
While Zardari is considered one of Pakistan's sharpest political operatives, he is less popular than Bhutto was, and spent the years between 1996 to 2004 in jail on corruption charges that he says were politically motivated. But as he grooms his son to take over the country's largest political party, he continues to be locked in a power struggle with the judiciary as well as the so-called deep state, local parlance for the military establishment.
At the rally, which his government branded "The Day of Martyrdom," the hundreds of thousands greeted Zardari with a roar of approval as he pledged free elections in a country unaccustomed to them.
More world stories from NBC News: