An ingenious con man with a gift for mimicry awaits sentencing after he used a smuggled-in cellphone to create a fake British government email account, which he then used to persuade prison officials to set him free, according to court and Internet domain records.
Neil Moore, 28, of Ilford, northeast of London, was in Wandsworth prison — the same maximum-security facility Ronnie Biggs, the Great Train Robber, famously escaped from 40 years ago — awaiting trial on fraud charges in March 2014, according to Southwark Crown Court records.
That's when he set in motion what Prosecutor Ian Paton acknowledged was a scheme of "extraordinary criminal inventiveness, deviousness and creativity," which he described in court last week:
Using a cellphone, which prisoners aren't allowed to have, Moore used an Internet domain registration service to create a fake Web address closely resembling that of Britain's Royal Courts of Justice, Paton told the court, according to the BBC and Britain's Press Association. Once he had the email account, Moore posed as a court clerk and sent an email telling Wandsworth managers that he'd been granted bail.
RELATED: With One Phone Call, Arizona Man Conned His Way Out of Police Custody
The prison duly released him on March 10 of last year, court records show. But three or four days later, he had a change of heart, his lawyer told the Press Association, and he turned himself in.
Moore pleaded guilty to eight counts of fraud and one count of escape from lawful custody and is scheduled to be sentenced on April 20, court records show.
The fake domain Moore created has expired, but NBC News was able to archive its domain registration: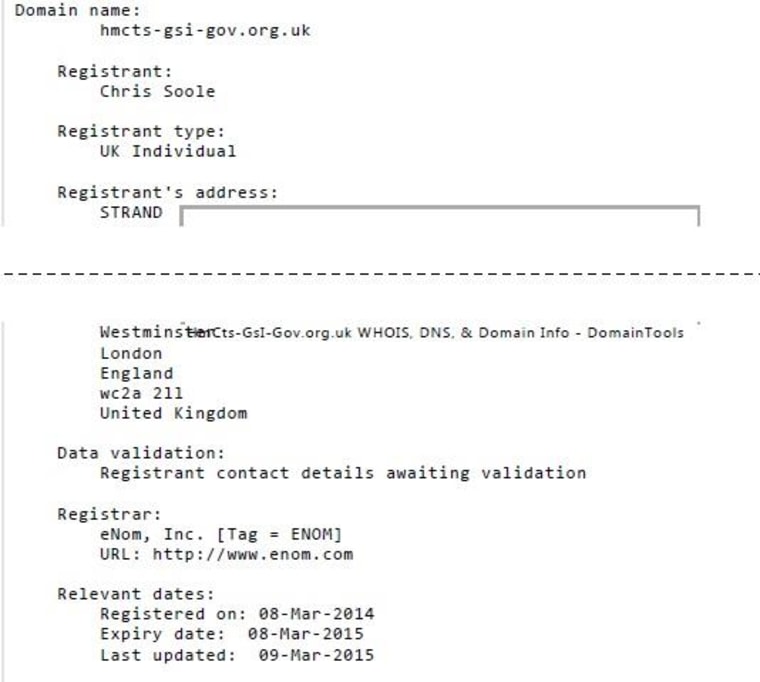 The domain record shows that Moore used a kind of online fraud called "typosquatting," in which someone takes a well-known domain name (the main part of a web address), changes a letter or two and registers that as a new site.
For example (and we don't advise you to do this), if you mistype NBC News' name as ncbnews.com, you don't get a message telling you you've made a mistake. Instead, you're taken to another website registered by someone unconnected to NBC News. In this case, you're asked to take a survey on your buying habits by a marketing company that registered ncbnews.com before NBC News itself could.
(Note: ncbnews.com was taken down Tuesday after this story was published and is no longer available. But you get the idea.)
Moore's fake domain created email addresses ending @hmcts-gsi-gov.org.uk, according to the registration record. Addresses for Royal Courts staff look very similar: @hmcts.gsi.gov.uk.
Audaciously, Moore, perhaps as an inside joke, registered the fake domain under the name Chris Soole — the detective inspector in charge of investigating his case. And according to his hometown paper, Moore's original fraud escapades were just as audacious.
The Ilford Recorder reported Monday that Moore impersonated staff from Barclays, Lloyds and other major banks and — sometimes impersonating a woman — persuaded other large financial institutions, like Thomas Global Exchange, to transfer him cash that ended up totaling £1.82 million.
If you're keeping score at home, that was equal to a little more than $2.66 million U.S. at the close of financial markets Monday.