Whenever House Speaker John Boehner (R-Ohio) is asked about Congress' woefully low approval rating, he invariably responds by noting history: for as long as there's been a Congress, it's been unpopular with the public.
And to be sure, there's certainly something to that argument. But what Boehner and every other lawmaker needs to realize is that since the dawn of modern polling, Congress has never been this unpopular.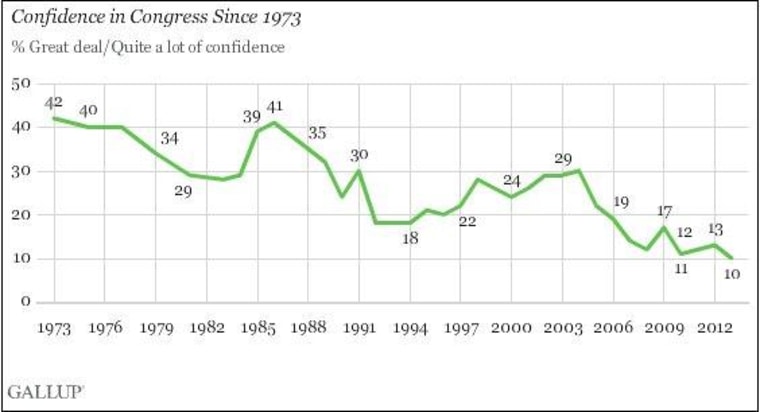 Gallup reported yesterday, "Americans' confidence in Congress as an institution is down to 10%, ranking the legislative body last on a list of 16 societal institutions for the fourth straight year. This is the lowest level of confidence Gallup has found, not only for Congress, but for any institution on record."
What's more, it's a bipartisan phenomenon. Traditionally, when there's a Democratic Congress, the legislative branch could at least count on some support from Democratic voters, and under a Republican Congress, the same would be true of GOP voters. But now that there's split control over the chambers, every one of every partisan and ideological stripe feels equally comfortable criticizing the institution with similar zeal.
For what it's worth, I tend to think 10% confidence is a little on the high end. Indeed, I'm wondering what those satisfied folks are thinking.
The 112th Congress was arguably the worst the nation has ever seen, and the 113th isn't shaping up to be much better. The combination of Republican obstructionism and a radicalized House majority unwilling to compromise has created a dynamic in which governing -- and even completing basic tasks -- is nearly impossible.
And if the public thinks it's bad now, wait until the fall when GOP lawmakers threaten to crash the economy on purpose as part of the next debt-ceiling crisis.
The irony, of course, is that Congress has a problem that's rather easy to fix. If lawmakers want to improve on this 10% figure, it can pass a popular immigration-reform bill, turn off the deliberately harmful sequester, pass a measure or two to reduce gun violence, maybe consider a bill or two that creates jobs, and give up on pointless "scandals."