BEIJING — The U.S. and China are hurtling toward inevitable "confrontation and conflict" unless Washington changes course, Beijing's new foreign minister warned Tuesday.
Chinese Foreign Minister Qin Gang's fiery comments underlined the deepening tensions between the world's two largest economies in the wake of the surveillance balloon saga and Russia's war in Ukraine.
They echoed similarly sharp remarks Monday by China's leader, Xi Jinping, blaming U.S. efforts to contain China for deteriorating relations and suggesting Beijing would increasingly seek to push back.
Qin spoke at a news conference in Beijing, his first since he took office in December, on the sidelines of the annual meeting of China's rubber-stamp legislature, where Xi is expected to complete the biggest government reshuffle in a decade.
In a wide-ranging rebuke of U.S. policies, Qin — who until recently was the Chinese ambassador to the U.S. — questioned President Joe Biden's assertion that the U.S. seeks competition with China but not conflict.
"In fact, the U.S. side's so-called competition is all-round containment and suppression, a zero-sum game," he said, suggesting conflict may be unavoidable unless Washington stops trying to suppress Beijing.
"The U.S. side supposedly wants to put 'guardrails' on Sino-U.S. relations and not to clash," Qin continued. "In fact, it wants China not to respond in words or action when slandered or attacked. That is just impossible.
"If the U.S. side does not put on the brakes and continues down the wrong path, no amount of guardrails can stop the derailment and rollover into confrontation and conflict," he said.
In a speech to political delegates Monday, Xi also accused the U.S. of trying to fence China in.
"Western countries led by the United States have implemented all-round containment, encirclement and suppression of China, which has brought unprecedented severe challenges to our country's development," he said, according to Xinhua, China's state-run news agency.
Qin also criticized Washington's decision early last month to shoot down a suspected Chinese spy balloon off South Carolina, repeating Beijing's insistence that it appeared over U.S. territory by accident.
"The U.S. side violated the spirit of international law and international practice by making presumptions of guilt, overreacting, abusing force and making use of the issue to create a diplomatic crisis that could have been avoided," he said.
Of Taiwan, the self-ruling island that Beijing claims as its territory, Qin said it was the first red line in China's relations with the U.S., which is Taiwan's most important international backer.
"The U.S. bears unshirkable responsibility for the creation of the Taiwan issue," he said.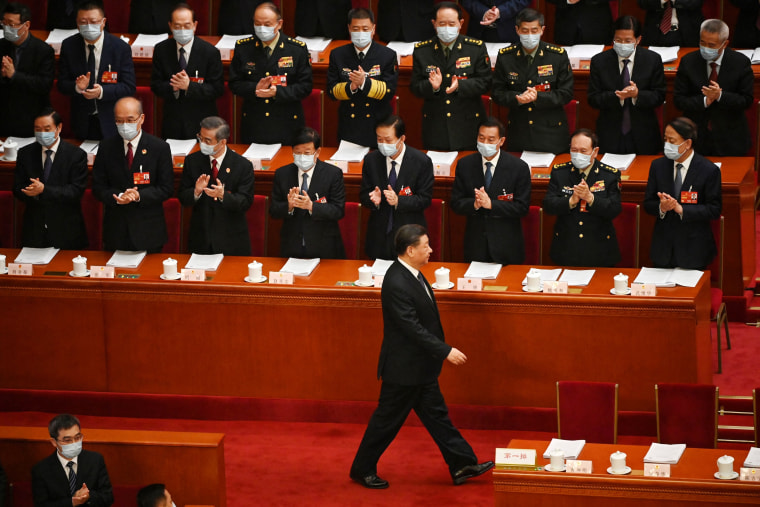 Qin said the U.S. had disrespected China's sovereignty and territorial integrity by providing defensive weapons to the island, which Beijing has said it could take by force if necessary.
He also denied U.S. allegations that China is considering providing Moscow with ammunition and artillery to aid its fight against Ukraine.
The U.S. has warned China not to supply arms to Russia for its war. China and Russia declared a "no limits" partnership weeks before Russia invaded Ukraine a year ago, and China has tried to appear neutral in the conflict, refraining from condemning Russian aggression or even calling it an invasion.
Qin said Tuesday that China-Russia relations "must move steadily forward" as the world becomes more turbulent.
"China is neither the creator of the crisis nor a party to it, nor has it provided weapons to any party to the conflict, so why should China be blamed, sanctioned, pressured or even threatened?" Qin said.
He repeated calls for a negotiated solution to the Ukraine conflict. Western officials quickly dismissed a 12-point peace proposal that Beijing issued last month as too favorable to Russia.
"It is regrettable that efforts to persuade and promote talks have been undermined," Qin said, "as if an invisible hand is pushing the conflict to escalate, taking advantage of the Ukrainian crisis to achieve certain geopolitical intentions."
Eric Baculinao reported from Beijing and Jennifer Jett from Hong Kong.