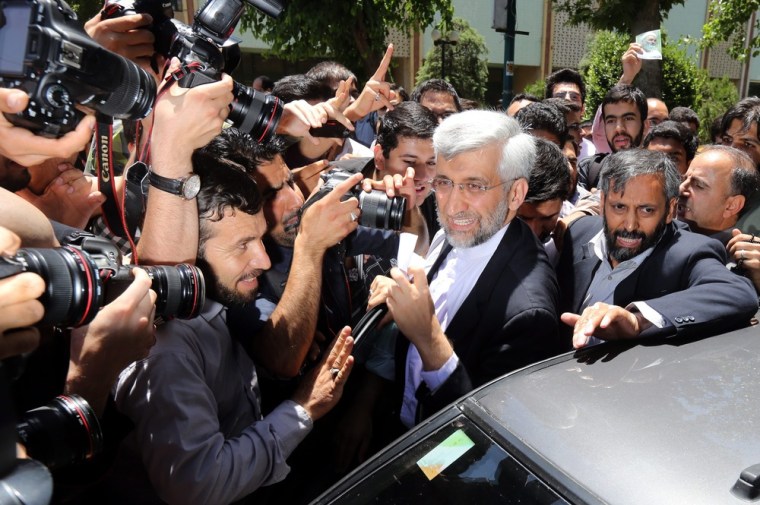 TEHRAN, Iran -- For a while it looked like Iran's upcoming presidential elections would have come with a fair share of fireworks. After all, the country, which remains at odds with much of the world over its nuclear program and steadfast support for Syria's President Bashar Assad, is set to decide who will succeed firebrand President Mahmoud Ahmadinejad.
But so far, some of the more dramatic events in Iran's 2013 presidential election have not even involved politics – over the weekend, three major players all suffered mechanical incidents within hours of each other.
Ahmadinejad's helicopter was forced to make an emergency landing in the north of the country.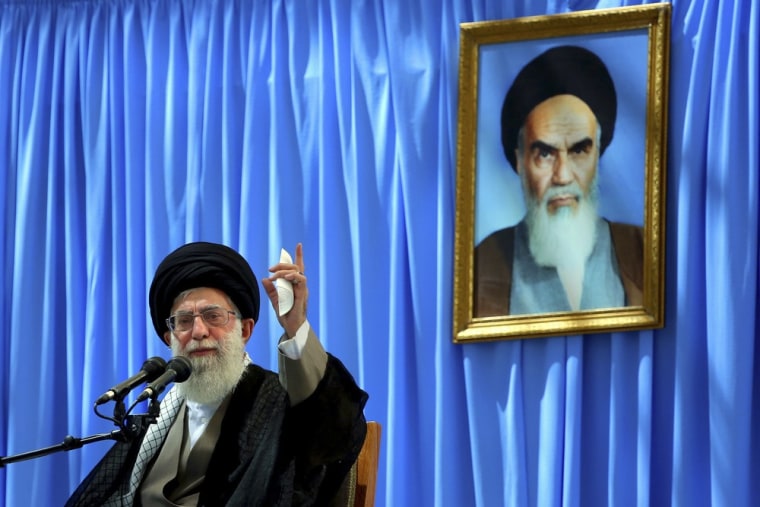 The airplane of Mohsen Rezaei, a former head of the Islamic Revolutionary Guard, was forced to return to the airport in Tehran 20 minutes after takeoff because of mechanical faults.
And front-runner Saeed Jalili's convoy was hit by a truck; the candidate was not injured.
So by all appearances, Iran's conservative establishment has succeeded in stopping the sorts of protests and riots that preceded Ahmadinejad's reelection in 2009 before they even started.
Key to this relative calm was the powerful Guardian Council's decision to bar former president and key player Akbar Hashemi Rafsanjani and Ahmadinejad protégé Esfandiar Rahim Mashaei from running.
Conservative forces set the tone for the entire race during a speech by Iran's most powerful man, Supreme Leader Ayatollah Ali Khamenei.
He warned the field of eight candidates not to bow to Western pressure to halt the country's nuclear program, and not to make concessions
"Some have the wrong analysis that by giving concessions to enemies, their anger towards Iran will be reduced; this is a mistake," Khamenei said during an hour-long speech before tens of thousands of people at an annual ceremony to commemorate the death of Ayatollah Ruhollah Khomeini, the founder of the Islamic Republic.
Candidates have also been instructed not to spend a lot of money on their campaigns.
Even the first round of debates was a far cry from the ones four years ago when candidates seemed to have declared open season on each other, which is thought to have fueled the subsequent violent street protests.
This time around, candidates were given two minutes to address complicated issues like the economy, or were shown pictures and asked to give one-word answers. Some candidates refused to participate in this style of questioning, saying it was an insult to them and the Iranian people.
So it is no surprise that Sayed Jalili, the country's top nuclear negotiator who maintains deeply conservative credentials, remains a front-runner.
Hassan Rouhani, who is seen as a moderate politician who may be open to dialogue with the West, has complained about the pervasive presence of police, intelligence officers and members of the Basij paramilitary corps during the campaign.
"In the streets, universities, schools, organization – we must put an end to this security atmosphere," he said at a recent rally.
Rouhani, a former nuclear negotiator himself, has aligned himself with reformist leaders. Local media is reporting that Rouhani and another reformist candidate, Mohammad-Reza Aref, are in negotiations to build a united front by choosing one candidate to represent both.
A number of people were arrested at Rouhani's rally after chanting slogans calling for the release of Mir Hossein Mousavi, an opposition leader and candidate in the disputed 2009 election who has been under house arrest for more than two years.
With less than a week to go, it looks like the only chance that centrist and reformist camps have is if they unite and inspire their voters to go to the polls. Otherwise, a hands-down victory for the hardliners looks certain.
Related stories: