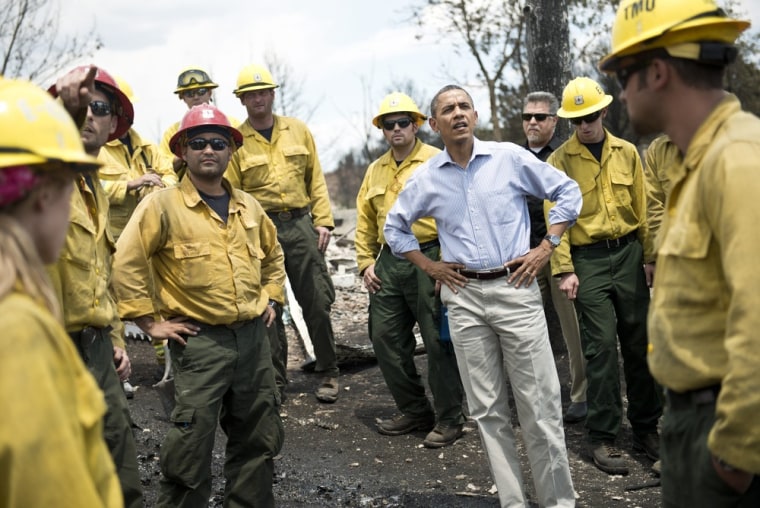 On Hardball Friday, Chris Matthews pointed out the inconsistency of conservatives who are criticizing President Obama, finding some blame in him and his administration for the Colorado wildfires.
Nick Hardin of Talking Points Memo reported earlier today:
Some of the same people who have bashed the president as a big government, big spending liberal now say a wildfire that destroyed hundreds of homes in the conservative stronghold of Colorado Springs can be blamed on the president because he has been too slow to spend money to beef up the federal fleet of air tankers.
The meme began more than a week ago when pundit Michelle Malkin, who lives in Colorado Springs, wrote a piece for the National Review Online titled "Obama Bureaucrats Are Fueling Wildfires."
"The Obama administration's neglect of the federal government's aerial-tanker fleet raises acrid questions about its core public-safety priorities," she wrote.
Asked about this during a news conference Wednesday, Colo. Gov. John Hickenlooper (D) responded: "Were these the same conservatives that were so worried about the Obama administration spending too much money, or were these different conservatives?"
"The irony is particularly brutal when it comes to emergencies," said Chris Matthews. "People who hate the federal government and despise Washington are on the phone in seconds with a 9-1-1 call when they want the federal money. There's an absolute inconsistency there.
And these are the same conservatives who doubt the effects of climate change.
Scientists relate these wildfires to high temperatures. Princeton University's Michael Oppenheimer joined The Ed Show and offered this:
It's a dire picture of what the future holds if we don't bring global warming under control. Global warming is making earth warmer. Earth is just about a degree warmer than it was. It makes many areas drier. If you dry earth out and make it hotter, you get dead trees that rules in the forest. Dead wood, heat, drought, you get fire.
The risk is increasing unless we act to stem the emission of the green house gases causing the problems that result from the burning of coal, oil, and natural gas. We're going to increase the risk.
This is a long term problem. The longer they [government] puts off dealing with it, the more serious it is.