Catholic cardinals apparently deserve a break today — and now they can get one at a controversial McDonald's that has opened a football field's length away from the Vatican.
The McDonald's opened Friday in a Vatican-owned building in the Pio Borgo district of Rome, about 100 yards from the Vatican State, the Catholic Press Agency reported Sunday. NPR's Rome correspondent, Sylvia Poggioli, tweeted a picture of the restaurant Saturday.
The opening was low-key, reflecting widespread opposition that broke out when plans for the restaurant — quickly dubbed "McVatican" — were made public in October. McDonald's made no announcement, and the opening wasn't noted in the official Vatican newspaper, L'Osservatore Romano.
Only a new golden arches icon pinned to McDonald's Italia's online map betrays its existence. (The McVatican is open from 6:30 a.m. to 11 p.m. seven days a week, the listing notes helpfully. Wi-Fi is available.)
The national newspaper La Repubblica reported that McDonald's will pay the Administration of the Patrimony of the Apostolic See — basically, the Vatican's property supervisor — more than $30,000 a month for the bottom floor of the building.
But Cardinal Elio Sgreccia, president emeritus of the Pontifical Academy for Life, told the newspaper at the time that the decision to rent the fast food chain almost 5,800 square feet of restaurant space was "aberrant" and "a perversion."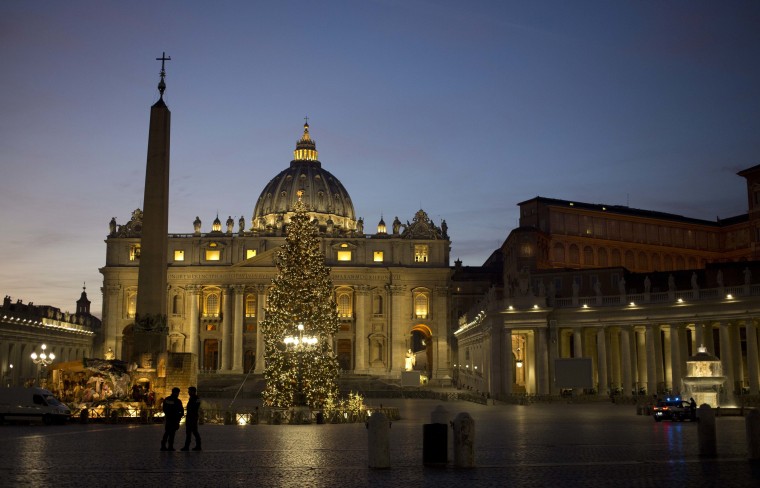 Two other McDonald's are also within a stone's throw of the Vatican — one only a few hundred yards from the Vatican Museum and another about 200 yards away at Viale Giulio Cesare. (And there's a Burger King roughly halfway between them.)
What makes the McVatican so controversial, however, is that it's on actual Vatican property. Not only that, but it occupies the bottom floor of a building that is also home to several senior cardinals — among them Gerhard Ludwig Müller, prefect of the Congregation for the Doctrine of the Faith, the Vatican office responsible for overseeing church orthodoxy.
Sgreccia told La Repubblica that no price is high enough to justify the "disgrace" of selling "unhealthy" food "that I would never eat" in such a place.
"I repeat, selling mega-sandwiches in Borgo Pio is a disgrace," he said. The rent money could better be used to help "the area's needy ... and suffering, as the Holy Father teaches," he said.