LONDON — Academics in Poland are collecting testimonies from Ukrainian refugees. The French sent in forensic experts and mobile DNA labs. And humanitarian groups are interviewing witnesses and victims about laws-of-war violations carried out by Russian soldiers.
Since the horrific scenes in cities like Bucha were discovered last month after Russian troops were forced to retreat from the Kyiv region, experts from around the world have been pitching in to help collect evidence and document potential war crimes in the hopes of holding Russia accountable.
But with so many different groups involved, some experienced human rights investigators and prosecutors say that coordination across the various organizations could be one of the biggest challenges facing Ukrainian officials. 
"This really is sort of an unwieldy beast," said Clint Williamson, a former U.S. ambassador-at-large for war crimes issues who is now leading a joint EU-U.S. investigation in Ukraine. "You just have so many people trying to do things, and it is not a particularly well coordinated effort. And so, you know, there's always the danger you have people working at cross purposes."
Ukrainian President Volodymyr Zelenskyy has called Russian troops "murders," "torturers" and "rapists," and has vowed to investigate and prosecute all allegations of crimes committed by Russian forces. 
It's an enormous amount of work.
Iryna Venediktova, Ukraine's prosecutor general, has said that her office has already opened more than 8,000 criminal investigations related to the war and identified more than 600 suspects. 
The stakes are high. Experts worry that investigations could be less efficient and that some evidence could be mishandled or not make its way to investigative teams with the International Criminal Court and the Prosecutor General's Office in Ukraine, both of which have jurisdiction to prosecute alleged crimes committed in Ukraine.
Since Russia invaded Ukraine on Feb. 24, the ICC has opened an investigation into potential war crimes, along with Ukraine's prosecutor general's office. The United Nations has also launched an inquiry into potential violations of human rights.
Some experts also worry that with so many people working on similar tasks, victims could be interviewed by more than one organization, increasing the risk of retraumatizing people who have survived harrowing experiences. Any discrepancies in their statements could also be used to discredit their case, should it make it to court.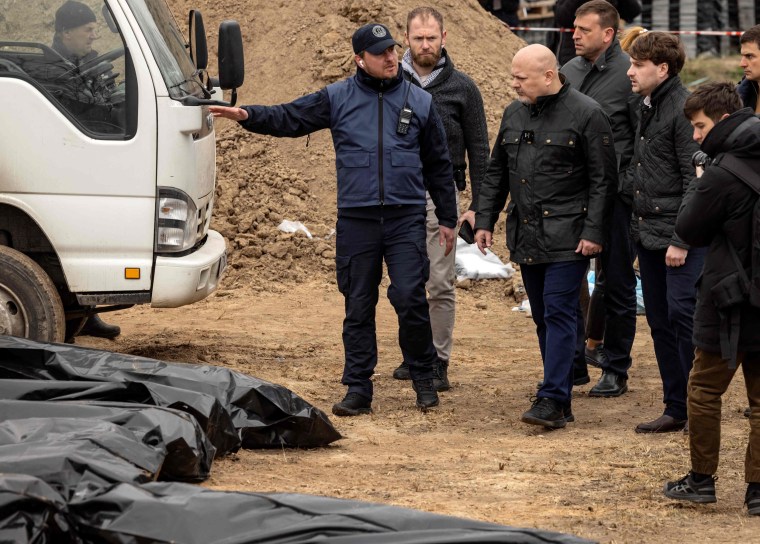 "More does not mean better," said ICC Prosecutor Karim Khan at a press conference when asked how the ICC, the Ukrainian government and other NGOs and international governmental groups were working together. "Coordination is vital." Humanitarian groups, such as Human Rights Watch, have been active in the region, helping analyze open-source information, photographic evidence and collect witness testimonies. Only the ICC and Ukraine's office of the prosecutor general are supposed to handle physical evidence such as bullet casings and mass grave sites.
Stephen Rapp, who led the Office of Global Criminal Justice in the State Department from 2009 to 2015, said that with such a high demand for testimony from survivors of places like Bucha and Mariupol, "there is a possibility of creating inconsistent statements."
People under stress who have just gone through traumatic events might emphasize different parts of their story each time they retell it. The way they remember events can also change over time, and some details can be left out or overlooked. 
Similar to a court proceeding in the U.S., lawyers in international court cases will request to see all statements given by people on witness lists. "You're going to find omissions between them, which they'll try to make something out of," Rapp said. "Professionals are quite worried about that."
These types of investigations can often take a long time. But Khan has said that the international justice system needed to use the war in Ukraine as an opportunity to rethink how it approaches these conflicts to ensure that the court has an "impact."
"We can't work in a way that by the time warrants are issued, or that the prosecutor seeks a warrant, nobody remembers what happened originally," he said, pointing to the 2008 Russo-Georgian war. Warrants were not applied for until 2022 in that case.
There are a limited number of Ukrainian prosecutors and forensic experts, and even fewer who have experience with mass killings and war crimes.
In an effort to boost Ukraine's capacity, the United Kingdom sent a team of experts specializing in conflict-related sexual violence to Ukraine to assist in gathering evidence. The French sent forensic experts and mobile DNA labs that have predominantly been working in Bucha. And the Spanish provided Ukraine with 29 forensic doctors and 10 autopsy specialists.
The additional resources are helping to speed up the process. Venediktova said that Ukrainian forensic experts have the capacity to process four to five bodies a day. But the French teams, thanks to their mobile labs, can process up to 20 bodies a day.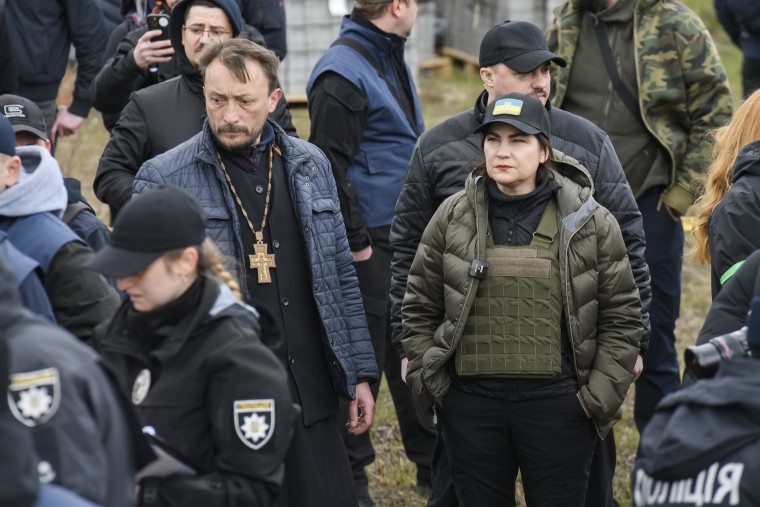 Despite the efforts being made to closely coordinate international government assistance in Ukraine, some say that more can be done to make sure that information gathered by human rights groups and NGOs makes its way to the ICC and the Ukrainian prosecutor general and that organizations are not duplicating efforts.
Civil society groups like NGOs have been at odds with the Ukrainian government for years over corruption-related problems. Some human rights investigators worry that past tension has complicated efforts to work together during time of war.
"I think some in civil society are skeptical of the government's ability to do this. But at the same time, it's really the only game in town," Williamson said. "Civil society can't bring prosecutions, they can't file indictments. So there's a need to kind of pull all this together. And we're far from getting that done yet."
Some civil society organizations have attempted to streamline their process. For example, the Ukraine 5 AM Coalition was founded to help synthesize data and research from more than a dozen human rights groups and share it with government officials, including the ICC and the prosecutor general.
Coalition organizations follow international protocols on data collection and documentation so that it can be used by prosecutors, said Tetiana Pechonchyk, a board member of the Ukraine 5 AM Coalition.
Still, she said they lacked a simplified process to share information.
"There are hundreds of different human rights groups and we cannot make sure that everything ends up in one archive," she said. "We do our best."