BEIJING — Taiwan elected the first female president in the island's history over the weekend.
Tsai Ing-wen, 59, was educated at Cornell Law School. She won 56 percent of the vote compared to 31 percent for her closest rival Eric Chu of the China-friendly Nationalists or Kuomintang Party (KMT) Party, which held the presidency for the last eight years.
Tsai's Democratic Progressive Party (DPP) also won 68 of 113 parliamentary seats, doing the unthinkable by wresting control of the legislature from the KMT for the first time since the formation of modern Taiwan in 1949.
Here are four questions being asked in the wake of Saturday's result on the island of 23 million people which counts the U.S. as its most important ally.
1. Who is Tsai Ing-wen?
With commanding leads for months now, Tsai's victory was never really in doubt. However, it is still a triumphant moment following her bitter defeat in the 2012 election to current President Ma Ying-jeou, who wasn't allowed to run for a third term.
A lawyer boasting a law degree from Cornell and a doctorate from the London School of Economics, Tsai's reputation for being professorial — and at times wonky — seemingly suited her for a number of key government positions she has held over the years. She previously worked as an adviser on the National Security Council and a minister on the Mainland Affairs Council.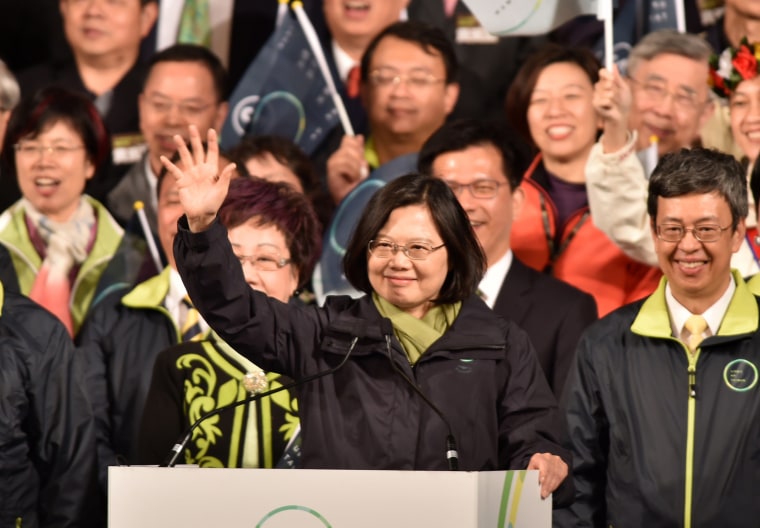 J. Michael Cole, a Taipei-based senior fellow with the University of Nottingham's China Policy Institute and a senior officer at Tsai's Thinking Taiwan Foundation, believes the difference from four years ago is that Tsai has moved away from the "usual" stereotypes associated with the DPP.
"Tsai is more worldly and never hesitates to bring outsiders into her party to change things," Cole told NBC News. "She very much empowers key people when necessary, even when doing so causes distrust or discomfort among the more conservative elements within her party."
Cole notes that unlike the 2012 elections, Tsai has deviated from traditional DPP politics by building alliances with smaller parties and opening the party to a broader cross section of Taiwan to include more activists, academics and Taiwanese who have lived and worked abroad.
On Sino-Taiwan issues, Tsai has also been more measured in her stances — taking a more conciliatory approach to relations with Beijing. Taiwan was a Japanese colony from 1895 to 1945, and split from the mainland amid the Chinese civil war in 1949, when leader Chiang Kai-shek moved his Nationalist government to the island.
Tsai still argues for a democratic and autonomous Taiwan but has throughout this campaign spoken of maintaining the "consistent, predictable and sustainable relationship" that the rival KMT has nurtured under the Ma administration.
China relations aside though, Tsai's main concern — and the main issue she ran on — is trying to figure out how to jump start the island's economy, which has slowed down while incomes have remained stagnant. Slowing brain drain and revitalizing the tech sector will be key to the Tsai administration's success.
2. What went wrong for the incumbent KMT?
During the past eight years, Taiwan has welcomed a period of close diplomatic relations with Beijing that has led to tighter economic ties, more cross-straits tourism and even a surprising first meeting between Chinese President Xi Jinping and Ma last November.
However, for many Taiwanese, closer economic ties did not necessarily lead to increased wages or jobs. The passing of the Cross-Straits Service Trade Agreement, a controversial NAFTA-esque bill that would have opened both economies up to greater trade, was panned by an alliance of students and trade groups who argued that the deal would endanger Taiwanese small and medium businesses and undermine the island's democratic institutions.
Frustrations culminated in the surprising "Sunflower Movement" of March 2014, when a coalition of students and businesses occupied Taiwan's national legislature for the first time in its history.
Since then, the KMT has struggled with a growing public perception in Taiwan that the ruling party could not be trusted in its business dealings with Beijing.
3. How will Beijing respond to Tsai's election?
It's unclear at this point. Sino-Taiwanese relations were not particularly amiable under the last DPP president. Chen Shui-bian served in that role from 2000 - 2008. However, tensions have calmed since then and overall ties have improved.
Analysts on both sides of the straits believe that both sides have incentives to maintain stability.
"The general trend won't change: a peaceful, stable and developing relationship between the mainland and Taiwan should continue," says Ni Yongjie, deputy director of the Shanghai Institute of Taiwan Studies. "The peaceful and stable relations developed over the last few years has been appreciated by most Taiwanese."
From Beijing's perspective, Ni believes Tsai's position on China has evolved from strongly negative to one that appreciates the need for "peaceful and stable cross-strait relations."
4. What will the result mean for U.S.-Taiwan and U.S.-China relationships?
Deprived of formal diplomatic relations with the world's major nations, Taiwan relies on its stable of 22 allies, mostly small, poor states in the Pacific, Africa and Central America and the Caribbean.
U.S.-Taiwan relations should continue to be strong under Tsai. Her years in government service and years in the United States make Tsai a relatively known quantity for Washington. Her more measured outlook towards the mainland and her priority to create jobs and improve wages for Taiwan's people also makes it unlikely that Tsai will want to rock the proverbial boat with Beijing.
Cole believes that Tsai's more measured positions on Taiwanese independence will be a source of relief for U.S. officials, who have been at loggerheads with Beijing on a host of regional issues in recent years.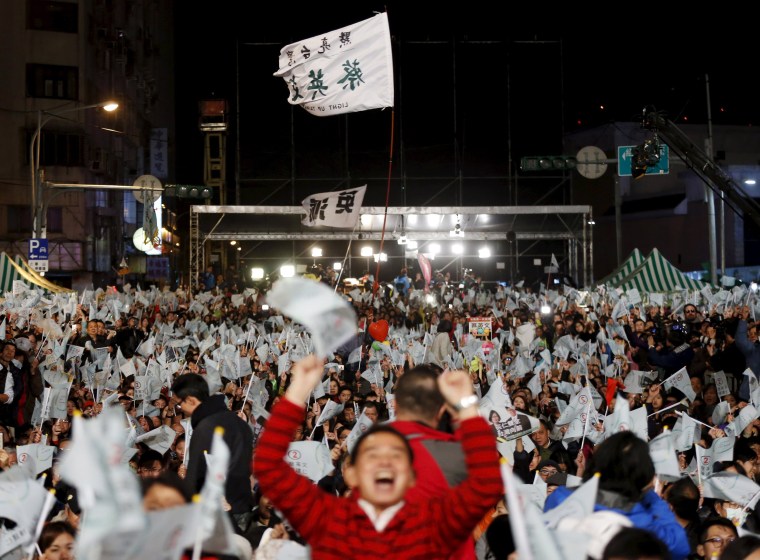 "While Washington was often willing to give China the benefit of the doubt, there is a growing consensus in the U.S. that however much we give to Beijing, or how patient we are with it, Beijing will not reciprocate," Cole said. "Thus, while in the 2000s Washington didn't want Taiwan to come between good relations with China, there is a sense now that Washington has decided it is time to push back against China. And that, of course, will have an impact on how the U.S. views Taiwan."
Ni sees the value of Tsai's administration maintaining a moderate position on independence.
"The warming of cross-strait relations over the past eight years has contributed a lot to China-U.S. relations and international society," Ni said. "I hope China and the U.S. can continue to have more dialogue on the Taiwan issue."