Nearly 1,300 people who died of the coronavirus in the Chinese city of Wuhan, where the virus was first detected, were not counted in death tolls, state media announced Friday.
Officials increased the number of coronavirus deaths by 1,290, bringing the city's total to 3,869.
The updated figure follows allegations from the United States that China had failed to alert the world soon enough about the onset of the virus and that their data was skewed. Beijing has dismissed claims that there has been any kind of cover-up.
For weeks, rumors of more victims in China have been fueled by pictures of long lines of people waiting to collect ashes of cremated relatives and reports of thousands of urns stacked at a funeral home waiting to be filled.
"In the early stage, due to limited hospital capacity and the shortage of medical staff, a few medical institutions failed to connect with local disease control and prevention systems in a timely manner, which resulted in delayed reporting of confirmed cases and some failures to count patients accurately," state media cited an unidentified Wuhan official as saying.
President Donald Trump made accusations of both mishandling and a cover-up of the outbreak by the World Health Organization and China during an announcement that the U.S. would halt funding to the international health agency Tuesday.
On Wednesday, Trump reiterated his doubts over the accuracy of China's numbers while also saying he was looking into an unverified theory that the infection originated in a Chinese laboratory.
French President Emmanuel Macron has said he shared skepticism about China's apparently swift success in controlling the spread of the virus within its borders.
"Let's not be so naive as to say it's been much better at handling this," Macron said in an interview with the British newspaper the Financial Times on Thursday. "There are clearly things that have happened that we don't know about."
A senior Chinese official said that while there might have been data collection flaws earlier during the outbreak, China has "a responsibility to history, to the people and to the deceased" to ensure numbers are accurate.
"Medical workers at some facilities might have been preoccupied with saving lives and there existed delayed reporting, underreporting or misreporting, but there has never been any cover-up and we do not allow cover-ups," Foreign Ministry spokesman Zhao Lijian said Friday.
On Thursday, Trump announced federal guidelines on how to reopen the country once the situation stabilizes.
"Our experts say the curve has flattened and the peak in new cases is behind us," Trump said in Thursday's press briefing. "Nationwide, more than 850 counties, or nearly 30 percent of our country, have reported no new cases in the last seven days."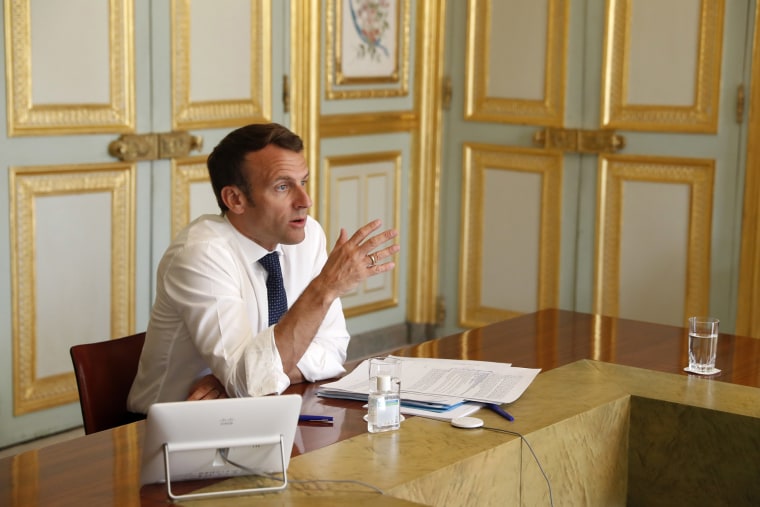 Friday's revision was not the first instance of China changing its data. In February, a spike in confirmed cases was attributed to a change in how it was testing and diagnosing. Earlier this month, it also began to release data on the number of asymptomatic cases that have been confirmed, which was previously withheld.
China's official figures now stand at 82,692 confirmed cases and 4,632 deaths. That includes 26 newly confirmed cases and no new deaths reported Friday.
Like countries around the world, China is also reeling from the economic implications of the outbreak. China's bureau of statistics said Friday it estimates a 6.8 percent year-on-year decrease to the GDP in the first quarter of 2020, the biggest drop in decades.
The local government in Wuhan said it would issue 500 million yuan ($70.6 million) worth of coupons to residents to be used for food, general shopping and entertainment. The city has a population of 11 million.
The virus has infected at least 671,781 people and killed 34,580 in the United States as of 4:39 a.m. ET Friday, according to NBC News' tracking. That includes an increase of 2,210 deaths within 24 hours Thursday.
Worldwide, the number of cases nears 2.2 million while the death toll has surpassed 145,000, according to Johns Hopkins University.
Reuters contributed to this report.