LONDON — The coronavirus has swept through Italy like no other Western country, prompting a nationwide lockdown not seen in a peacetime democracy, overwhelming hospitals and causing almost 200 deaths on Wednesday alone.
What if this apparently extreme scenario is not an outlier, but rather a glimpse into what everyday life could soon be like in many other countries, including some areas of the United States?
President Donald Trump has touted a sweeping travel restriction from most European countries as evidence of how seriously he is taking the crisis. But many experts have remained skeptical on the potential effectiveness of such moves given the U.S. already has 1,321 confirmed cases on its soil.
The data on recorded infections suggests that the U.S. and much of Western Europe are on the same initial trajectory as Italy in terms of the number of infections — just one or two weeks behind on the same path.
Full coverage of the coronavirus outbreak
Every country is different, and it's far from certain that other nations will end up like Italy, which has its own unique set of factors. For many, the similarities in the data so far are worrying. What officials want to avoid is the same type of massive strain on health services that's currently plaguing Italy during its outbreak.
Some experts and governments believe that a widespread global outbreak cannot be contained. German Chancellor Angela Merkel made waves Wednesday when she said as many as 70 percent of the population could get the virus, but she was just echoing what epidemiologists have warned for some time.
The World Health Organization itself said slowing the spread of the virus buys time for health systems to prepare.
"Health systems even with small number of cases have already struggled," Dr. Michael Ryan, executive director of the WHO's Health Emergencies Program. "Containment and control measures slow down the disease."
That strategy is called "flattening the curve": spreading the inevitable outbreak over time so it doesn't strain health care systems and other services all at once.
That crunch is what appears to be happening in Italy, which has been hit harder than anywhere else outside China, with 12,462 coronavirus diagnoses and 827 recorded deaths.
Less than three weeks ago, on Feb. 20, this top-10 global economy had recorded only four cases and was one day away from its first confirmed death. Today, its hospitals are being stretched to breaking point.
To try to combat this, the country's government has imposed an unprecedented restriction on freedoms in this country of 60 million. Bars and restaurants have been ordered to close for two weeks; police are issuing fines to people out in public without good reason; internal travel, tourism, weddings and funerals are banned; and major cities such as Milan have become ghost towns.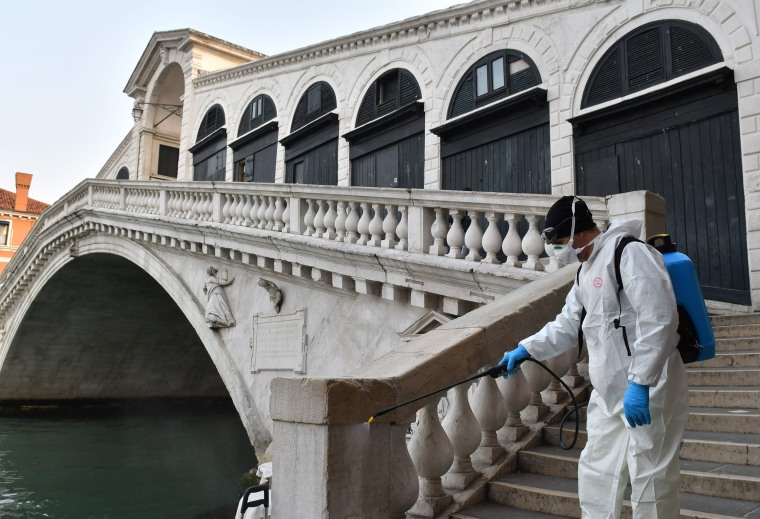 Some question whether these measures have come too late, considering that infection and death rates continue to spiral inside the lockdown.
The virus overran its hospitals before they knew what hit them, with doctors reporting seeing patients die because there were simply not enough resources to treat everyone's symptoms.
The regional government in Lombardy, the epicenter of the country's crisis, has been scrambling to increase its intensive care unit capacity, converting operating and recovery rooms into isolated wards, according to The Associated Press. But many on the front lines are warning even this may not be enough.
"The results of the swabs now come one after the other: positive, positive, positive. All of a sudden the ER is collapsing," one Italian surgeon, Dr. Daniele Macchini, said last week, describing the outbreak as a "tsunami."
The idea that other countries could soon become like Italy has led to calls from some in other Western countries to impose similar draconian measures immediately, rather than wait until it's too late.
Francois Balloux, a professor of computational systems biology at University College London, believes it's too early to tell whether other countries are right to wait. But he's in no doubt about what the data shows.
"If you look at the early stages of the epidemics in different Western countries, including Italy, the trajectories — that is, the increase in the number of cases and the pace at which they increase — are extremely similar," said Balloux, who is a leading specialist in reconstructing disease outbreaks and epidemics.
"One way to look at it, which is obviously a bit concerning, is that Italy is merely ahead of the curve," he added. "Other places might be on course to experiencing similar epidemics, but they are just behind that same curve."
Download the NBC News app for full coverage of the coronavirus outbreak
The WHO told NBC News that it is "difficult to compare outbreaks in different countries" and that "for all countries, the aim is the same: Stop transmission and prevent the spread of the virus in order to save the lives of all their citizens."
The problem, as many experts have pointed out, is that the current coronavirus picture is always out of date. Scientists have confirmed that infected people are able to spread the disease days before they start to show symptoms, meaning that by the time officials notice there's an outbreak, unknown numbers of people will have already been exposed.
"Counting the # of cases is like looking at light from a star," Dr. Matthew McCarthy, a hospitalist and an assistant professor at Weill Cornell Medicine, tweeted last week. "We're perceiving an event from the past. The star has already moved on."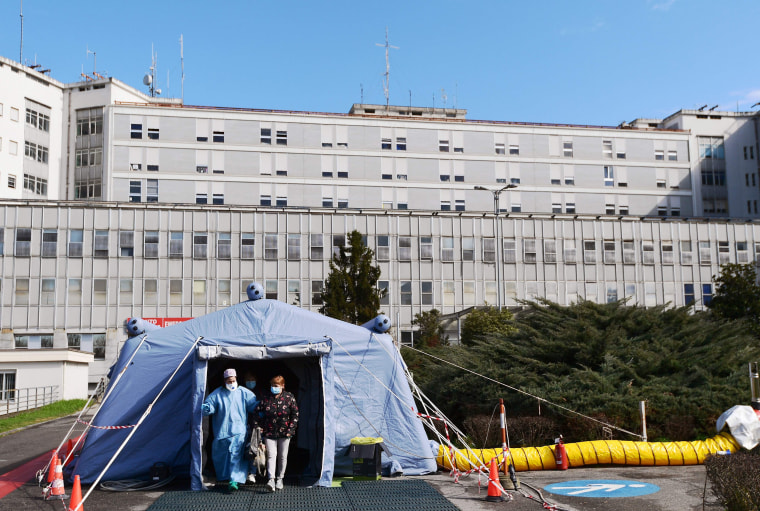 In the U.S. before his sweeping Wednesday night announcement, Trump had received wide criticism for appearing to downplay the risk the coronavirus poses to Americans. The U.S. has also tested far fewer people per capita than many other countries.
Trump's former homeland security adviser Tom Bossert is among those calling for "aggressive interventions" in the U.S. such as school closures, quarantines and mass teleworking.
"The most useful comparison now is to a fire that threatens to burn out of control," he wrote in a piece for The Washington Post. "It is one we can still contain, even extinguish — if we act."
The U.S. has 1,321 cases and 38 deaths as of Wednesday. Another reason it may be vulnerable is its federal system of government and lack of a unified health service.
"This has not helped a unified effort to keep the lid on virus from spreading rapidly," said Ian Jones, a professor of virology at the University of Reading in England. "In addition, there have been some issues over the availability of tests so that you can clear people."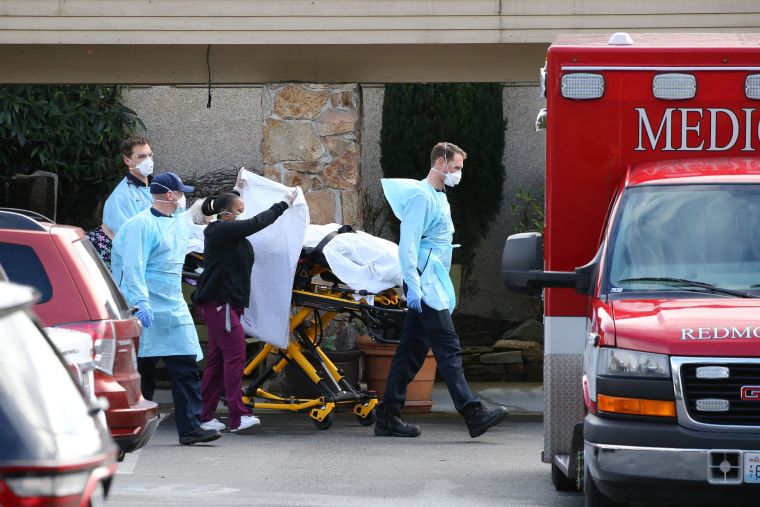 In the United Kingdom, the government has so far resisted pressure to introduce the types of drastic measures seen in Italy — and even resisted the restrictions on large public events seen across Western Europe.
According to its team of behavioral scientists using mathematical modeling, as reported in detail by Bloomberg, there may be risks in going too early, including that people may get bored of self-isolation and ignore warnings in several weeks' time.
"People get actually noncompliant and they won't want to keep it going for a long time," Jenny Harries, the U.K.'s deputy chief medical officer, said this week. "If you put it in too early, it's going to cause people to disrupt their lives without long term effect."
Experts are also eager to point out that every country is different. Just because the trends may echo Italy's early days does not mean other places will suffer a similar outcome.
There are other reasons that might explain why Italy was hit so hard, so fast, and why it has among the highest fatality rate for the coronavirus in the world — more than 5 percent and currently around double that of the U.S. Just 0.7 percent of coronavirus sufferers die in South Korea.
It has one of the oldest populations in the world, its cities are among the most polluted, and it has carried out an aggressive testing regime that has uncovered more cases.
"The numbers will certainly go up but it's too early to say whether they will rise as fast as those in Italy," according to Jones at the University of Reading. "It all depends on whether the containment measures succeed in reducing the number of contacts between people who are infected and not infected."