ROME — As Italy begins to ease some lockdown measures Tuesday in an effort to kick-start its languishing economy, some shop owners and workers tell NBC News they're anxious that the restrictions are being lifted too soon.
Sergio Ricci, who works at a bookstore in central Rome, said news of the government decision came suddenly and had not given him and others enough time to prepare.
"The first reaction I had when I understood we were going to reopen the store was uncertainty," Ricci, 46, said. "Economically it is a relief, but honestly I am worried because the main risk is that the managing costs of reopening will exceed the earnings."
On Monday, Italy reached the grim milestone of 20,000 coronavirus deaths — the second highest in the world after the United States. Nearly 160,000 coronavirus cases have so far been confirmed, but health officials have been optimistic about the epidemic flattening out in recent days.
The few businesses greenlighted to reopen — mainly shops selling books, stationery and children's clothes — are still required to follow strict safety protocols, according to the government. Social distancing inside the stores is compulsory, with customers having to wear protective masks and gloves. Shops will also have to be sanitized twice a day and ensure proper ventilation.
Even with these precautions, Ricci said the health risks are "too high."
The wider containment measures will still be in place until at least May 3, the Italian government announced last week.
Government officials have not explained how they made the decision on what businesses to reopen first. The country's culture minister said last week that reopening of bookstores was not a symbolic gesture, but recognition that books can be "an essential good" for people stuck in their homes.
Despite the nationwide decree to open certain stores, some regions of Italy are exercising their powers of partial autonomy and keeping those businesses shut.
Four regions, including the hard-hit northern regions of Piedmont, Lombardy and Trentino-Alto Adige, as well as Campania in the southwest, said they will not reopen any stores until May 3. Meanwhile, the central region of Lazio, where Rome is located, will not reopen bookstores and stationery shops until April 20, the regional council ruled, to allow business owners more time to prepare.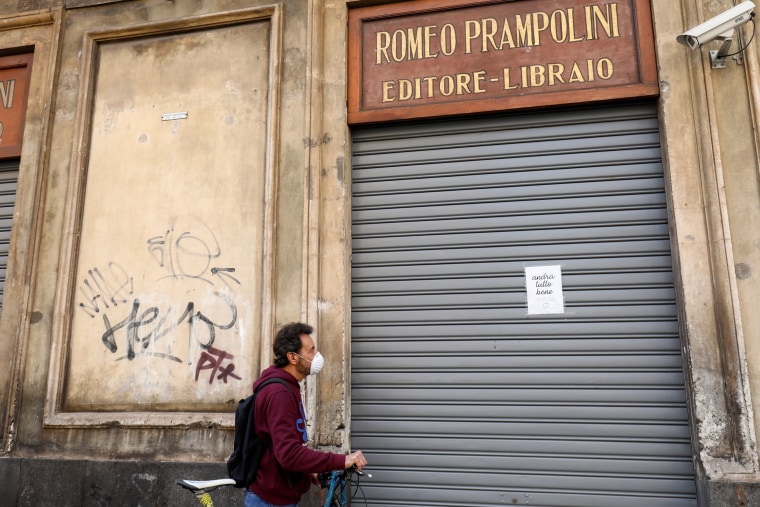 Rocco Pinto, a bookstore owner in Turin in the Piedmont region, which has the third-highest death toll in the country, said that regardless of his local government's decision, he decided that to reopen his business right now was too much of a risk.
Download the NBC News app for full coverage of the coronavirus outbreak
Pinto, 61, said his cousin is hospitalized with COVID-19 and his brother is busy fighting the disease on the front lines at a local hospital, so he feels like the threat of the pandemic is very much still a danger.
"It seems to me it is inappropriate to reopen, even if I have all the will to see my clients again," he said. "Bookstores are places where people meet, talk and spend time. It's definitely too risky to reopen now."
Malou Visco Comandini and Lidia Sirna reported from Rome, Michele Novaga from Milan, Yuliya Talmazan from London.