A Chinese lawyer who had been documenting the coronavirus outbreak in the city of Wuhan has not been seen or heard from since last week, and friends and family say they fear he may have been forcibly quarantined by the Chinese government.
The lawyer, Chen Qiushi, 34, made a series of social media posts about the outbreak in Wuhan, the epicenter of the coronavirus epidemic, starting on Jan. 25, several days after the city was locked down by the Chinese government to help stop the spread of the virus, which has killed over 1,000 people in China.
Calling himself a "citizen journalist," Chen posted videos and messages reporting hardships faced by Wuhan residents seeking medical help and supplies, as well as hospital overcrowding.
In one tweet last week, Chen said he had collected evidence that medical, first aid and funeral services in Wuhan have been "overloaded."
Full coverage of the coronavirus outbreak
In his often emotional posts, Chen heavily criticized Chinese authorities, accusing them of inefficiency and restrictions on freedom of speech.
His last update came on Thursday. He has not been seen or heard from since, his friends and family say.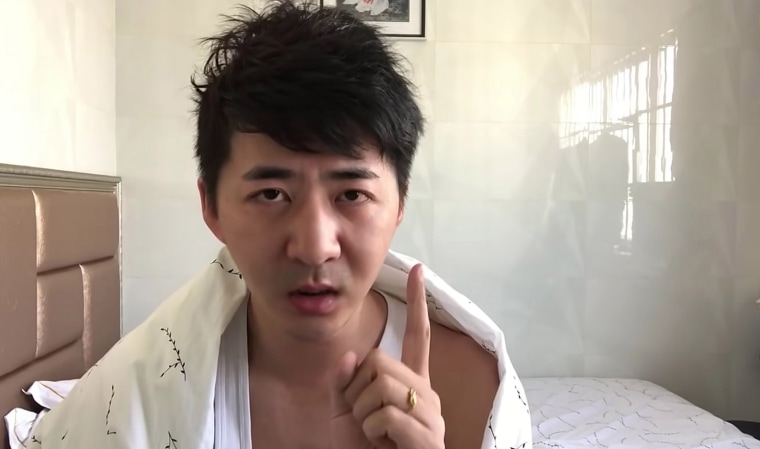 A friend of Chen's, martial artist Xu Xiaodong, has been vocal about his disappearance and said in a recent tweet that Chen was "taken away to quarantine by force." He also questioned why Chen has apparently not been able to use his personal phone and whether he will be released after the quarantine is over.
NBC News tried reaching out to Xu via email and social media, but did not immediately hear back.
Human Rights Watch said in a statement Sunday: "According to Chen's friend, martial artist Xu Xiaodong, Chen's family and friends have applied to the authorities to speak with him directly. They seem to have not responded yet. So no one has been able to get in touch with him."
The Committee to Protect Journalists, based in New York, said in a statement Monday that Chinese authorities must immediately account for Chen's whereabouts and ensure that the media can cover the coronavirus outbreak in Wuhan without fear of retribution.
Despite Chen's disappearance, his Twitter account, followed by more than 250,000 people, appears to still be active.
Messages, in both Mandarin and English, asking for help in locating Chen have appeared on his account since Feb. 7, including a plea from a woman who claims to be his mother saying that her son has gone missing.
The messages, accompanied by #FindQiushi hashtag, suggested that Chen has not been responding to phone calls.
NBC News has reached out to the person running Chen's account, but the individual, who claimed to be Chen's friend, wanted to stay anonymous to protect Chen, adding that Chen wanted his password changed in case he went missing for longer than 12 hours.
"Media and friends have tried to find him, but in vain," Chen's friend said.
A duty officer at the Wuhan Public Security Bureau, the city's police department, did not want to be identified when asked for comment Monday about Chen's disappearance, and told the caller to dial the number for missing persons.
Download the NBC News app for breaking news
There has been no mention of Chen's disappearance in the Chinese mainstream media.
News outlets in Hong Kong, however, including The South China Morning Post, an English-language title, have in the past written stories about Chen's activism and use of social media to call out the Chinese government, most recently about Hong Kong's anti-government protests.
Although praised for its outbreak containment efforts by the World Health Organization, the Chinese government has also faced criticism over its handling of the outbreak as videos emerge on social media appearing to show people being forced into quarantine.
The news of Chen's disappearance comes days after the death of a Chinese doctor who raised an early alarm over the coronavirus, prompting an outpouring of grief and accusations that he was silenced — in a rare public show of criticism in the Communist state.
Dr. Li Wenliang had been warned by police for raising concerns in the early stages of the outbreak.
Li, who died from the virus last week, was declared a hero in China and became the subject of more than 2 million posts on social media. His death is now being investigated by the Central Commission for Discipline Inspection, the Chinese Communist Party's internal discipline body.
Ali Gostanian reported from New York, and Yuliya Talmazan from London.