MOSCOW — Judging by the official numbers, Russia can boast of having one of the most effective coronavirus responses in the world, with 367 confirmed cases as of Sunday. According to the data, none of them have been fatal.
That isn't for lack of testing. Russian government officials say they have run over 140,000 tests. By comparison, the U.S. has reported over 25,000 positive results from a similar number of tests, according to tracking by Johns Hopkins University.
But while Russian officials attribute the low numbers to aggressive border controls and closings, some experts caution that the actual infection rates may be much higher, with the government of President Vladimir Putin intent on maintaining an image of calm authority, regardless of what may actually be happening on the ground.
At a Cabinet meeting Tuesday, Putin declared the situation to be "generally under control."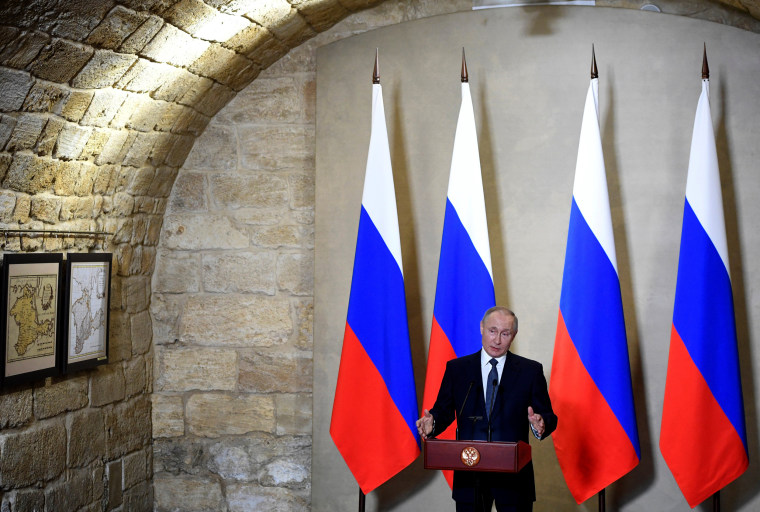 "Thanks to prompt measures taken proactively ... in the first weeks of the epidemic, we managed to contain the massive — I would like to underscore — massive penetration and spread of the infection in Russia," Putin said.
The early measures were drastic.
After reports of outbreaks of the coronavirus in China emerged in January, Russia swiftly closed its large land border and, in February, banned entry of all Chinese citizens. More recent efforts focused on quarantining foreigners entering from coronavirus hot spots.
But Ivan Konovalov, a spokesman for the Doctors' Alliance, a professional organization loosely aligned with the Russian opposition that has gained attention by highlighting problems in the health system, says the measures may not have effectively blocked the disease.
Full coverage of the coronavirus outbreak
Instead, authorities are most likely using pneumonia as a cover for coronavirus cases, he said.
"According to a few accounts, a portion of the coronavirus cases are being masked as so-called community-transmitted pneumonia," he told NBC News. "Patients are diagnosed with 'pneumonia' without being tested for coronavirus, which could have caused it."
On March 13, Russia's state statistics agency reported a 37 percent increase in pneumonia cases in Moscow, the capital, in January over the same month last year.
However, the Moscow government issued a contradictory statement later that day, saying there had been, rather, a 7 percent drop in cases in January.
Officials from Russia's Rospotrebnadzor consumer safety group, which is taking the lead on coronavirus testing and data keeping, did not respond to a request for comment. Neither did Moscow Health Department officials.
Dr. Samuel Greene, an expert on Russia at King's College in London, said that while he "hopes" the Russian government's measures have kept the numbers down, he believes journalistic and anecdotal evidence points to an infection rate that is "probably higher, perhaps significantly."
"The idea that Russia has somehow been able to insulate itself from this" plays into "a line that Putin's political team have used for a long time, that Russia is an island of stability," he said.
Putin is set to consolidate his power even further on April 22, when the country is scheduled to hold a national referendum on constitutional amendments that would allow him to remain president until 2036.
While the government has sought to hammer home a sense of calm and control, there is a growing feeling among the public and civil society that a larger problem is brewing beneath the surface of the official numbers.
Some experts have questioned the competence of Russia's coronavirus tests — currently provided by a single lab in Siberia. An investigation by an online medical science publication, PCR News, reported that the official numbers may be low because the test may not be detecting mild cases.
"It is a matter of sensitivity," PCR News Editor-in-Chief Aleksey Torgashev, one of the authors of the report, said in an interview. "The guaranteed lower limit of the test is 100,000 plasmids per milliliter. The sensitivity of other modern tests is two orders of magnitude higher."
Until last week, the test was the only one approved for use by the state consumer safety and health watchdog. Now, newer and more sensitive tests have been approved, but Torgashev said that is a slow process and that for the moment the Siberian test is the only one in use.
"We do not know the real epidemiological situation of coronavirus in the country," he said. "It may turn out to be the same as the official data, or it may be completely different."
On top of test sensitivity, Russia's testing strategy continues to focus on tracking cases coming into the country — now limited mostly to Russians returning from abroad — and those they have come in contact with, as well as pneumonia patients.
While insisting that the situation remains under control, Russian authorities last week began to drastically increase measures to contain the virus. On Wednesday, Russia banned the entry of all foreigners — with a few exceptions — and placed strict limits on public gatherings. On Saturday, gyms and pools were ordered closed.
But, witnessing the scale of the crisis in the U.S. and elsewhere in Europe and Asia, some Russians are increasingly concerned that the government is downplaying the threat and not doing enough. The streets of Moscow — although still busy —are slowly emptying, as are store shelves.
The Moscow Transport Department reported Friday that metro traffic was down by 30 percent and that buses and trolleys were likewise seeing a 24 percent drop in traffic. Reports of runs on buckwheat, a Russian staple, have prompted talk of price controls.
Although the government appears hesitant — for the moment — to impose enforced lockdowns, an increasing number of businesses and residents are taking it upon themselves to enforce social distancing measures, even as officials continue to encourage a general calm.
"Really, I'm just self-isolating because we were asked to work from home," said Olga Kuzmina, 30, a communications consultant in Moscow.
"Otherwise, I'm not taking it that seriously, still going outside for walks and trips to the grocery store every other day. If the infection rates really are as low as they say, then Moscow officials at least seem to be acting according to common sense," Kuzmina said.
Download the NBC News app for full coverage and alerts about the coronavirus outbreak
Yet some are asking for the government to take swifter, and stronger, action.
"If we do not want the Italian scenario, urgent measures are needed," reads a petition on Change.org, submitted Friday, calling on the government to enact stricter measures.
Citing foreign examples, the petition says "the number of infected people drastically exceeds the official data, and depending on the quality of the testing, can reach into the thousands or even tens of thousands of people."
Since Friday, the petition has drawn over 85,000 signatures from residents, prominent journalists, doctors, politicians and other civil society figures. And there are signs that the government may opt for a stronger response as Russians warm to the idea.
In an interview that aired Friday on the government-funded TV network RT, Dr. Denis Protsenko, the head of one of Moscow's infectious disease hospitals tasked with treating coronavirus patients, told viewers that Russia faced two outcomes.
"I look at what is happening around the world," Protsenko said. "If we follow the Chinese scenario, then I hope this will be over in May or June. If we follow the Italian explosion, we can consider September to be a good scenario."
Matthew Bodner reported from Moscow; Luke Denne reported from London.