LONDON — British Prime Minister Boris Johnson's move to intensive care has shaken the nation, a jolting reminder that the coronavirus does not discriminate in whom it infects and sickens.
Johnson, 55, is not on a ventilator and does not have pneumonia, but he has needed oxygen support while in the intensive care ward, a government spokesman told reporters Tuesday.
The prime minister is conscious and in "good spirits," he said.
Michael Gove, the Cabinet Office minister and one of Johnson's closest allies, told the BBC earlier, "We're desperately hoping that Boris can make the speediest possible recovery," adding that the prime minister was "receiving the very, very best care ... and our hopes and prayers are with him and with his family."
Johnson is not known to have any serious underlying health conditions, but he has in the past admitted struggles with his weight. In 2018, he revealed that he went on a diet after having reached 230 pounds, which at Johnson's height of 5 feet, 9 inches would make him clinically obese.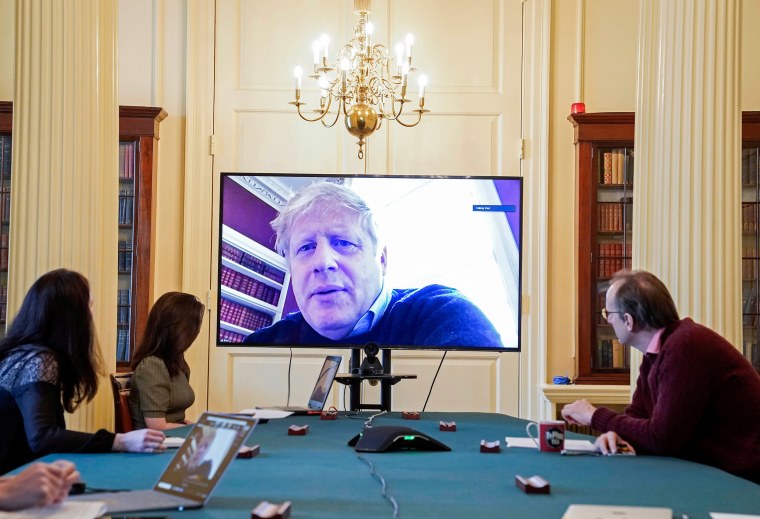 His move into intensive care was all the more shocking because officials had sought to downplay his illness in the 11 days since his infection was confirmed.
The government has insisted that his cough and fever were only "mild" and strongly denied statements from anonymous sources quoted in the media that it was more serious.
Meanwhile, Johnson posted cellphone videos from the quarantined apartment above No. 11 Downing St., where, despite looking the worse for wear, he said he was continuing to work and suggested that he might resume full duties Friday when his mandatory isolation was over.
But Sunday, he was rushed to the hospital after his condition worsened, and at 7 p.m. (2 p.m. ET) the following night, Johnson was moved to the critical care unit at St. Thomas' Hospital, on the opposite bank of the River Thames from the Houses of Parliament.
A No. 10 Downing St. spokesman called Johnson's hospitalization a precaution in case the prime minister needed ventilation as his symptoms had worsened.
Full coverage of the coronavirus outbreak
There has been some concern that Johnson has continued to work too hard through his illness. The journalist Matthew Leeming, his former college roommate, told NBC News that the prime minister was "very absorbed in everything that he does," so while he was in the hospital he would likely find "it very difficult to switch off and relax."
As Johnson battled the virus overnight, allies and rivals sent messages of support to the first leader of a world power to become seriously ill with COVID-19.
"He's a friend of mine. He's a great gentleman and a great leader, and as you know he went to the hospital today, but I'm hopeful and sure that he's going to be fine," President Donald Trump said Monday. "He's a strong man, a strong person."
In Britain, which is weeks into a lockdown that many said Johnson waited too long to impose, the prime minister's deteriorating condition left the country grappling with unease and uncertainty — not least because of the constitutional questions about what would happen if he were to succumb.
No prime minister has died in office since Henry John Temple, third Viscount Palmerston, in 1865. And unlike the United States — where the 25th Amendment says the vice president becomes leader if anything happens to the president — the United Kingdom has no such formal line of political succession, partly because of its lack of a codified constitution.
The Cabinet would choose an immediate successor, likely to be a temporary appointment until a long-term successor was chosen by the wider Conservative Party.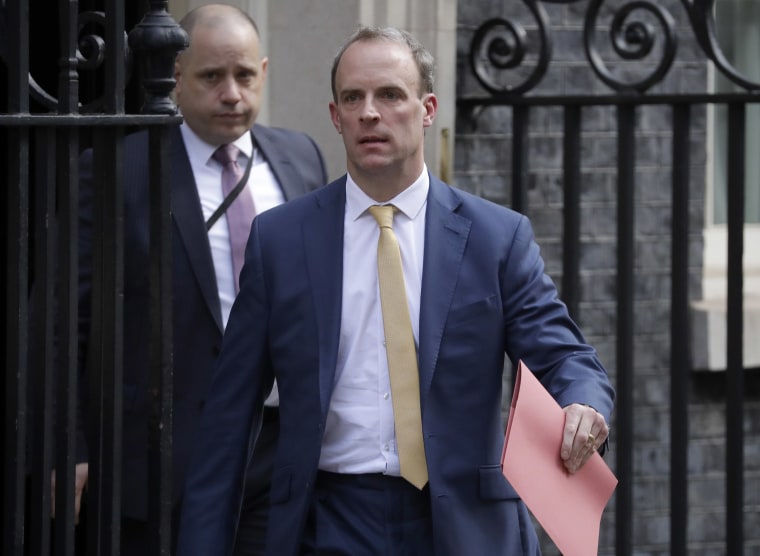 In the meantime, Johnson has asked Foreign Secretary Dominic Raab, 46, to deputize when necessary. Raab also holds the title of first secretary of state, a de facto deputy position.
Raab said Tuesday that the Cabinet had "very clear instructions" from Johnson while he remains in the hospital.
"We know exactly what he wants from us and expects from us right now," Raab said during the government's daily televised coronavirus briefing, adding that he was "confident" that the prime minister would pull through.
"If there is one thing that I know about this prime minister is he is a fighter," he added.
Asked earlier Tuesday who had the codes for the U.K.'s estimated 215 nuclear warheads, Gove declined to give specifics.
"There are well-developed protocols which are in place," he told the BBC. "I just really cannot talk about national security issues."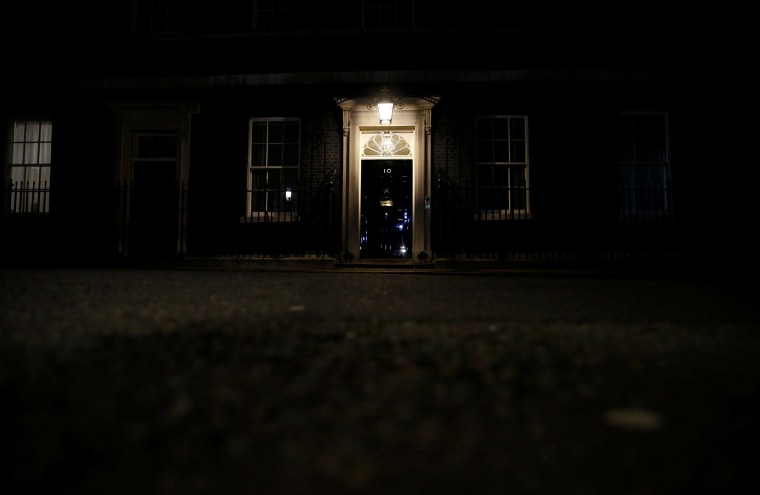 Less than four months ago, Johnson rode home to the most emphatic electoral win his Conservatives have enjoyed in more than 30 years, crushing the opposition Labour Party and setting the groundwork for ambitious reforms he said would reshape the nation.
Now, with the prime minister seriously ill, Raab will chair any necessary meetings of the National Security Council, but he cannot hire and fire people and will not take weekly calls with Queen Elizabeth II, as the prime minister usually does, the government spokesman said.
If Raab were to fall ill, Finance Minister Rishi Sunak would be next in line.
Download the NBC News app for latest updates on the coronavirus outbreak.
Later Tuesday morning, Gove revealed on Twitter that he, too, is self-isolating after a member of his family started displaying mild symptoms associated with the coronavirus.
Several other Cabinet ministers and advisers, as well as the heir to the throne, Prince Charles, have recovered from confirmed or suspected cases. Johnson's pregnant fiancée, Carrie Symonds, 32, is also isolating after having suffered milder symptoms, although she has not been tested.
Even after Johnson was rushed to hospital, Raab insisted Monday that his boss was "in good spirits." Many thought it telling that advisers refused to divulge details of Johnson's condition, citing patient confidentiality, and Raab revealed that he had not spoken with the prime minister since Saturday.
The United Kingdom has 55,242 confirmed coronavirus cases, and, of those hospitalized patients, 6,159 have died, according to figures released Tuesday.
The new figures showed that 786 people who were hospitalized had died in a single day between Sunday and Monday — the highest daily death toll recorded since the beginning of the outbreak.