WHO declares global public health emergency
Death toll in China climbs to 213; nearly than 9,700 confirmed cases
195 Americans evacuated from area near Wuhan — more evacuation flights are on the way
India and the Philippines confirm first cases
A number of airlines halted flights to and from China
State Department issues 'do not travel' advisory to China
---
Plane carrying 83 British nationals, 27 others leaves China
A plane carrying 83 British nationals and 27 people from other countries left Wuhan, China, on Friday in an "evacuation flight," the U.K. government said.
The civilian aircraft chartered by the U.K. Foreign Office and carrying medics, left Wuhan Friday morning, the government said. Wuhan is ground zero for the novel coronavirus that has sickened thousands of people and led to over 200 deaths in China.
The plane is expected to land at RAF Brize Norton on Friday afternoon, and then go on to Spain, where the European Union countries of the 27 other people will take responsibility for their respective citizens.
The United States is among the countries that have evacuated its citizens from China amid the outbreak. U.K. Foreign Secretary Dominic Raab said in a statement that it was welcome news that the flight had left China. "We know how distressing the situation has been for those waiting to leave," Raab said. — Phil Helsel
U.S. State Department warns against traveling to China
The U.S. State Department on Thursday warned Americans not to travel to China amid a deadly coronavirus outbreak that has sickened thousands of people in the country.
The State Department in its "do not travel" advisory also says that "those currently in China should consider departing using commercial means."
It said non-essential U.S. government personnel should defer travel to China because of the outbreak.
As of the end of Thursday there were 9,692 confirmed cases of novel coronavirus in China, and there have been 213 deaths, according to Chinese health authorities. — Phil Helsel
American evacuated from China quarantined after trying to leave U.S. base
A California health officer issued a quarantine order for one of the 195 Americans evacuated from China this week, after that person tried to leave the military base where they are being monitored for the novel coronavirus, officials said Thursday.
The person, who had expressed a desire to leave March Air Reserve Base in Riverside County and tried to do so, never made it off base, said Jose Arballo Jr., a spokesman for the Riverside County Department of Public Health. The person was returned to the housing area on base.
Riverside County Public Health Officer Dr. Cameron Kaiser issued the order requiring the person to stay for the entire incubation period or until otherwise cleared. None of the 195 being housed at the base for observation have shown any symptoms, Arballo said.
Blood and other tests have been taken, and officials are taking their temperature every few hours, he said. The base is in Riverside County, east of Los Angeles. — Phil Helsel
Deaths from novel coronavirus in China rises to 213, health officials say
The number of deaths in China from the novel coronavirus outbreak rose to 213 by the end of Thursday, Chinese health officials said.
That's an increase from the 170 deaths reported at the end of Wednesday. The number of confirmed cases in that country also rose to 9,692, Chinese health authorities said.
The World Health Organization on Thursday declared a global public health emergency over the outbreak. The vast majority of confirmed cases are in China, but cases have also been confirmed in 18 other countries.
There are now six confirmed cases in the United States. The Centers for Disease Control and Prevention said Thursday that the sixth case involved person-to-person transmission of the virus, which is the first time that has been detected in the U.S.
The other five people had recently traveled to Wuhan, China. The sixth person had not traveled to Wuhan but shared a household with someone diagnosed with the virus Jan. 21, the CDC said. The CDC director said that while the development may be concerning, the risk to the American public remains low. — Phil Helsel
Cruise ship passenger had common flu, not novel coronavirus
A Chinese woman whose fever sparked a coronavirus scare on an Italian cruise ship with 7,000 people on board has been diagnosed with the common flu, and not the deadly new virus that has sickened thousands of people in China, Costa Cruises said.
Costa Cruises said in a statement Thursday that Italian health officials diagnosed the passenger on board the Costa Smeralda ship. The 54-year-old woman had a fever, which was identified a few hours before the ship's arrival in the Italian port city of Civitavecchia, about 50 miles northwest of Rome.
The ship had 6,000 passengers and 1,000 crew aboard. They had been stuck on the ship because of the scare, but by late Thursday they were given the medical OK to come and go from the Costa Smeralda, officials said.
Dr. John Torres on coronavirus
Dr. John Torres, medial correspondent for NBC News, answered some questions on coronavirus live on Twitter's Periscope.
WHO declares global public health emergency
The World Health Organization on Thursday declared a global public health emergency over the outbreak of the new coronavirus.
The WHO's director-general, Dr. Tedros Adhanom Ghebreyesus, said the declaration is not a "vote of no confidence" in China, which has been widely praised for its transparency and work to control the outbreak. — Erika Edwards
CDC confirms first human-to-human spread in U.S.
The CDC said Thursday that a contact of a person infected with the coronavirus has also fallen ill.
The new patient, who lives in Chicago, marks the sixth person in the U.S. to be diagnosed with the virus. — Erika Edwards
Movies about outbreaks seeing uptick in interest
The coronavirus appears to have inspired renewed interest in movies about global pandemics, judging by the iTunes rental charts. "Contagion" (2010), Steven Soderbergh's thriller about the spread of a lethal China-born virus, jumped to No. 10 on the list of most-rented movies earlier this week.
"Outbreak" (1995), a box-office hit about government scientists (Dustin Hoffman and Rene Russo) fighting against a fictional Ebola-style virus, also spiked on the charts.
The real-life outbreak isn't just driving interest in films. "Plague, Inc.," a mobile game about viral outbreaks, has also seen a surge in popularity in recent days. The company behind the game issued a statement reminding players that their product was "not a scientific model, and that the current coronavirus outbreak is a very real situation which is impacting a huge number of people." — Daniel Arkin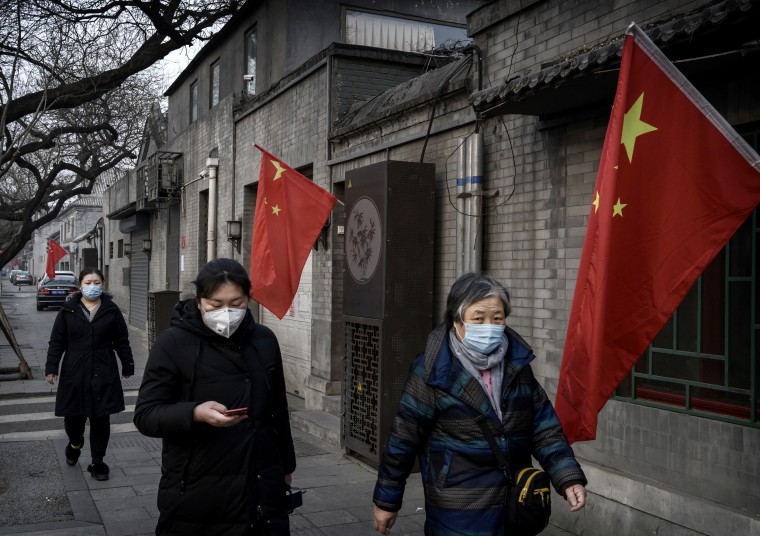 6,000 passengers held on cruise ship in Italy
Some 6,000 people are being kept on board an Italian cruise ship on Thursday, according to Reuters, as tests are carried out on two passengers suspected of having caught coronavirus, a spokesman for the Costa Crociere cruise company said.
The Chinese couple arrived in Italy on Jan. 25 and boarded the ship, the Costa Smeralda, in the port of Savona that same day. They subsequently came down with a fever and are reportedly suffering breathing difficulties.
On a what is supposed to be a week-long Mediterranean cruise, the liner has visited Marseilles in France, and the Spanish ports of Barcelona and Palma de Mallorca this week before docking at Civitavecchia, north of Rome. — Isobel van Hagen
Russia closes Far East border with China
Russian state media reported on Thursday that the country is closing its Far East border with China in an effort to prevent the spread of coronavirus.
"A corresponding instruction was signed today. Work on it is already in progress. We will inform all those concerned properly about the measures to close the border in the Far Eastern region and other steps the government has taken," said Mikhail Mishustin, Russia's prime minister, according to Russian news outlet TASS. — Jason Abbruzzese
Chinese women's football team isolated in Brisbane
Queensland health authorities said they have asked a Chinese football team and their support staff who arrived in Brisbane on Wednesday to remain in their hotel rooms until Feb. 5.
"We are working closely with the hotel and the 32 individuals concerned – who are all well and not showing symptoms," Queensland's Chief Health Officer Jeannette Young said in a statement.
The hotel is in the process of alerting other guests and staff and making suitable arrangements, health officials said. — Yuliya Talmazan
Virus causing sport event cancellations and delays
China's state CGTN network reported Wednesday that the coronavirus outbreak has forced the cancellation of the first official Beijing 2022 test event next month.
An International Ski Federation (FIS) Alpine Skiing World Cup was due to take place on the new Winter Olympic course in Yanqing between Feb. 15 and 16, but has now been called off.
Meanwhile, the Chinese Football Association announced it would postpone domestic games in 2020 and the World Athletics Indoor Championships scheduled in the Chinese city of Nanjing in March have been postponed until 2021. — Yuliya Talmazan
Americans evacuated from Wuhan, more planes on the way
A plane with 195 Americans evacuated from the locked-down city of Wuhan, the epicenter of the epidemic, landed in California Wednesday.
Public health officials said there were no signs of illness among the evacuated passengers who were screened multiple times in both China and during a refueling stop in Anchorage, Alaska.
Hundreds of U.S. citizens remain in Wuhan, however, with many still wanting to leave the city.
As of Tuesday night, over 700 private American citizens have requested U.S. government assistance in evacuating Wuhan, according to a U.S. official familiar with the current situation.
The Department of State said Thursday it will be providing additional evacuation flights on or about Feb.3.
Officials at China's National Health Commission said that as of Wednesday, there were more than 7,700 confirmed cases of the coronavirus in the country as the death toll reached 170. — Yuliya Talmazan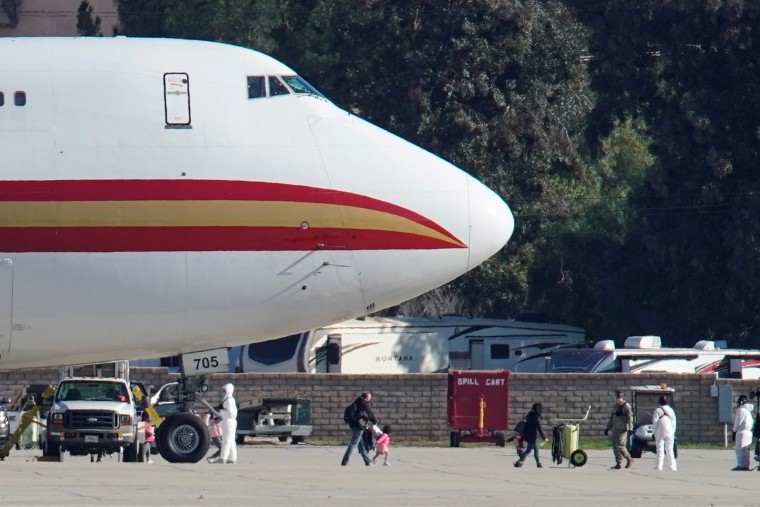 More countries move to evacuate their citizens
A growing number of countries are planning to evacuate diplomatic staff and private citizens from Wuhan.
Japan brought back 206 of its citizens on the first chartered flight Wednesday. A second charter flight carrying 210 Japanese nationals arrived in Tokyo on Thursday.
South Korea and France are expected to send their planes to Wuhan imminently, while a slew of other nations are considering doing the same.
The new coronavirus has now reached four continents, with infections having been reported in at least 16 other countries. No deaths have occurred outside China so far. — Yuliya Talmazan
Trump announces 'coronavirus task force' to lead U.S. response
President Donald Trump on Wednesday announced the formation of the "president's coronavirus task force," which the White House says will lead the U.S. government's response to the outbreak.
The virus has been confirmed in five people in the U.S.
The Centers for Disease Control said Wednesday they have 165 people under investigation. — Yuliya Talmazan
Australia to quarantine hundreds of citizens
Australia is planning to quarantine hundreds of its citizens.
Prime Minister Scott Morrison announced that around 600 Australian citizens will be flown out of Wuhan and neighboring cities in China's Hubei province and will be isolated for up to 14 days on Christmas Island, about 1,600 miles northwest of Australia.
Christmas Island houses a controversial immigration facility that Australia used to detain asylum-seekers from 2003 until 2018. — Yuliya Talmazan
Japan reports three new cases
Japan reported three new cases of the coronavirus Thursday, all from passengers on Wednesday's first charter flight from Wuhan.
The first case is a patient and the other two cases are carriers without any symptoms, Japan's health ministry said. The three cases were among 206 Japanese people who were evacuated to Tokyo from Wuhan on Wednesday. — Yuliya Talmazan
WHO to meet again to assess global public threat
The World Health Organization's Emergency Committee is due to reconvene on Thursday to decide whether the virus constitutes a global emergency. The committee voted against the move last week.
The WHO officials have raised concerns about signs of a few cases of human-to-human transmission in three countries outside China.
On Wednesday, they also praised China for the "extraordinary steps" the government has taken to prevent the export of cases. "For that, China deserves our gratitude and respect," said WHO's director general, Tedros Adhanom. — Yuliya Talmazan
International airlines suspend service to China
Many international airlines have suspended or reduced flights to China, including American Airlines, Delta, United, Air Seoul, British Airways, Lufthansa, KLM and Air Canada.
British Airways said Wednesday that it has stopped flights to and from China following government advice against all but essential travel.
American Airlines said that the company had suspended flights from Los Angeles to Shanghai and Beijing. German carrier Lufthansa, SWISS and Austrian Airlines will also suspend their flights both to and from mainland China until Feb. 9. — Yuliya Talmazan
Outbreak could hit China's economy
Asian stocks and currencies fell as the death toll rose and more cases were reported with fears growing that the hit to China's economy will ripple around the world.
Zhang Ming, an economist at the Chinese Academy of Social Sciences, a top government think tank, projected the outbreak would cut the country's first-quarter growth by one percent to 5 percent or lower.
Concern is also growing that thousands of Chinese factory workers on Lunar New Year holidays may struggle to get back to work next week, due to travel restrictions imposed to stop the virus' spread. — Yuliya Talmazan
India and the Philippines confirm first cases
India on Thursday reported its first case of the novel coronavirus in the southern state of Kerala, the country's ministry of health said in a statement.
The patient, who is a student at Wuhan University in China, is stable and in isolation at a hospital, the statement added.
Meanwhile, Philippine health officials have also confirmed the country's first case, Reuters reported.
A 38-year-old Chinese woman, who arrived in the country from Wuhan, China, on Jan. 21, said Health Secretary Francisco Duque. The patient, confined in a government hospital, is currently asymptomatic. — Yuliya Talmazan
First case in Tibet
Chinese health officials confirmed Wednesday the first case in the capital of Tibet.
The patient is from the city of Suizhou in central China's Hubei Province, Xinhua news agency reported citing local health officials.
He came to Lhasa, the capital, by train from Wuhan on Jan. 24 and was hospitalized a day later.
The patient's vital signs are stable and close contacts have been put under medical observation, Xinhua said. — Yuliya Talmazan
Ikea temporarily closes stores on the mainland
The Swedish home furnishings chain Ikea said it is temporarily closing its stores in mainland China until further notice amid the epidemic.
Ikea China said in a statement that some stores had already been closed or had their hours shortened out of caution for the health and safety of its customers and employees.
The closure is effective Thursday local time, and online services are unaffected. — Yuliya Talmazan
Live map
Follow live updates on new cases here.