• The U.S. declares public health emergency
• Confirmed cases in China grow to 11,791 with 259 deaths
• 7th case confirmed in U.S., according to the public health department of Santa Clara, California.
• Thailand has joined France, U.S. in reporting person-to-person transmission of the virus.
• State Department advises against all travel to China and advises all Americans in the country to leave.
• The World Health Organization declares the outbreak a global health emergency.
---
China coronavirus cases grow; 11,791 confirmed and 259 deaths
The number of confirmed cases of novel coronavirus in China grew to 11,791 with 259 deaths as of the end of the day Friday local time, China's national health commission said on its website.
That's an increase in the national number from 9,692 confirmed cases and 213 deaths in China reported as of the end of the day Thursday.
Earlier Friday, Hubei province's local health commission reported 11,067 confirmed cases and 258 deaths, and the national numbers show larger total figures. The epicenter of the new coronavirus outbreak is the city of Wuhan, which is in Hubei province.
The 46 new deaths were mostly in Hubei province, with 45 there, the national health commission said. The other new death was in the city of Chongqing, which is southwest of Hubei. There are also nearly 18,000 suspected cases in China.
All of the deaths have been in China and the vast majority of confirmed cases are also in the country, although there are also confirmed cases in other countries, including the United States, where there are seven confirmed cases of the virus, also known as 2019-nCoV, health officials there have said. — NBC Beijing
7th case of new coronavirus confirmed in U.S.
An adult male returning from China has been diagnosed with the novel coronavirus in California, the Santa Clara county public health department said Friday. The Bay area public health department was notified by the Centers of Disease Control and Prevention that the resident was confirmed to have the respiratory disease, Dr. Sara Cody, director of the County of Santa Clara health department said during a press briefing Friday.
It's the seventh confirmed case in the U.S. and the third case in California.
The patient had been in Wuhan, China and Shanghai and returned to California on Jan. 24 through the San Jose airport. He became ill upon his return, Cody said.
"Since his return, he has only been at home. He came into contact with a very few individuals after returning home." Cody said. "His only travel has been to seek care."
The patient has not been very ill and has not required hospitalization. He has been self-isolating in his home. "He will be followed closely at home until he's no longer infectious," Cody said.
As part of the investigation, the Santa Clara county health officials are working with the CDC to find anyone who may have been exposed to the patient, including individuals at the health care facilities or other passengers during his air travel, Cody said.
Cody sought to calm concerns about the risks of the disease's spread in the community, noting that health officials had been preparing for weeks for the possibility of a case.
"We don't have evidence to suggest that the coronavirus is circulating in the Bay area, Santa Clara county or northern California," she said during the briefing. "This one case does not change the risk to the general public." The CDC confirmed the 7th case in California. — Jane Weaver
U.S. declares public health emergency
Secretary of Health and Human Services Alex Azar declared a public health emergency over the new coronavirus Friday.
Starting Sunday at 5 p.m. ET, all passengers on flights to the United States who have been in Hubei province in China in the last 14 days will be subject to up to 14 days of quarantine. The city of Wuhan, the epicenter of the outbreak, is located in Hubei.
Any U.S. citizen who has been in the rest of mainland China will be actively screened at one of seven airports for risk and evidence of symptoms. If no symptoms are detected, the individuals will be allowed to complete their travel home and will be monitored by local health departments in isolation at home.
At the same time, the White House announced that it will not allow anyone who has been in China recently to enter the U.S. because they may pose a risk of transmitting the coronavirus. Foreign nationals, other than immediate family of U.S. citizens and permanent residents, who have traveled to China within the last 14 days will not be allowed to enter the U.S. during this time.
The seven airports are in New York, San Francisco, Seattle, Honolulu, Los Angeles, Chicago and Atlanta. — Erika Edwards
Federal quarantine ordered for Americans flown from Wuhan
The CDC said Friday that all 195 Americans from Wuhan, China, who recently landed in California are now under federal quarantine for 14 days.
It's the first time in 50 years that the CDC has issued such a quarantine, which was for smallpox.
The increase of cases in China, which sits at almost 10,000 people, helped spur the CDC to act.
"We would rather be remembered for overreacting than underreacting," Dr. Nancy Messonnier, director of the CDC's National Center for Immunization and Respiratory Diseases, said during a call with journalists. "While we recognize this is an unprecedented action, we are facing an unprecedented health threat." — Erika Edwards
Dow drops more than 500 points
The Dow dropped 525 points as of Friday afternoon, after United, Delta and American suspended all flights between China and the U.S. The S&P 500 was down 1.5 percent, while the Nasdaq Composite dipped by just over 1 percent.
Many market watchers attributed the decline to growing concerns about the coronavirus.
Airlines, hotels, and other travel-related stocks have been hit hardest as China locked down cities, shuttered factories and businesses, encouraged employees to work from home, and implemented severe transport restrictions to help stop the spread of the virus.
The economic fallout has also hit the luxury goods sector and global tourism, since the coronavirus outbreak comes during China's Lunar New Year holiday, in which many Chinese people travel and buy gifts.
U.S. companies such as Apple, Alphabet and Nike, which have the greatest exposure to China, also saw their stocks fall. — Lucy Bayly
American and Delta Airlines suspend China flights
American and Delta, two of the largest U.S. airlines, said Friday that they are suspending flights to China due to the new coronavirus.
American said its suspension will last through March 27 and that the company will continue to evaluate the situation. That date could be pushed back.
Delta said its suspension will start Feb. 6 and last through April 30.
United also said it would suspend some flights to China in part because of a decline in demand.
American, United and Delta join a lengthy list of airlines that have canceled flights due to the outbreak. — Jason Abbruzzese
German research minister hopes for vaccine within months
Germany's research minister said on Friday she expected a vaccine for coronavirus to be developed within months.
"If we want to contain this illness then it is good if we have a vaccine in a relatively short time and we assume this will be in a few months," said Research Minister Anja Karliczek. — Reuters
Facebook bans coronavirus misinformation
Facebook announced Thursday night that it will remove posts that contain "false claims or conspiracy theories that have been flagged by leading global health organizations and local health authorities that could case harm to people who believe them."
Misinformation about the coronavirus has spread across Facebook and Facebook-owned Instagram, where the first- and second-most viewed posts contained a variety of videos, some of which trafficked in fearmongering and racial stereotyping.
Facebook said banned posts included claims about cures such as drinking bleach. — Jason Abbruzzese
Nations fly citizens out of virus-hit China
Countries across the world have stepped up efforts to evacuate citizens from China, as the spread of the virus shows no signs of slowing.
More than 369 South Koreans arrived in Seoul Thursday and a second plane is scheduled to depart Friday. So far Korea has confirmed 11 cases of coronavirus in the country.
German Foreign Minister Heiko Maas confirmed to NBC News on Friday that German nationals would be transported from China on a German Air Force plane.
"There are about 100 people, but there is no one who is infected and there are no suspected cases in this group of people, " he said.
The U.K. said it was airlifting 83 Britons and 27 foreign nationals back to Britain on Friday.
Bangladesh was preparing to send more than 340 of its citizens home on Friday, according to Bangladeshi newspaper New Age.
Singapore said on Friday it was suspending entry to travelers with a recent history of travel to China and suspending visas for Chinese passport holders, to stop the spread of the coronavirus, Reuters reported.
The first military charter plane carrying 200 French nationals from Wuhan arrives today around 12:30 p.m. (6:30 p.m. ET) at Istre airport in southwest France, near Marseille. A second plane is scheduled to arrive this weekend.
On Thursday 195 Americans were airlifted to California from China. — Patrick Smith, Stella Kim, Nancy Ing, Andy Eckhardt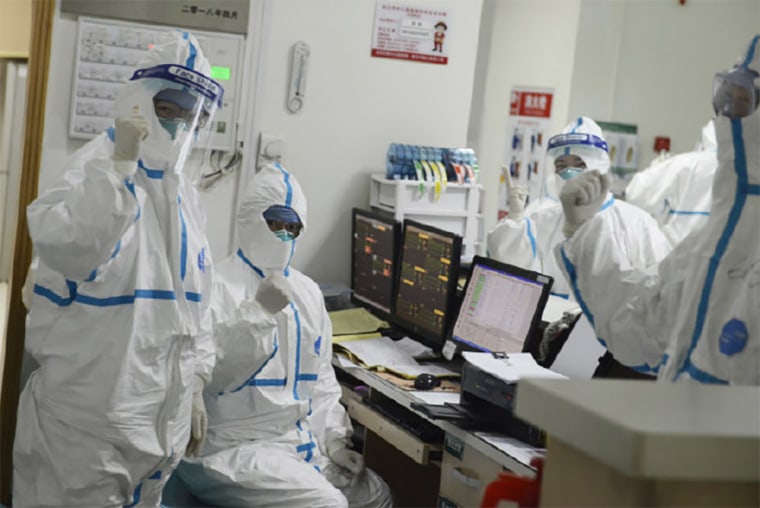 U.K. confirms first infections
Professor Chris Whitty, England's chief medical officer, said in a statement that the two patients were part of the same family and were receiving medical care.
"We have been preparing for U.K. cases of novel coronavirus and we have robust infection control measures in place to respond immediately," he said.
Italy also confirmed its first two cases of the virus late on Thursday night while Russia also confirmed its two first cases Friday. Both patients in Russia were Chinese citizens, according to Russian Deputy Prime Minister Tatyana Golikova. — Patrick Smith, Tatyana Chistikova
Thailand confirms human-to-human transmission
The first person-to-person transmission of the virus has been confirmed in Thailand, after the total number of cases there rose to 19, Reuters reported.
Tanarak Pipat, deputy director-general of the Department of Disease Control, said the "overall risk of infection in Thailand is still low, but people should take precautions to protect themselves." — Patrick Smith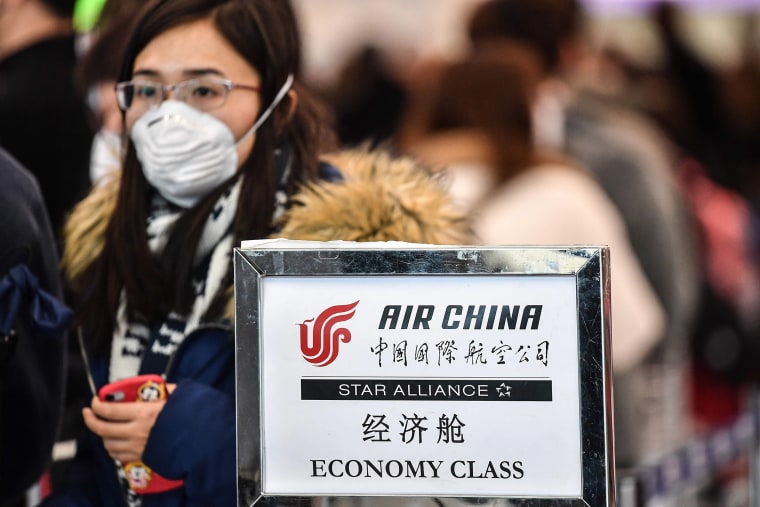 U.S. State Department warns against traveling to China
The U.S. State Department warned Americans not to travel to China amid a deadly coronavirus outbreak that has sickened thousands of people in the country.
The State Department in its "do not travel" advisory issued Thursday also says that "those currently in China should consider departing using commercial means."
It said non-essential U.S. government personnel should defer travel to China because of the outbreak. — Phil Helsel
WHO declares global public health emergency
The World Health Organization on Thursday declared a global public health emergency over the coronavirus outbreak.
The WHO's director-general, Dr. Tedros Adhanom Ghebreyesus, said the declaration is not a "vote of no confidence" in China, which has been widely praised for its transparency and work to control the outbreak. — Erika Edwards