•The global death toll rises to 490 as confirmed cases reach more than 24,000 in mainland China
•Coronavirus kills one in Hong Kong as medical workers demand border closure
•China's president says country in the middle of "people's war"
•Japan quarantines cruise ship after former guest tests positive for virus
•China says still no help with coronavirus outbreak from the U.S.
---
Coronavirus deaths in mainland China reach 490, with more than 24,000 confirmed cases
The number of deaths from novel coronavirus in mainland China has risen to 490 with more than 24,300 confirmed cases as of Wednesday morning local time, China's national health commission said.
China is experiencing an outbreak of novel coronavirus, also known as 2019-nCoV, which was first identified in the city of Wuhan in Hubei Province.
It has also been detected in other countries, including in the U.S., but nearly all of the deaths have been reported in mainland China. A person from Wuhan with the virus died in the Philippines and a person who had it died in Hong Kong.
The World Health Organization has declared the outbreak a global public health emergency. The United States, which has 11 confirmed cases, has also declared a public health emergency. At least 25 countries have cases, according to the WHO.
At the end of the day Monday local time, China's health commission reported 425 deaths from the virus. — Phil Helsel
Hyundai to suspend South Korean production as outbreak disrupts parts supply from China
Hyundai Motor Company says it will temporarily suspend production in South Korea, citing a disruption in getting parts from China amid the novel coronavirus outbreak.
The schedules for the suspension will vary by line, the auto manufacturer said in a statement.
The company will also try and seek alternative suppliers in other regions. "Hyundai Motor will closely monitor developments in China and take all necessary measures to ensure the prompt normalization of its operations," Hyundai Motor Company in Seoul said in a statement.
The virus was first detected in the Chinese city of Wuhan in Hubei province, and it is at the epicenter of the outbreak. The virus has been detected in other countries but nearly all of the deaths have been in mainland China. A man from Wuhan died in the Philippines, the World Health Organization said Saturday, and a 39-year-old man who had been confirmed to have coronavirus in Hong Kong died, hospital officials said Tuesday.
Wuhan is a center of automotive production and it's been closed off, along with neighboring cities, isolating more than 50 million people and bringing factories to a standstill, The Associated Press reported. So far, U.S. automakers haven't had to curb production for want of Chinese parts. — Phil Helsel
10 novel coronavirus cases found from cruise ship quarantined off Japan
Ten people from a cruise ship quarantined off Japan have tested positive for the novel coronavirus, officials said.
Japan's health minister, Katsunobu Kato, said that the 10 people from the Diamond Princess will be escorted to a facility in Kanagawa Prefecture, where Yokohama is located. The cruise ship is being quarantined.
Princess Cruises, which owns the cruise ship, has said that a guest who later tested positive for coronavirus sailed from Yokohama on Jan. 20 and disembarked at Hong Kong on Jan. 25. That person did not report any symptoms while on the ship, but later tested positive for coronavirus on Feb. 1 after visiting a Hong Kong hospital, the cruise line said.
That confirmation set off a round of testing for 273 people who either showed symptoms or had close contact with the coronavirus patient who disembarked in Hong Kong, Kato said.
Of the first 31 people tested, 10 people tested positive for the virus, he said. The samples from the other 242 passengers and crew are still being tested.
Princess Cruises identified the 10 who tested positive as nine guests — two Australians, three Japanese, three from Hong Kong, and one from the U.S. — as well as one Filipino crew member. No deaths from coronavirus have been reported in Japan. — Arata Yamamoto and Phil Helsel
FDA makes coronavirus test available to states
The U.S. Food and Drug Administration has granted permission to state and local health departments to use the diagnostic test for the new coronavirus, a move that will speed up the testing process.
The CDC headquarters in Atlanta had been the only place in the country with the test for the virus. That meant that it took at least 24 to 36 hours to get test results back, including the time it took to send samples overnight to Atlanta, plus four to six hours to perform the actual test.
The FDA approved the test under "emergency use authorization," which hastens the approval process for potentially lifesaving medical or diagnostic products during public health emergencies. — Sara G. Miller
Video from Wuhan shows inside of coronavirus hospital
Fang Bin, a resident of Wuhan, China, filmed patients inside hospital corridors and body bags in a funeral vehicle. It is not confirmed whether these body bags are victims of coronavirus. Bin said police accused him of taking money from "anti-China" forces after he released the video.
WHO warns of misinformation
A senior official with the World Health Organization (WHO) warned Tuesday about misinformation spread in the novel coronavirus outbreak.
"It is important to tackle misinformation as soon as possible," Dr. Sylvie Briand, director of WHO's pandemic and epidemic diseases department, said in a briefing with reporters. "When there is an unknown, people try to fill in the void."
One example of misinformation described by Briand is an erroneous belief that there is "a cloud of virus" and it's possible to get sick by simply breathing in air.
"This is not the situation," she said, adding that coronavirus spreads primarily through contact with an infected person and is transmitted through respiratory droplets.
Briand also said the coronavirus outbreak does not constitute a pandemic, or worldwide spread of a new disease, yet.
China waging 'people's war' on virus, Xi says
China is in the middle of a "people's war" on the new coronavirus that has claimed hundreds of lives, President Xi Jingping said according to the Xinhua state news agency.
Xi added that those who fail to implement and obey the government's epidemic control measures, including Communist Party officials, will be held accountable.
"Those who fail to perform their duties shall be punished according to discipline and law," he said. — Leou Chen
Deaths reach 425 in mainland China
The number of deaths from the novel coronavirus in the mainland has jumped to at least 425 on Tuesday, Chinese health officials said.
China's National Health Commission said that more than 20,000 cases of the coronavirus have now been confirmed.
In addition, a 39-year-old man who had been confirmed to have coronavirus in Hong Kong died, hospital officials said Tuesday.
The virus has also spread to other countries, including 11 cases in the United States.
On Saturday, WHO reported the first death from the virus outside China. — Phil Helsel
Hong Kong health workers strike
The death in Hong Kong came as hundreds of medical workers began a second day of strikes to force the government to completely shut the city's borders with mainland China to stop the spread of the virus.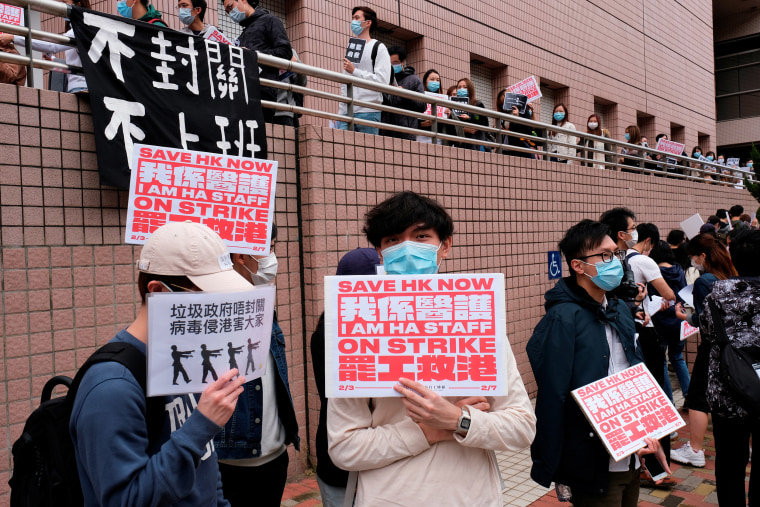 On Monday, Hong Kong leader Carrie Lam announced that 10 out of 13 border checkpoints with the mainland would be closed, but stopped short of shutting the entire border.
She has urged striking medical workers to end their action and return to their jobs as she warned of "serious consequences" amid the growing epidemic. — Jasmine Leung
American Airlines suspends flights to and from Hong Kong
American Airlines said Tuesday it had suspended flights to and from Hong Kong.
"We have suspended flying to Hong Kong from both Dallas/Fort Worth and Los Angeles through Feb. 20 due to demand," the airline told NBC News in a statement.
On Friday, the airline said it was canceling flights to Beijing and Shanghai until March 27.— Jay Blackman
Japan quarantines cruise ship
Japan's government said Monday it would quarantine a cruise ship bound for Yokohama, a port city south of Tokyo, after a Hong Kong man who sailed on it last month tested positive for coronavirus.
Princess Cruises, the company that owns the ship, said Tuesday the turnaround of the ship had been delayed to allow Japanese officials to review the health status of all guests and crew on board.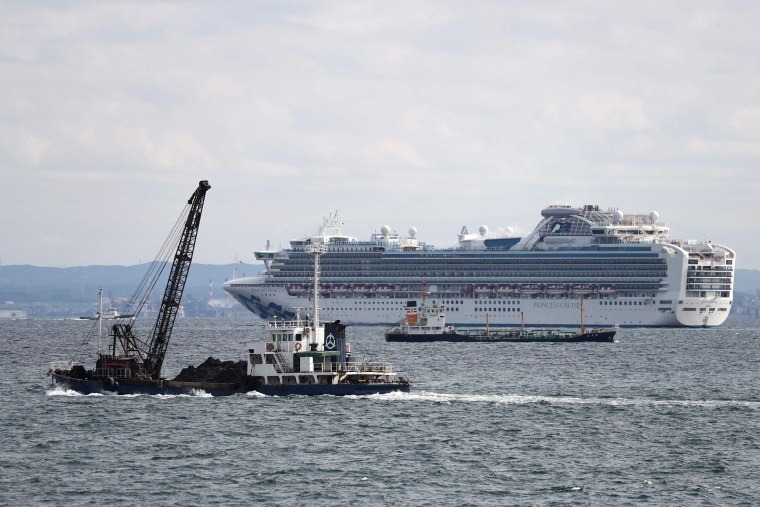 It's currently moored just off the Yokohama port while the precautionary testing is taking place.
The vessel has 2,666 guests and 1,045 crew on board. — Arata Yamamoto and Reuters
China says still no U.S. help with outbreak
China has yet to receive assistance from the United States despite promises, China's foreign ministry spokesperson Hua Chunying said Tuesday.
"China has noted that the United States has repeatedly expressed its willingness to provide assistance to China, and hopes that the relevant assistance will be provided as soon as possible," Hua said.
He added that the U.S. should adopt "an objective, impartial, calm and rational attitude," refrain from overreacting, and respect China's prevention and control efforts.
Hua has previously said that the U.S. response to the outbreak "could create and spread panic."
The U.S. has pulled its diplomatic staff from Wuhan, the epicenter of the epidemic, and started evacuating its nationals from the city last week.
It was also the first country to temporarily suspend the entry of foreign nationals who pose a risk of transmitting the virus. — Eric Baculinao and Yuliya Talmazan
Australian evacuees to be quarantined on remote island
Australians evacuated from Wuhan arrived in the Indian Ocean territory of Christmas Island on Tuesday, where they will be quarantined for two weeks.
Some 241 passengers will be stationed on the remote Australian-run island, about 870 miles northwest of mainland Australia.
Australian Health Minister Greg Hunt said Tuesday the passengers have been cleared of the coronavirus, with two remaining facing only a "minimal" chance that they have the virus.
There were 600 Australians registered in the Hubei region as of last week and Prime Minister Scott Morrison said Tuesday a second evacuation flight may be arranged.
Australia on Saturday followed the United States in barring entry to all foreign nationals traveling from mainland China. — Reuters