RAMSTEIN, Germany — As conflicts worsen on NATO's eastern borders, the case is being made for a pan-European army as commanders seek multinational "coalitions of force" — with or without American help.
Long-term plans for the creation of a joint European Union force have been tabled that backers say could lead to more efficient defense spending and greater military integration between the bloc's 28 member nations.
Europe's response to Russian aggression and ISIS terror has been shaped in part by budget cuts as governments tackle huge deficits in the wake of the 2008 credit crisis.
Analysts argue that a shift to collective defense would allow NATO states in Europe to defend members even if the United States is preoccupied with other conflicts or unwilling to act.
"Europe must accept that the world regards the E.U. as more than just an economic union," Raimund Kirch, editor in chief of the Nürnberger Zeitung, wrote in an editorial. "Therefore, it must develop an independent moral and military power, in order to survive between the bi-polar forces."
"Europe wants to show 'we must be more powerful' in light of the Ukraine crisis"
European Commission President Jean-Claude Juncker told Germany's Welt am Sonntag newspaper last week that a joint E.U. army would "convey to Russia that we are serious about defending the values of the European Union."
In a report titled "More Union in European Defense" [PDF link] Brussels-based think tank CEPS wrote last month: "Numerous emergencies in the European Union's strategic neighborhood, hybrid security threats, years of uncoordinated cuts in defense spending and rapidly evolving global trends have all eroded the E.U.'s role as a security actor in a multi-polar world."
The institution's recommendations include the creation of a permanent E.U. military headquarters in Brussels.
Such suggestions are likely to encounter tough opposition. "It's a very risky idea," Polish Foreign Minister Grzegorz Schetyna told Polish radio station Radio Zet, and U.K. officials said there was "no prospect" of British support for the idea.
However, German Defense Minister Ursula von der Leyen welcomed the proposal. "Our future as Europeans will at some point be with a European army," she said.
The remarks advocate further integration and a strengthening of European defense structures, experts say. "It is all about pooling, sharing and smart defense," said Patrick Keller, coordinator for foreign and security policy at the Konrad-Adenauer Foundation in Berlin.
"This is not about having more influence in NATO," former German NATO general Harald Kujat told NBC News. "But the idea is that Europe wants to show 'we must be more powerful' in light of the Ukraine crisis. NATO's reaction time is too long because the Europeans have reduced the readiness status of their forces so much that they are, in practice, not available within the necessary time frame."
NATO commanders "envision coalitions of force, multinational units serving in new areas, not individual nations," NATO's LANDCOM commander Lt. Gen. John W. Nicholson told NBC News. "Therefore, our systems need to be integrated in a way that perhaps they were not integrated in Afghanistan."
"It means that, at the lowest levels, our forces are re-trained from 10 years of counter-insurgency in Afghanistan to the potential scenarios they can encounter in the future," Nicholson said on the sidelines of this week's LANDCOM Corps conference at Ramstein Air Base in Germany.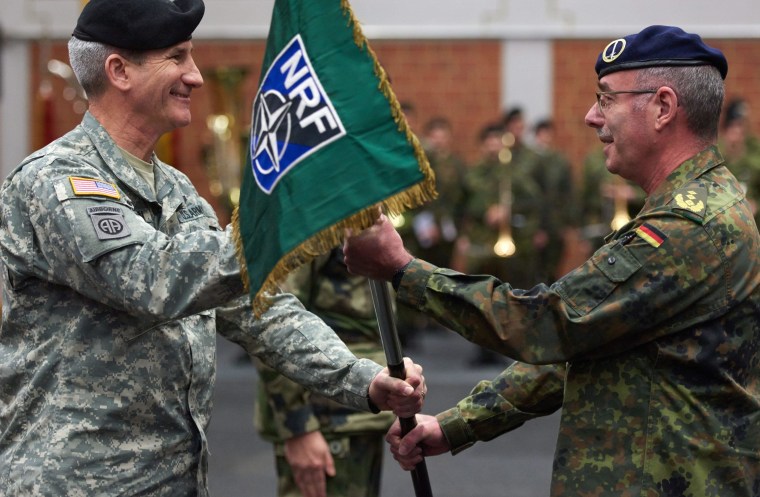 With its new Readiness Action Plan (RAP), NATO hopes to better protect its Eastern borders. The plan includes the creation of a so-called Very High Readiness Joint Task Force, or VJTF, that would allow the deployment of up to 5,000 troops and equipment to hotspots at short notice.
"But the fact that the Europeans are not in a situation to defend their eastern allies in the Baltics and Poland without American support is shameful," said Kujat, who served as former head of NATO's Military Committee between 2002 and 2005.
Member countries need to modernize and adapt to meet NATO's new goals, which include rapid reaction time and flexibility.
Significant cuts in the defense budget have left the German military operating with just 75 percent of the required heavy equipment.
"Internally it is called dynamic availability management — [sharing] combat vehicles and available equipment among units," former German general Kujat said. "It is embarrassing."
German public broadcaster ARD reported last month that German army soldiers used broomsticks to simulate machine guns during a NATO exercise. Citing a confidential Bundeswehr report, German soldiers reportedly attached the wooden sticks to the top of armored vehicles after painting them black.
New research also suggests that a significant number of NATO members are falling short of meeting their self-proclaimed goals of reversing declines in defense spending.
A study by London-based think tank European Leadership Network found that only Estonia — among the 14 NATO nations examined — will meet the bloc's target of spending two percent of GDP on defense.
"Germany spends about 1.3 percent of its GDP on the military. That's not enough," Kujat warned.
According to the study, defense spending in European powerhouses such as Britain and Germany are declining. Italy has cut its preliminary 2015 defense budget by more than $1 billion.
"Unfair burden sharing has been an issue for nearly 20 years within NATO," analyst Patrick Keller said. Following the financial crisis in 2008, many European nations have continued to cut their defense budgets significantly "to compensate for other financial deficits," Keller added.
Stefan Soesanto, of the RAND research institute in Brussels, argues for an "enhanced interoperability among European soldiers" which in the long term could also lead to more independence from American dominance within NATO.
He wrote in a recent analysis that if "10-25 per cent of the armed forces [in Europe] were to comprise soldiers from other NATO members, the continent could turn itself into the proverbial fortress of Europe, and be able to naturally create the building blocks for multinational divisions, brigades, and battalions, to emerge under NATO command."