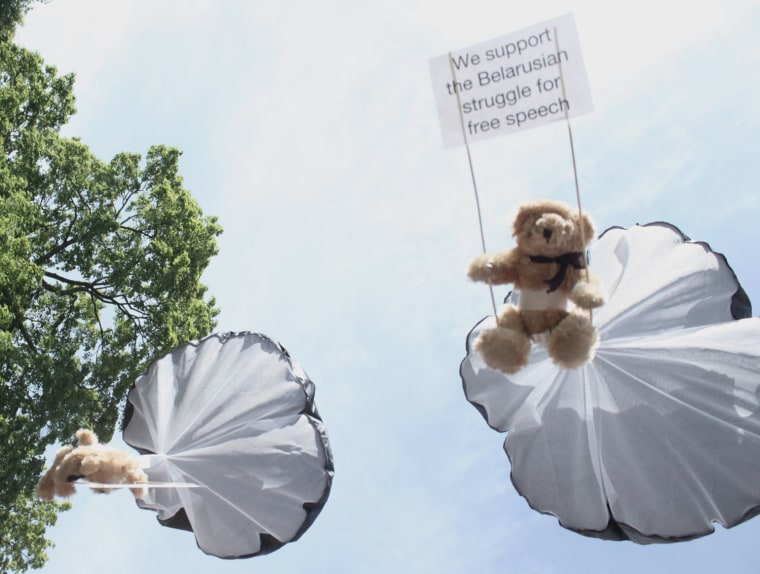 An imaginative pro-democracy protest that saw teddy bears dropped from the sky over Belarus has not softened the stance of President Alexander Lukashenko - but it has brought the authoritarian regime some unwanted international attention.
More than 800 stuffed animals – each with an individual parachute – were dropped from a small plane by four advertising professionals from Sweden in order to raise awareness of human rights issues. It was inspired by the arrest in February of Belarusian activist Paval Vinahradau, who was detained for staging a toyprotestinMinsk.
The group told NBC News they hoped an ensuing diplomatic spat between Belarus and Stockholm would increase pressure on Lukashenko.
"We're not really happy, or satisfied, or content, or proud, or anything until we have achieved something real, be that [Lukashenko] changes his policy … or someone changes it for him," said Per Cromwell, chief executive of Studio Total, a four-person Swedish advertising firm.
 "I guess it's not over yet."
The project was one year in the making, Cromwell said, and the goal was to raise awareness about the human rights abuses taking place in the former Soviet republic, where Lukashenko has been in power since the mid-1990s.
In 2004, Lukashenko amended the constitution's two-term presidential limit, a decision harshly criticized by Western powers, including the United States Bush administration whichdescribedhim as the "last dictator in Europe" in charge of an "outpost of tyranny."
A country of about 9.5 million, Belarus remains one of the most repressive states in Europe, Yulia Gorbunova, a Human Rights Watch researcher based in Moscow, told NBC News.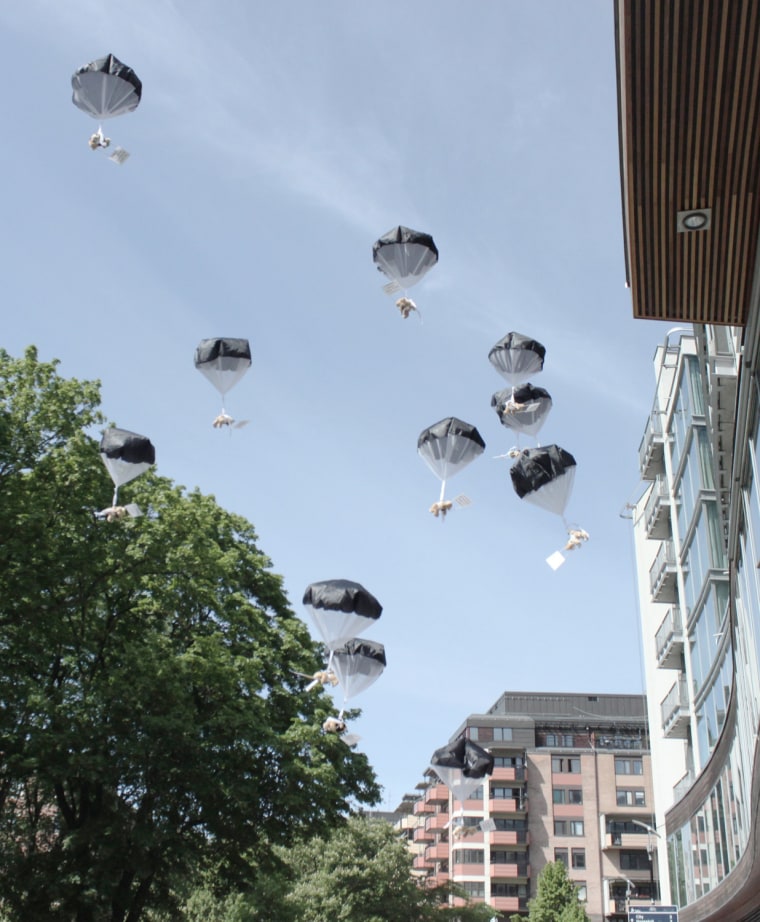 "It has a complete disregard for basically all fundamental freedoms -- freedom of assembly and association, freedom of speech, freedom from torture and degrading treatment -- virtually no independent media... no independent judicial system," she added.
The government is so repressive, Gorbunova said, that the opposition and the civil society have no opportunity to grow.
This is the same country where last year, aone-armedmanwasamongthe 400 people arrested for taking part in a clapping protest.
Cromwell said Studio Total's intention was to highlight the absurdity of life under Lukashenko, while showing support for the daunting struggle of a shattered opposition that is closely monitored by the KGB, the country's security agency.
"We're doing what we can to make people laugh. It's something that a dictator cannot survive," he said.
Belarus arrests two in wake of teddy bear airdrop
"You can't really win a fight against a teddy bear because if you don't do anything you will look ridiculous, or if you start fighting back, you will look ridiculous," Cromwell added.
On the day of the airdrop, July 4, Cromwell was driving the getaway car, parked halfway between the Lithuanian border, where the plane took off, and Minsk. If anything went awry, he was ready to pick up the pilot and co-pilot and drive to the Swedish embassy. His colleagues, Tomas Mazetti and Hannah Frey, were on the plane along with the teddy bears. Mazetti had learned to fly for the occasion, and he had only gotten his license a few weeks before the operation, Cromwell said.
It was a sunny day, and the flight path was a straight line from the Lithuanian border to Minsk, but Cromwell said they were afraid their plane might get shot down. In 1995, whenahot-airballoon accidentally crossed into Belarusian airspace, Lukashenko's security officials fired a missile that killed the two Americans on board.
Air traffic controllers in a tower in Minsk contacted the plane, but Mazetti and Frey couldn't understand what they were saying in Russian. After dropping their cargo and spending less than two hours in Belarus' air space, the two flew the plane back across the border.
Belarus didn't publicly acknowledge the airdrop until later in the month, when Lukashenko criticized military authorities for allowing the plane to enter Belarusian air space.
He then fired the generals in charge of air defense and the border patrol, and police arrested two civilians — a blogger who posted pictures of the teddy bears on his website and a man who rented an apartment to Cromwell during his short stay in Minsk.
Last week, twojournalists were also arrested for posing for photographs holding the air-dropped teddy bears.
On Aug. 3, the Swedish ambassador to Minsk was expelled in a move that the European Union said worsened the tension already present between the bloc and Belarus.
"Everyone around the table [was] absolutely clear that this was not just a situation merely between Sweden and Belarus. It's a situation that ... affects the EU's relations with Belarus," Olof Skoog, a Swedish diplomat who chairs talks on foreign policy issues among EU states, said on Aug. 10, according to Reuters.
"There is going to be a very clear message to all Belarusian ambassadors around Europe in the next few days expressing full solidarity with the Swedes on this," he added.
Since then, Cromwell said he and his colleagues have been receiving "Google-translated" messages from the KGB, in a tone that ranges from threatening to complaining, and Facebook friend requests from newly created bogus accounts.
Belarus, Sweden kick out ambassadors as teddy bear war heats up
Last week, the online onslaught culminated with a summons from the KGB, threatening the Swedes with fines or "correctional work for up to two years, or imprisonment for up to six months" if they don't show up in Belarus in 10 days to assist the agency with "investigative actions" related to the group's "illegal crossing."
Responding to the invitation in an openlettertoLukashenko published on Aug. 14, Studio Total said it "[felt] bad for making people laugh at [Lukashenko] and [his] super-expensive air defense." The group also extended Lukashenko an invitation to Sweden.
"Our only demands is that you behave as politely as you can. (No threats of torture and the likes) and that you release all the political prisoners in Belarus," the letter read.
European Union sanctions against Belarus already include a visa ban and an asset freeze imposed on Lukashenko and his inner circle, an arms embargo and a ban on more than 30 Belarusian companies to conduct business in the trading zone.
"What this can achieve is to get the awareness and the attention, and to create some kind of momentum for the opposition," said Cromwell. "But of course throwing teddy bears over a dictator does not create real long-term change."
More world stories from NBC News: