The U.S. government allegedly masterminded the creation of a "Cuban Twitter" — a communications network designed to undermine the Communist government in Cuba, according to a report Thursday by The Associated Press.
The project was created by a U.S. government agency with ties to the State Department: the U.S. Agency for International Development (USAID).
USAID is most frequently associated with assistance in the wake of major natural disasters like the devastating typhoon in the Philippines; its logo is a ubiquitous sight on temporary shelters and food bags at humanitarian disasters worldwide.
Here's what you need to know about USAID and the possible implications of its role in the "Cuba Twitter" project:
What is the mission of USAID?
USAID is the federal government agency responsible for distributing foreign aid abroad. Its mission is to "partner to end extreme poverty and to promote resilient, democratic societies while advancing our security and prosperity," according to their web site.
Launched under President John F. Kennedy in 1961, USAID invests in agricultural development; combating deadly diseases like HIV, malaria, tuberculosis; distributing aid after devastating natural disasters; promoting democracy and human rights; encouraging economic growth; and promoting the rights of women around the world.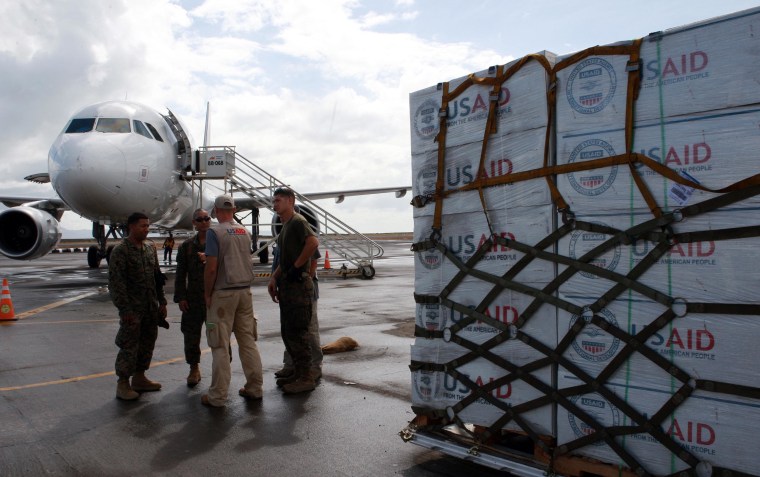 USAID's FY 2015 Budget request is for $20.1 billion, what the agency says is less than 1 percent of the federal budget.
USAID says that its work helps ensure American security and prosperity – arguing that the world is more stable if there is less poverty and strife. But it has long said that it is a bipartisan, apolitical group – espousing neither Democratic nor Republican political ideals, but rather "American" ideals.
The agency has long stood by its independence from the government's military, intelligence and security apparatus.
USAID operates all over the world – with its two biggest programs in Afghanistan and Pakistan. It operates primarily in developing countries in Africa, Asia, Latin America and the Middle East. It currently has 1,801 projects around the world – from Paraguay to South Sudan to Turkmenistan and Myanmar.
See USAID's interactive map of their projects around the world.
How could the 'Cuba Twitter' story jeopardize USAID's mission?
USAID says that it does not conduct covert operations on behalf of the U.S. government – as those efforts would jeopardize the trust of foreign governments and the general populace the agency aims to help.
USAID Administrator Rajiv Shah responded to questions from NBC's Andrea Mitchell about the allegedly covert nature of the Cuba program on MSNBC Thursday.
Shah said it was "not a covert program," but added, "parts of it were conducted discreetly." He said that it was conducted in accordance with U.S. law.
"What we do know is true is that a comprehensive GAO study found the program to be consistent with the law, that the elements of the program that are under discussion have been notified publicly, that all of the funding for it comes from Congress and transparent and notified efforts. And that this is simply not a covert effort in any regard."
Shah defended the fact that many Cuba users of the free social media program were not aware that it was a U.S.-funded project. "Look, there are a lot of times when people are unaware of exactly where the funding support comes from for specific efforts."
Sen. Patrick Leahy, D-Vt., and chairman of the Appropriations Committee's State Department and foreign operations subcommittee told Mitchell on her show that he was not aware of this Cuba program.
"No, absolutely not. And if I had been, I would have said, 'What in heaven's name are you thinking? This is dumb, dumb, dumb.'" He said that USAID does lots of good things around the world, but being involved in covert operations is clearly not one of them.
"If USAID says they briefed the people giving them the money for this – that's not so," said Leahy. "I was not briefed. I know of nobody who was briefed. And I think most people would say, 'Are you out of your mind?'"
Watch: Sen. Patrick Leahy blast reported covert USAID program
Even the perception of government meddling in humanitarian projects can be troublesome. Pakistan is an example of where mixing development work and covert operations can have disastrous consequences.
Since the CIA used a polio vaccination team to gather DNA samples in Osama bin Laden's Pakistan compound, polio workers in Pakistan have come under serious threat by militant groups who say the immunization campaign is just a cover for U.S. spying. Over 60 people, including polio workers and security personnel deployed to protect them, have been killed in Pakistan since 2012, according to the World Health Organization. And the battle to eradicate the debilitating disease has faltered – the disease is endemic in Pakistan and neighboring Afghanistan.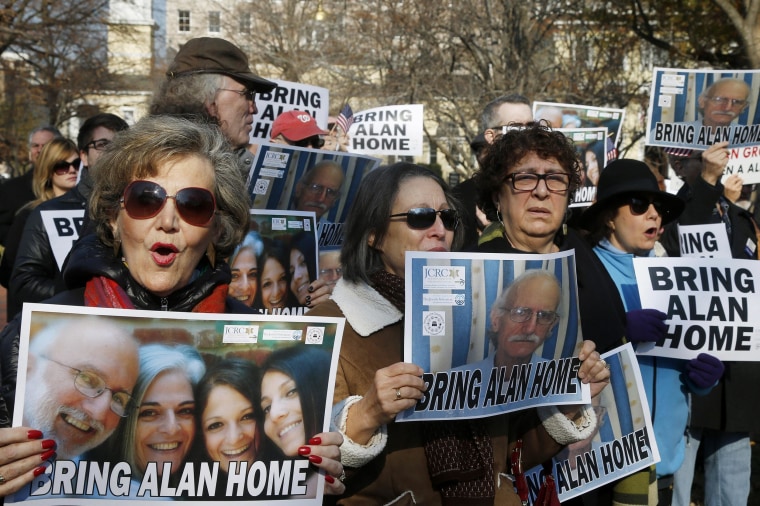 What about the U.S. citizen imprisoned in Cuba?
Alan Gross is a U.S. citizen who was working as a USAID subcontractor in Cuba in 2009 when he was arrested by the Cuban government. In 2010 he was found guilty by a Cuban court of participating in a "subversive project of the U.S. government that aimed to destroy the revolution through the use of communications systems out of the control of authorities," and sentenced him to 15 years in prison.
Gross and his family in the U.S. have pleaded with the Obama administration to help secure his release for years. In letter written to President Barack Obama in December 2003 he wrote, "I fear that my government-- the very government I was serving when I began this nightmare-- has abandoned me."
The fact that the "Cuba Twitter" project was publicly launched shortly after the 2009 arrest of Gross will likely not help his argument in Cuban eyes that he was just an innocent abroad.
But USAID's Shah said the program in Cuba was "executed discreetly precisely because of the risks to people like Alan Gross, whom we think about every day."