We've reported many times on the degree to which Mitt Romney's presidential campaign has relied on votes from wealthy Republicans to help his candidacy thrive during the Republican primaries. But let's also not forget the role of the Thurston Howell demographic when it comes to financial support.
BuzzFeed's Zeke Miller recently noted that the most recent federal campaign finance filings help show that Romney is "more dependent on wealthy donors" than any modern major-party nominee. I've adapted some of Zeke's data to put together this chart.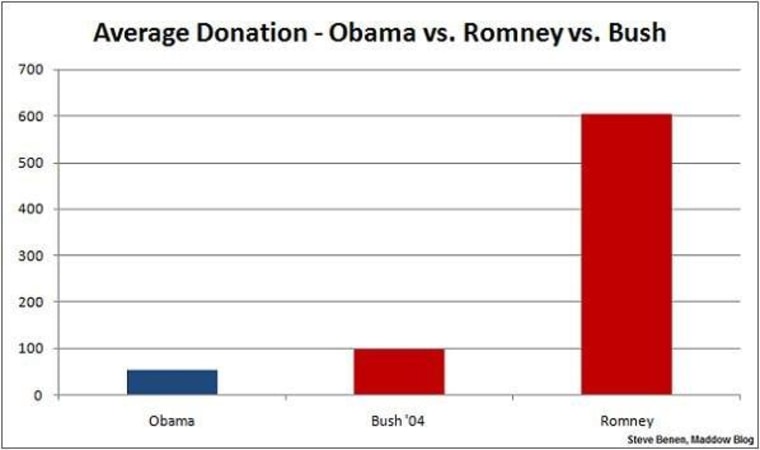 How much is Romney struggling with small-donor contributions? As of the end of March, even Ron Paul and Rick Santorum had raised more money in small donations than the presumptive Republican nominee.
The larger contrast for the general election is even more striking. President Obama, at this point in the race, has persuaded a very large number of people to contribute modest sums to help establish a formidable financial base. Mitt Romney, meanwhile, has persuaded a very small number of people to make massive contributions.
In practical terms, this may not matter as much as it should -- thanks to five members of the Supreme Court, Romney's wealthy backers can make unlimited contributions to entities like Karl Rove's super PAC, and given the riches of folks like the Koch brothers, it's basically a bottomless-well of campaign cash that will finance attack ads through Election Day.
But the disparity nevertheless helps make clear who constitutes Romney's "base," and what income bracket they tend to be in.