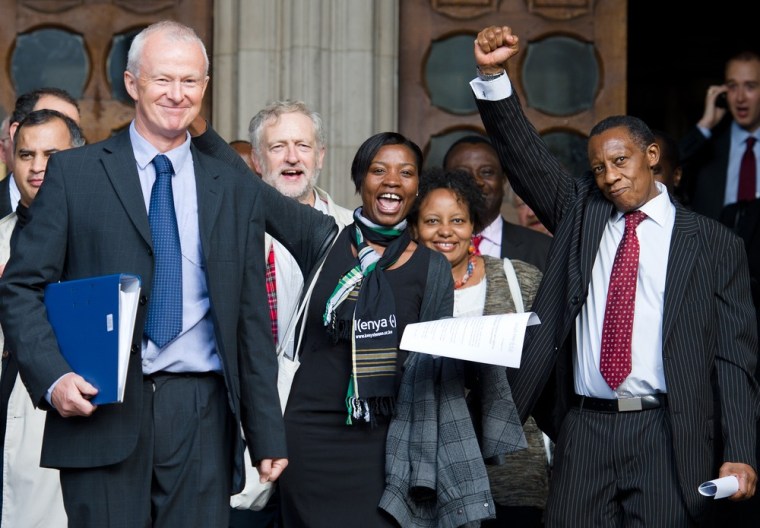 LONDON -- A U.K. court decided Friday that three elderly Kenyans who were victims of torture during British rule of their country in the 1950s can claim compensation despite the passage of time, in a landmark ruling that could clear the way for thousands of other cases.
Judge Richard McCombe rejected the British Foreign Office's argument that the events took place too long ago for a fair hearing to take place and ordered that the case should proceed to a full trial.
During an earlier hearing in July, the U.K. government admitted for the first time that people were tortured during the "Mau Mau" uprising. Guy Mansfield, a lawyer representing Britain, told the three claimants that he did "not want to dispute the fact that terrible things happened to you."
Colonial sins return to haunt former world powers
Paulo Muoka Nzili told that hearing he was castrated after his arrest by the colonial authorities; Wambuga Wa Nyingi said he was beaten unconscious as 11 others were beaten to death; and Jane Muthoni Mara said she was beaten with sticks and sexually assaulted with a glass bottle containing hot water after she gave food to Mau Mau fighters.
McCombe wrote in his judgment Friday that he had concluded a fair trial still remained possible. "The documentation is voluminous ... the governments and military commanders seem to have been meticulous record keepers," he said.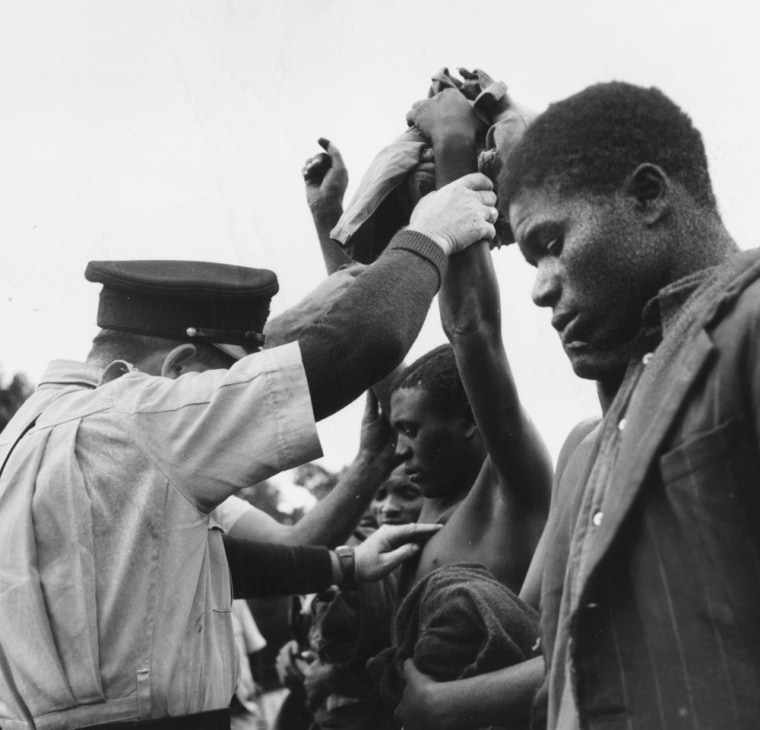 Obama's grandfather detained in camp
President Barack Obama wrote in his book "Dreams From My Father" that his Kenyan grandfather Onyango was held for six months in a detention camp by the colonial authorities, returning "very thin and dirty" and with "difficulty walking" and his head "full of lice."
Britain previously argued that the claimants should actually sue Kenya's government, which took over from the colonial regime on independence in 1963, but that was also rejected by the court.
Friday's ruling appeared to remove the last remaining argument against paying compensation, though the U.K. Foreign Office later issued a statement saying it planned to appeal.
There were joyous scenes at the Kenya Human Rights Commission in Nairobi, when Nzili, 85, Nyingi, 84, and Mara, 73, and supporters heard the judge's decision.
"Thank you God, you've heard our prayer, you heard our cry for mercy," they could be heard singing, according to a translation, during a phone call to a commission official.
They are seeking the creation of a welfare fund for victims of colonial oppression and an apology from Britain.
From ITV News: Tutu urges UK to show compassion to Kenyan torture victims
Martyn Day, a British lawyer representing the trio, said in a statement that despite Britain's admission that the claimants were "brutally tortured by the British colony" it had been "hiding behind technical defenses for three years in order to avoid any legal responsibility."
"This was always morally repugnant and today the judge has also rejected these arguments," he added. "Following this judgment, we can but hope that our government will at last do the honorable thing and sit down and resolve these claims."
'Reverberate' worldwide
Day, noting the age of the claimants, said he hoped the British government would settle out of court as it could take a year for the full trial to be heard. A fourth claimant, Ndiku Mutwiwa Mutua, died after the case began.
Day described the ruling as "a historic judgment which will reverberate around the world and will have repercussions for years to come."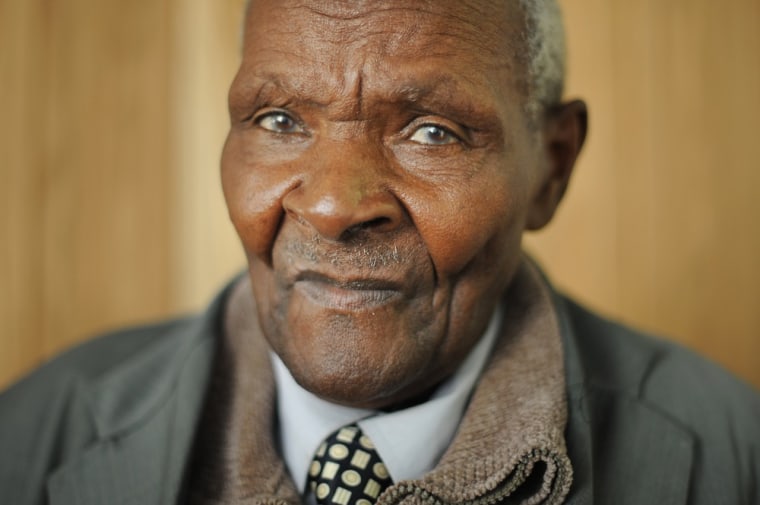 "There will undoubtedly be victims of colonial torture from Malaya to the Yemen, from Cyprus to Palestine, who will be reading this judgment with great care," Day said.
Dan Thea, 69, who took the Mau Mau oath at the age of eight and who now runs the Mau Mau Justice Network, told NBC News that there were 40,000 surviving veterans in Kenya who would take hope from the ruling.
More news about Africa from NBCNews.com
Thea, who said his late sister had been raped by British officers when she was about 20, said he was "bitter, still very angry" about the actions of the British colonial authorities.
"It was totally, totally criminal. It was basically racist and the whole point was to ensure that Kenya became … a permanent white settlement, just as had happened in the USA, Canada, Australia, New Zealand and South Africa," he said.
"Kenya was not going to be like other African states, free after a certain time. It was identified as the 'England of East Africa,' that's what they called it, ... because of its climate and rich agricultural land," he added.
'Not terrorists'
Agnes Gitau, a Kenyan whose father was a member of the Mau Mau movement, said victory in the case would show that "my people were not just bad guys, were not militants, were not terrorists -- these were people fighting for a cause" and that "Africans are not barbaric."
"I was made to believe they were terrorists from a history book, but now this sets me free," she told NBC News outside the court.
A statement issued by the U.K. Foreign Office said the British government was "disappointed" by the ruling.
"The judgement has potentially significant and far reaching legal implications," the statement said. "The normal time limit for bringing a civil action is 3 to 6 years. In this case, that period has been extended to over 50 years despite the fact that the key decision makers are dead and unable to give their account of what happened."
"At the same time, we do not dispute that each of the Claimants in this case suffered torture and other ill treatment at the hands of the Colonial Administration," it added. "We have always said that we understand the pain and grievance felt by those, on all sides, who were involved in the divisive and bloody events of the Emergency period in Kenya, and it is right that those who feel they have a case are free to take it to the courts."
The case stems from the so-called Kenyan "Emergency" of 1952-1961, during which fighters from the Mau Mau movement attacked British targets, causing panic among white settlers and alarming the authorities in London.
Tens of thousands of rebels were killed by colonial forces and an estimated 150,000 Kenyans, many of them unconnected to the Mau Mau, were held in detention camps likened by a leading historian of the period to Soviet gulag labor camps.
Mau Mau movement illegal until 2003
The Mau Mau insurgency caused deep trauma on all sides and remains controversial in Kenya, where the first two presidents after independence in 1963, Jomo Kenyatta and Daniel Arap Moi, tried to minimize its role in the national fight for freedom.
The Mau Mau split Kenya's most numerous ethnic group, the Kikuyu, between those who joined the insurgency and so-called "loyalists" who sided with the British.
Many former Mau Mau fighters endured a lifetime of poverty after coming out of their forest hide-outs, never having won the land they fought for as it was given mostly to their loyalist foes.
A legal ban on the Mau Mau movement was lifted only in 2003, after President Mwai Kibaki came to power.
Complete World coverage on NBCNews.com
David Anderson, professor of African politics at Oxford University, who wrote a book called "Histories of the Hanged: Britain's Dirty War in Kenya and the End of Empire," told NBC News that the ruling was "amazing," saying "this moment has been a long time coming" for the British government.
"It astonishes me they do not have the political acumen to understand this matter could be settled," he said. "If we go to full trial, the revelations in that hearing will be even greater than what we have heard so far."
Reuters contributed to this report.
More world stories from NBC News: