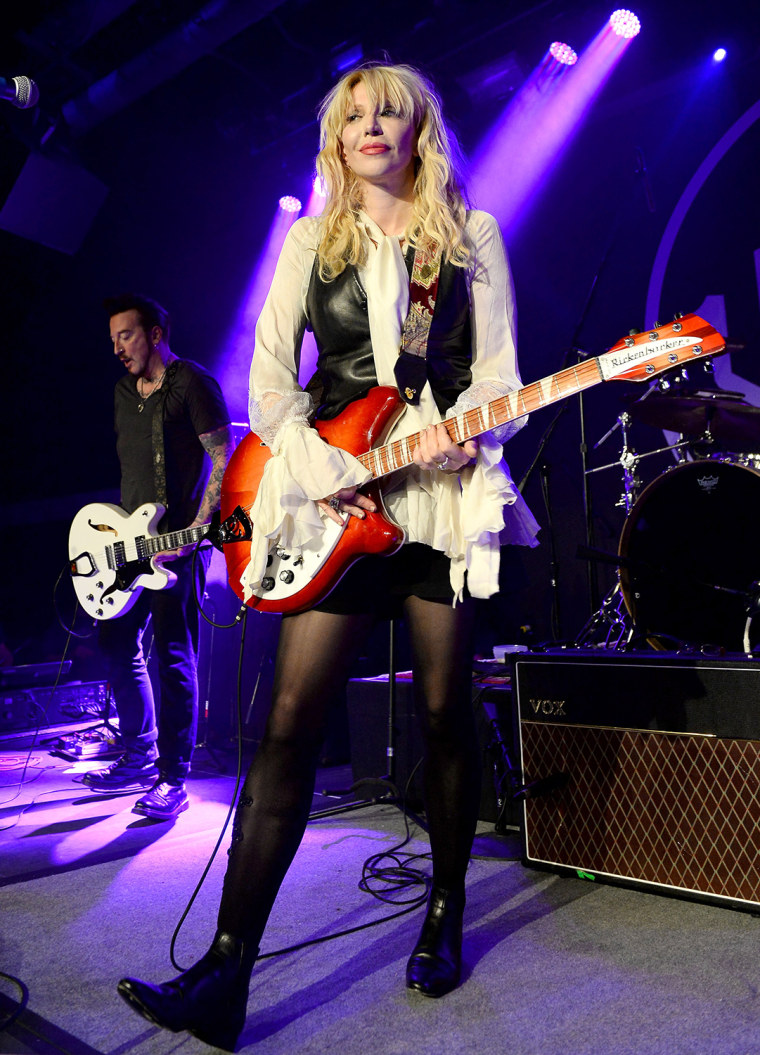 Singer Courtney Love did not defame her former attorney on Twitter in 2010, a Los Angeles jury decided after three hours of deliberations on Friday.
The jury's verdict affirmed that they believed Love wrote the tweet, but that plaintiff Rhonda Holmes did not prove by clear and convincing evidence that the singer knew the statement was false.
Love was not present in court when the jury handed down its verdict. But she arrived a few minutes later.
"I feel really good," she told Spin magazine. "I am relieved. I am really happy to have had good counsel for the first time in 24 years." Love also told KNBC that it felt good to know that the jury "believed me because I told the truth."
The "Twibel" case, the first of its kind to go to trial, was followed with great interest by the legal community because of its potential to become a landmark case. Ellyn Angelotti, who teaches social media law at Florida's Poynter Institute, told NBC News that she is surprised by the verdict.

"Because in a traditional analysis of defamation, the tweet is a published statement to a third party of and concerning another person, I am surprised," Angelotti said. "The only part I was not sure about (was) how they could prove that it damaged the lawyer's reputation. I know a lot of people said it could be seen as an opinion. And maybe the decision hinged on that the lawyer did not prove there was sufficient harm to her reputation." 
Although the verdict only affects a local jurisdiction, it is sure to be appealed and move through the higher courts until it reaches the Supreme Court, Angelotti said. 

"The whole underlying issue of Twitter defamation is how do we balance our right to freedom of speech and freedom of expression, and how do we balance those rights in the public interest in protecting someone's reputation?" Angelotti said in an interview. "The fact that someone could sue you over what you say on Twitter could make people afraid that what they are putting on Twitter could be conveyed as harming somebody's reputation. But, on the other hand, this is going on all the time. So how can we minimize the harm being caused by people spreading unsubstantiated falsehoods about one another in this context? There's a tension there that this case is bringing to the forefront."
Holmes, a San Diego attorney whom Love hired in 2008, sued the singer for a 2010 tweet in which Love claimed the lawyer had been "bought off," and for comments implying the same in a follow-up interview on the now defunct ExploreMusic.com. Love had hired Holmes to represent her in a fraud case against those managing her late husband Kurt Cobain's estate, and testified that her tweet was prompted by Holmes' disappearance from her life. Holmes testified that she stopped communicating with Love when she was fired, which Love denied. 
In a public tweet directed at two bloggers, Love wrote: "@noozjunkie I was [expletive] devastated when Rhonda J Holmes Esq of san diego was bought off @fairnewsspears perhaps you can get a quote."

Love testified that the tweet was a direct response to a question posed by follower @fairnewsspears and she had intended it to be a private direct message. The singer said she was trying to urge the bloggers in a late-night Twitter conversation to reach out to Holmes, whom she hadn't spoken to in months. Realizing her error, she said that she deleted it soon after it posted. Blogger Carmela Kelly, whose Twitter handle is @fairnewsspears, testified in the trial that she didn't think a question prompted Love's bribery accusation. 
"I wanted to know what happened to Rhonda," Love said during the trial. "So that's why I gave her name specifically. I'm sort of a computer retard. Now I know how to direct-message perfectly, but then I didn't. I thought I was making a private message."
A forensic analyst testified that he and his team spent nearly 300 hours scouring the Internet for Love's original tweet, mentions, and retweets and couldn't find any. Stan Lee, the analyst, said that indicated to him that Love deleted the tweet within an hour of posting it.
In his closing statement, Love's attorney, John Lawrence referred to it as "the tweet that no one virtually saw."