LONDON — British Prime Minister Boris Johnson announced what he called England's "journey back towards normality" Monday, drawing up a roadmap that could see most major restrictions lifted in June.
The United Kingdom has one of the world's worst Covid-19 death rates and suffered more economic damage last year than almost any other country.
Johnson has been accused of repeatedly imposing lockdowns too late and lifting them too early. But this time he has what he hopes will be a secret weapon: one of the world's most successful vaccination campaigns.
"The end really is in sight," he told the House of Commons. "A wretched year will give way to a spring and summer that will be very different and incomparably better than the picture we see around us today."
He said that "the vaccination program has dramatically changed the odds in our favor, and it is on that basis that we can proceed."
Johnson oversees health care policy in England, and he said he had been in contact with the leaders of the other three members of the United Kingdom — Scotland, Wales and Northern Ireland — where similar measures will be announced.
Those leaders dictate their own health care policies, which have often differed slightly from England's.
Download the NBC News app for breaking news and politics
The United Kingdom currently has the strictest lockdown measures in the developed world, according to a tracker compiled by Oxford University's Blavatnik School of Government.
The current restrictions were imposed Jan. 4, fueled at least in part by the new, more transmissible variant that is now sweeping the United States and elsewhere.
For almost two months, British pubs, restaurants and nonessential shops have been closed, schools are closed for most students and offices are off-limits for many people, indoor and outdoor gatherings are prohibited, and foreign vacations are illegal.
Though Johnson was initially reluctant to lock his country down, those close to him say that his attitude has hardened since then, perhaps motivated by his own brush with the virus, and his country's death toll.
On Monday, Johnson said the country would open up in four stages, each one contingent on vaccinations continuing, hospitalizations not surging, and new variants not emerging to derail the plans.
Schools will reopen on March 8, he said, and people can meet one friend or relative outdoors; on March 29 six people can meet outdoors and amateur outdoor sports can resume; on April 12 nonessential retail, hair and nail salons, gyms, and outdoor bars and restaurants can reopen; on May 17 families can see friends and families indoors; and on June 21 the government will look at removing all legal limits on social contact, as well as allowing nightclubs, and large public events to resume.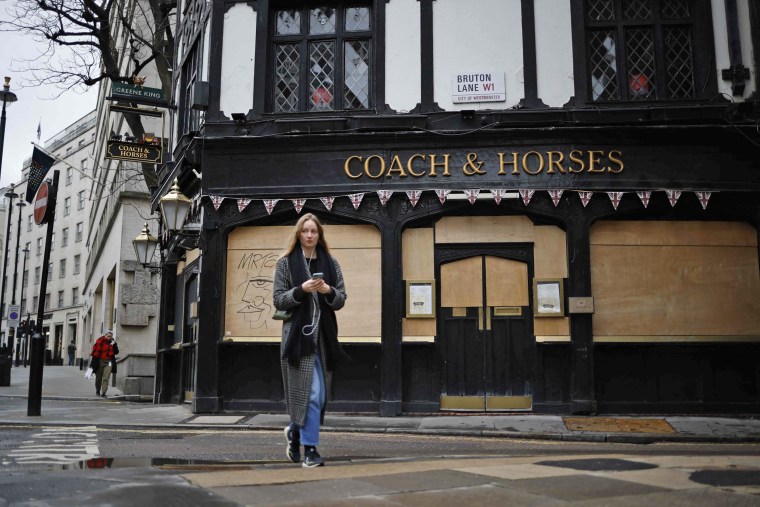 Last year, Johnson's government endured a torrent of criticism for its lockdown strategy: yo-yoing between imposing and lifting restrictions in a bid to balance deaths and the economy — but ultimately achieving neither.
More than 120,000 people have died in the U.K., higher per capita than in the U.S.
But whereas Johnson's popularity crashed last year, in recent months it has rebounded, driven by a vaccination campaign that has put the U.K. among the world's leaders.
The U.K. has given nearly 27 shots per 100 people, versus 19 in the U.S., according to Oxford University data.
Still some experts are worried that again the U.K. is repeating past mistakes by ending the lockdown too soon before cases have fallen even further.
"Do you sometimes feel you're stuck in one of those movies where you know about a disaster that's going to happen, and you live the same day again and again trying to prevent it and failing each time?" tweeted Deepti Gurdasani, an epidemiologist at Queen Mary University of London.
The Associated Press contributed to this report.