LONDON — A year ago this week the United Kingdom became the first country to administer an approved Covid-19 vaccine, a key moment in the pandemic.
But for Boris Johnson there is not much to celebrate.
The prime minister is facing growing outrage after a video was leaked suggesting that government staff held a Christmas party at 10 Downing Street last year during a strict lockdown that outlawed social gatherings.
Johnson has survived multiple political scandals involving close associates, his own apartment and even the queen — but this one is cutting through to voters like few others. A poll conducted Wednesday by polling company Savanta ComRes found 83 percent of 1,036 people thought the government had let the public down.
Download the NBC News app for breaking news and politics
The clip, broadcast by ITV News, shows a mock news conference where a Johnson adviser asks spokesperson Allegra Stratton: "I've just seen reports on Twitter that there was a Downing Street Christmas party on Friday night — do you recognize those reports?"
In the video, which ITV News says was recorded in December 2020 days after the alleged party, Stratton stands before British flags at an official Downing Street lectern, laughs and says: "I went home," before struggling to form an answer.
The adviser then asks: "Would the prime minister condone having a Christmas party?" Stratton laughs and pauses before asking, "What's the answer?"
What is galling to so many is the contrast between the lighthearted banter over a rules-breaking party at Downing Street, which houses the prime minister's personal offices as well as his official residence, and life for the vast majority in Britain.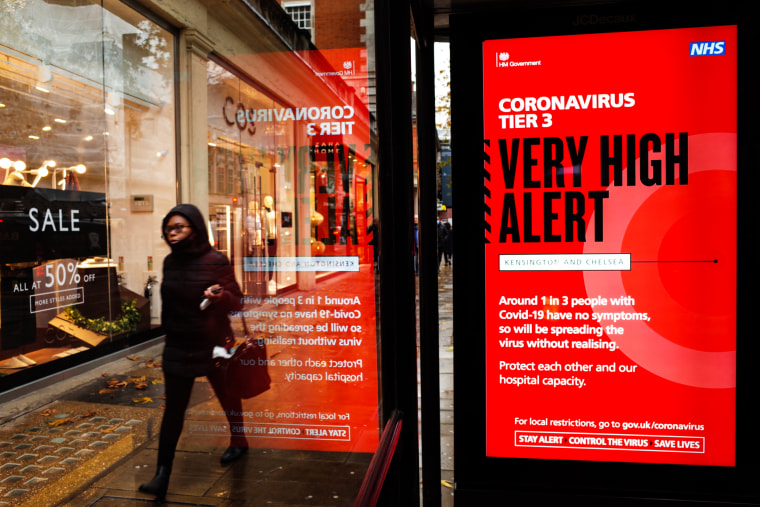 At the time of the alleged Downing Street gathering, tens of millions of people across Britain were banned from meeting close family and friends, including bidding farewell to dying relatives.
The government's own Twitter account said last year: "You must not have a work Christmas lunch or party, where that is a primarily social activity and is not otherwise permitted by the rules in your tier." 
More than 1.1 million pounds ($ 1.45 million) in fines have been imposed on people in London who have broken Covid rules, according to an analysis by The Evening Standard newspaper, including 2,000 convictions in a single London court.
To date, nearly 146,000 people have died from Covid-19 in the U.K.
Stratton resigned and apologized for appearing to make light of the pandemic on Wednesday in a tearful speech outside her home in London
Downing Street did not respond to a request for comment on the video. Johnson has called for an investigation into the mock-up news conference — but he still insists that no such party happened.
The video plus recent sleaze allegations are putting pressure on Johnson just when his government needs to maintain authority to deal with with growing cases of the new Covid-19 variant.
On Wednesday night, Johnson announced tougher Covid restrictions in England, telling people to work from home where possible, wear masks in public and use vaccine passes to slow the spread of the omicron variant.
The prime minister said there were 568 omicron cases in the U.K., a figure that's doubling every two to three days. Health Secretary Sajid Javid has said that omicron cases were most likely closer to 10,000 and could reach 1 million by the end of the month.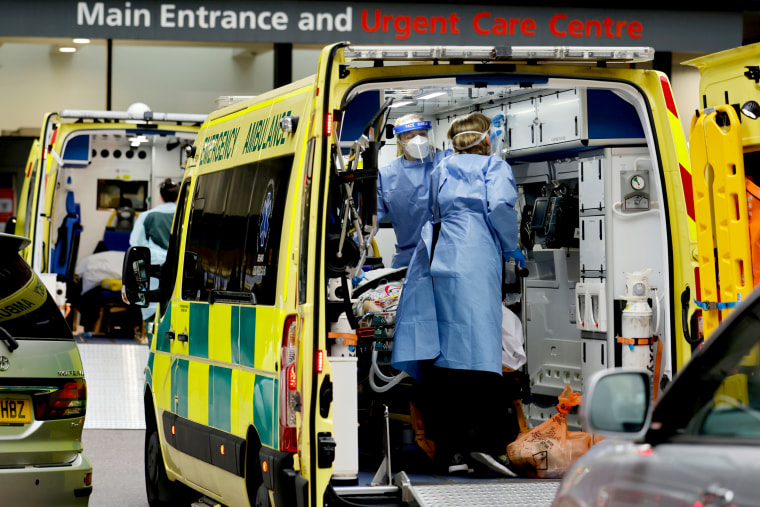 Several members of Parliament have already called on Johnson to resign after a year peppered with political scandals involving his ministers and lawmakers. Savanta ComRes's poll on Wednesday found 54 percent of those surveyed agreed that Johnson should resign.
And the furor over the video follows weeks of revelations and scandal for the Johnson government. This year a lawmaker and an ally of the prime minister, Owen Paterson, stood down after he broke lobbying rules by promoting the interests of companies to which he was a paid advisor.
A former British Foreign Office employee-turned-whistleblower this week alleged that the government left U.K. nationals and Afghan allies at the mercy of the Taliban during the chaotic exit from Afghanistan, and in one case prioritized evacuation of animals over people.
Voters will also remember the series of questions Johnson faced in April over who paid for the refurbishment of his Downing Street apartment.
But what this means for Johnson himself, who not long ago was seen as virtually unassailable, is not yet clear. Two years ago Johnson was riding high after comfortably winning the general election, giving him an 80-seat majority in the 650-seat House of Commons and the ability to easily pass most legislation without opposition blocking it.
"There have been so many times when we though the dam was finally going to crack and Johnson was going to be washed away — I would be cautious about this being the one," said Tim Bale, a professor and British politics expert from Queen Mary University in London.
"Having said that, he is in quite a lot of trouble because this is something that resonates with a lot of people who lost loved ones or just followed the rules and had a miserable Christmas."