Crimea is now at the heart of what appears to be an audacious Ukrainian effort to target Russian supply lines and morale. 
A series of blasts hit a Russian military depot in the annexed peninsula Tuesday — rocking the relaxed summer holiday destination for the second time in a week and suggesting a growing Ukrainian ability to strike deep behind enemy lines.
It's a significant development that could shift the dynamics of the war as it nears the six-month mark, and which defies warnings from Moscow against attacking a region that holds deep strategic and symbolic value for Russian President Vladimir Putin.
Russia said "sabotage" was behind the latest explosions, a shift from its rhetoric last week that an accidental detonation of munitions caused explosions that left severe destruction at an air base in western Crimea.
Videos circulating online Tuesday showed plumes of gray smoke rising over flames near the village of Mayskoye in the northern Crimean district of Dzhankoi after a series of explosions at an ammunition warehouse, and satellite imagery reviewed by NBC News showed a column of smoke near Dzhankoi.
Moscow's admission that the latest blasts weren't mere accidents could be pivotal for the conflict going forward, since the Kremlin has signaled it considers attacks there to be a red line.
The peninsula holds huge value for both Moscow, which annexed it in 2014 after a referendum that was not recognized by most of the international community, and Kyiv, which has vowed to reclaim Crimea as its land.
It has been a major strategic hub for Russia's invasion of mainland Ukraine, providing important supply routes for its forces occupying the south and military bases to support its war operations. It's also home to Russia's Black Sea fleet.
Kyiv did not confirm or deny responsibility for the latest explosions, but top Ukrainian officials have heavily hinted at their country's involvement.
"Crimea occupied by Russians is about warehouse explosions and high risk of death for invaders and thieves," President Volodymyr Zelenskyy's adviser, Mykhailo Podolyak, tweeted Tuesday.
"Our soldiers are the best sponsors of good mood. Crimea is Ukraine," the head of Zelenskyy's office, Andriy Yermak, also said after the explosions.
In a thinly veiled message late Tuesday, Zelenskyy urged his compatriots in Crimea and other Russian-occupied territories to stay away from Russian military sites. He added that evidence of people fleeing the area in the wake of the explosions shows that Russians "already understand or at least feel that Crimea is not a place for them."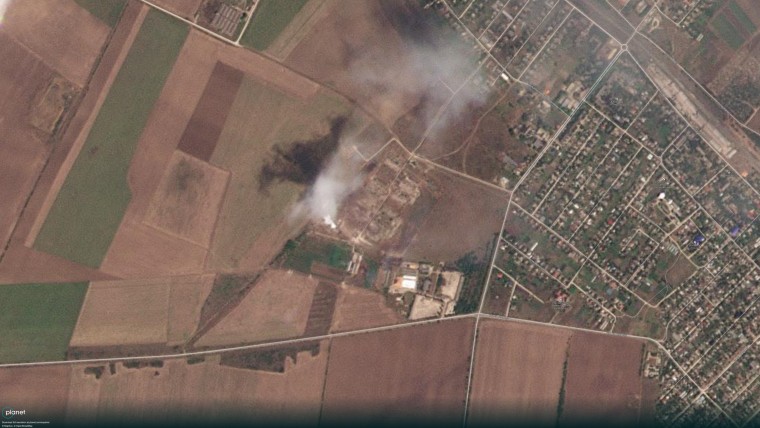 It's the kind of rhetoric that leaves little doubt that Ukraine is behind the attacks, military observers told NBC News.
"You're not going to have all these explosions in Crimea by accident," said Phillips O'Brien, professor of strategic studies at the University of St. Andrews in Scotland. "These are vital military facilities that are being hit very effectively, and they show signs of preparation."
The explosions could be the work of Ukrainian special forces on the ground, local saboteur units, long-range weapons or a mix of all three, O'Brien said.
Kyiv hasn't officially taken responsibility "to try and keep Russia off balance and uncertain about where the next attack may come and what Ukraine is capable of doing," said Neil Melvin, director of international security studies at the Royal United Services Institute, a London-based think tank.
In the military sense, the explosions are reducing the flow of ammunition to Russian troops in Ukraine's south and forcing the Russians to do more to defend Crimea, according to O'Brien.
They are likely to leave Russian commanders increasingly concerned with the apparent deterioration in security across Crimea, Britain's Defense Ministry wrote on Twitter on Wednesday.
But there is also an important psychological factor at play, O'Brien added.
"To show that indeed Crimea is not safe and not under strong Russian control, that is a very powerful political statement," O'Brien said. "It reinforces the fact that Crimea is part of Ukraine."
The new explosions in Crimea come as Ukraine has been building toward a counterattack in its south, large chunks of which have been occupied by Russia since the early days of the invasion.
The attacks on Russian positions in Crimea are "likely part of a coherent Ukrainian counter-offensive to regain control of the west bank of the Dnipro River," according to the latest assessment by the Institute for the Study of War, a U.S.-based military think tank. 
Podolyak, Zelenskyy's adviser, told the Guardian on Tuesday that Ukraine is engaged in a counteroffensive aimed at creating "chaos" within Russian forces by striking their supply lines and military infrastructure deep into occupied territories.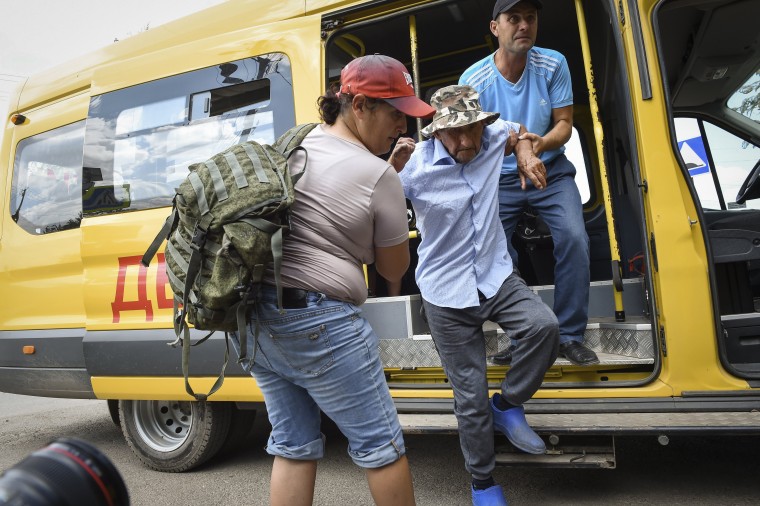 For Melvin, the explosions in Crimea are part of the first phase of the long-anticipated Ukrainian counterattack and what military analysts call "shaping the battle" ahead of the main offensive — trying to reduce Russia's ability to resist that attack, including by targeting Moscow's air power in Crimea.
But striking Russian positions there could also signal a change in the scope of Ukraine's war effort, Melvin said.
Until last week, the feeling was that any fight back would be focused on retaking territory lost since the invasion earlier this year. "But what they have shown actually is that they are not going to accept that territories taken before the war began are part of Russia," Melvin said.
"Crimea is clearly now not off limits," he added. "Now it looks like the whole territory of Ukraine is really within the goal of the Kyiv leadership."