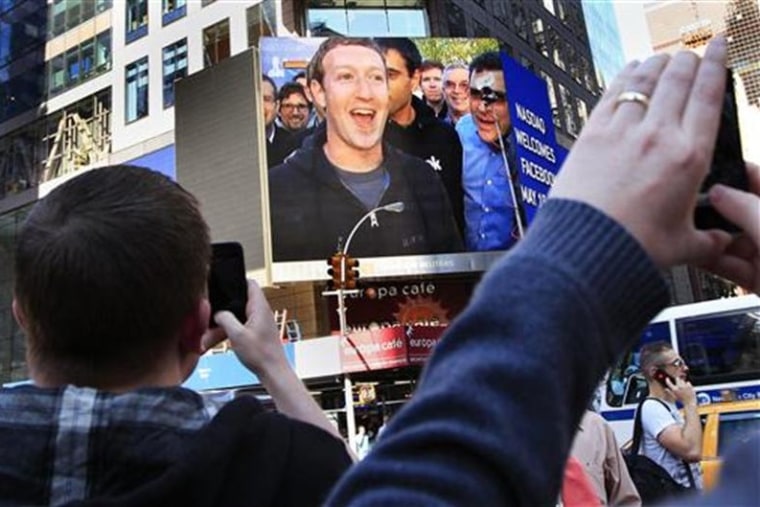 Aside from the weekend wedding pic, the last time investors saw the social network icon was on Friday morning — just before the rocky debut of his company's stock. Zuckerberg was high-fiving Nasdaq Chief Executive Bob Greifeld and ringing the opening bell remotely from Facebook's sprawling headquarters in Menlo Park, Calif.
But since then, a lot's gone wrong including the Nasdaq's botched opening of the stock; its precipitous slide since Friday to levels well below the $38 a share offering price; and allegations that lead underwriter Morgan Stanley shared negative news about Facebook with institutional investors before the IPO. 
Through it all, Zuckerberg's been MIA.
Jeffrey Sonnenfeld, a senior dean at the Yale School of Management, thinks Zuckerberg is making a mistake by not publicly addressing the problems. "It's important now to actually show the execution, show the plan, show the new vision," Sonnenfeld told CNBC's "Street Signs" on Tuesday.
Gary Burnison, CEO of the recruiting firm Korn/Ferry International, disagrees. "Leadership's really about making others believe — enabling that belief to become reality.
"They've got this great saying (at Facebook) that they're '1 percent through the journey,' and that's exactly right," Burnison continued, "I don't think this is the time right now to come out."
Perhaps it's not surprising that Zuckerberg has remained silent. He's been rather reclusive throughout Facebook's 8-year journey from his dorm room at Harvard to the social network juggernaut of today with 900 million active users around the world.
Even in the lead-up to Facebook's offering, the 28-year-old CEO did not have a major presence at the IPO roadshow events around the country. But clad in his trademark hoodie, he did make a big splash at the kick-off in New York City, after leaving investors to wonder until the last minute whether he was going to attend.
Zuckerberg "should have been out there on the road shows instead of his antics with the hoodie," Sonnenfeld said. "He should have been out there answering questions."
But whether he wears a hoodie instead of a suit or lets the success of the company speak for itself, Zuckerberg's shown that he's going to do things his way. And why not? He controls 56 percent of the company's voting shares.
This lone wolf streak was even evident just weeks before the Facebook IPO. On his own, he basically struck last month's deal to buy photo-sharing app Instagram for a stunning $1 billion, and then told the board about it.
Sonnenfeld cautions that great visionaries can often get blinded by their own visions, and with a passive board "the dragon slayers by the end of their career start to represent the very dragons of their own enterprise."
Burnison doesn't see that happening. "(Zuckerberg's) authentic, and in great leaders, authenticity trumps charisma every day. He's surrounded himself by talented people…But as a CEO, ultimately you have to focus on your customers, your employees, and your shareholders. Performance is the ultimate equalizer."
Thus far, shares of Facebook have been underperforming. After trading as high as $45 on Friday, the stock closed Tuesday at $31 a share.
While some investors may feel cheated out of that initial IPO-pop that was widely expected, Zuckerberg has watched his paper wealth climb as high as $22.6 billion, before dropping along with the stock to around $15.6 billion as of Tuesday's close.
But there probably won't be too many people crying for Zuckerberg, because after all, $15 billion is still a windfall of unimaginable proportions.
Did Facebook's CFO doom the stock of any chance to jump on its first day of trading by boosting the number of shares offered? Below, Shayndi Raice of The Wall Street Journal, weighs in on CNBC.