Bridge-building is a common theme in the former Yugoslavia as it recovers from the deadly ethnic conflict of the post-Communist 1990s.
However, actual construction work is set begin in Croatia on what architects promise will be one of the largest "and most beautiful" bridges in Europe — so big, in fact, that it leapfrogs another country.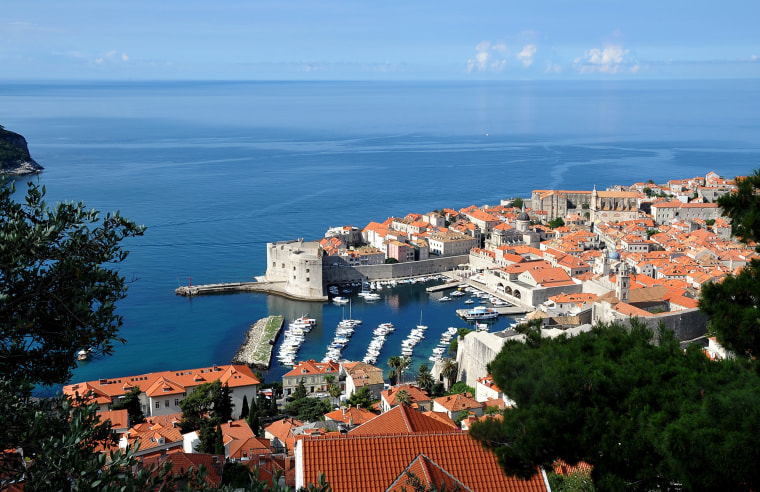 The 1.6-mile, $225-million Peljesac Bridge would reunite the city of Dubrovnik, the Balkan nation's historic tourist hot spot, with the rest of the country. The two parts of Croatia are separated by a nine-mile stretch of Bosnia-Herzegovina — a legacy of territorial disputes stretching back to the days of the Ottoman Empire.
Residents and tourists traveling between the divided parts of Croatia must endure lengthy summer traffic jams and two border crossings, a process that has intensified since the country joined the European Union in 2013.
With no prospect of Bosnia-Herzegovina meeting EU membership tests anytime soon, the border crossings represent not just a formality but a frontier between the West and the rest of the continent.
"It's a bit of a pain," Balkans analyst Andrew MacDowall said. "Currently you can make the journey by ferry but the road is quicker."
The solution? A road bridge stretching from the coastal town of Komarna to Brijesta, on the Peljesac peninsula, which sticks out into the Adriatic like Long Island. As well as cutting journey times, it will remove the need for passport checks.
"There is massive public support for a bridge," MacDowall said. "Tourism is vital to Croatia's struggling economy, but there would also be benefits for trade — people in the southern part of Dalmatia want to be able to send their goods to the rest of the [European Union] without crossing the border twice. It's a big wine-producing region so they are keen to make it easier to export wines from there."
Yet despite the pressure for a new link, the project has repeatedly stalled since it was first proposed almost two decades ago.
Lengthy feasibility studies examined alternatives, including a tunnel, a faster highway and a high-frequency ferry link, before recommending a bridge. Construction began in 2006, but stopped when Croatia ran out of money.
There have also been objections from Bosnia-Herzegovina, which fiercely guards its only piece of coastline and believes the bridge could prevent container ships from reaching its only potential sea port, at Neum.
That has forced architects to come up with a design that will take cars and trucks no less than 180 feet above the waters of the Adriatic — almost as high as the 219-feet roadway across the Golden Gate Bridge —despite very few commercial vessels using the route underneath.
"Sure, we don't have a port now, that's a fact, but who is to say what will happen 10 or 20 years from now," Bosnia-Herzegovina's Assistant Foreign Minister Amer Kapetanovic told NBC News. "Maybe Neum will be developed as some sort of marina for big yachts, nobody can bet on that and we don't what to close all possibility of development. Our Croatian friends should take that into consideration."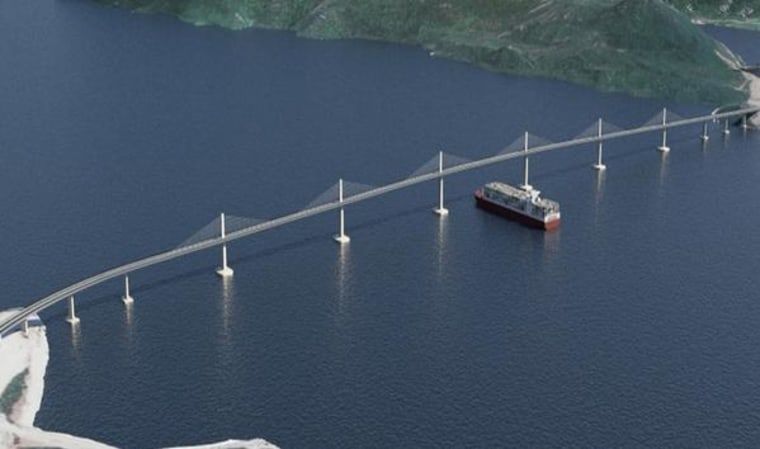 Kapetanovic also cautioned that the project could only go ahead following studies into the potential impact on biodiversity and the economy in the wider region.
"We are fine with it," he said. "We are supportive as much as we can be under the condition that there are no negative impacts."
Despite that warning, Croatia was confident enough to announce in July that it would be issuing a tender for construction work later this year, with construction expected to begin in early 2016.
"Today we are totally right to say that the bridge will be built, that this will start very soon and that the procedure will be completed in the last quarter of this year," Prime Minister Zoran Milanovic told reporters on July 16. "Our desire is to connect Croatia together so that in order to reach Dubrovnik people would not have to travel across the territory of a neighboring and friendly country ... which unfortunately will not become an EU member for a long time to come."
Up to 85 percent of the cost of the project — $225 million for the bridge, and a total of $413 million including connecting roads — is expected to be met by the EU, Milanovic said.
The cable-stayed bridge, with a proposed main span of 1,864 feet, would be wide enough for four lanes of traffic, two in each direction.
One of the project's designers, Jurom Radić, predicted last month that it would be named after Aloysius Stepinac, a Croatian cardinal and former Archbishop of Zagreb who was declared a martyr and beatified by Pope John Paul II in 1998.
Bridge architect Marjan Pipenbaher, from Slovenia, told Balkan news site 24Hours that the future facility should last more than 100 years, with deep foundations providing resilience against the region's frequent earthquakes. It will be "airy and will have a certain lightness" and be "one of the most beautiful bridges in Europe," he added.