LONDON — The rain-soaked streets of the British capital have played host to countless moments of pageantry and poignancy in the city's long history. Thousands of mourners lined those streets Wednesday to catch a glimpse of one few will forget.
Along the banks of the River Thames — past landmarks and despite gloomy skies — huge crowds gathered ahead of the slow and somber royal procession escorting Queen Elizabeth II's coffin from Buckingham Palace to the Houses of Parliament.
Some of them have waited days to file past the late monarch when she lies in state under armed guard in a continuous 24-hour operation at London's historic Westminster Hall.
Follow our live coverage here.
The enthusiasm of those in line was not dimmed by the waiting, the marathon nature of the 10-day mourning period or the traditionally poor British weather.
Vanessa Nanthakumaran was the first person to show up at the staging area across the river from Westminster Abbey, from where mourners are expected to file into the ancient building to say farewell to the only monarch most in the country have ever known.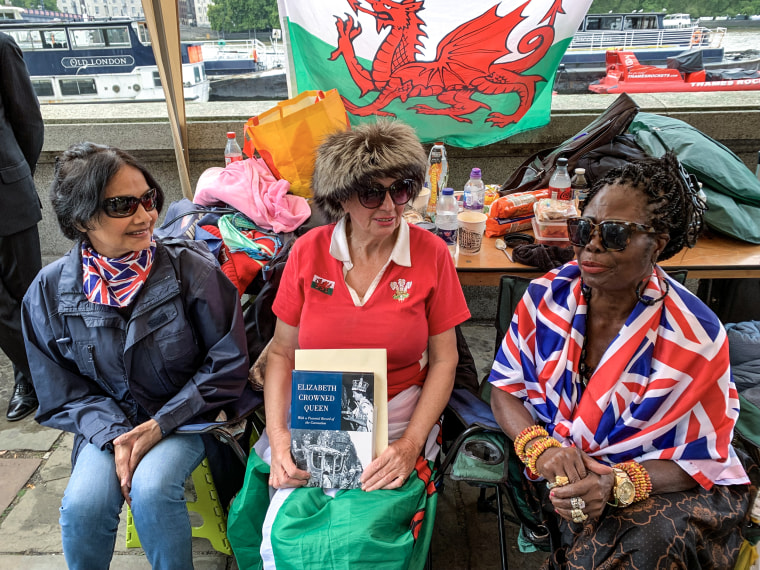 Nanthakumaran, 56, who is originally from Sri Lanka and now lives in London, said she arrived at the spot near Lambeth Bridge around 11:30 a.m. local time (6: 30 a.m. ET) Monday. At that point, the queen's body was still being viewed by mourners in Scotland.
"I'm very happy that I'm going to be the first, but I didn't set out to be the first," she said. "I just wanted to pay my respects, and I knew there would be a lot of people who felt the same."
Nanthakumaran said she never met the queen, but a great-uncle was a prominent politician in Sri Lanka who was knighted by Elizabeth's father, George VI.
"That is my connection to the royal family," she said. "I admire them greatly. And I know that when I get to the point where we say farewell, it will be overwhelming and I will thank God that I got the chance to say a last goodbye.
Annie, who is from Wales and was asked by security not to divulge her last name or age, said she arrived about five minutes after Nanthakumaran. "I was second," she said. "It was a complete fluke."
And at 4 p.m. that day, they were joined by Grace, who lives in Surrey and is originally from Ghana.
"They're like a reflection of what Britain looks like today," said 85-year-old Michael Darvill of London, who was ninth in line.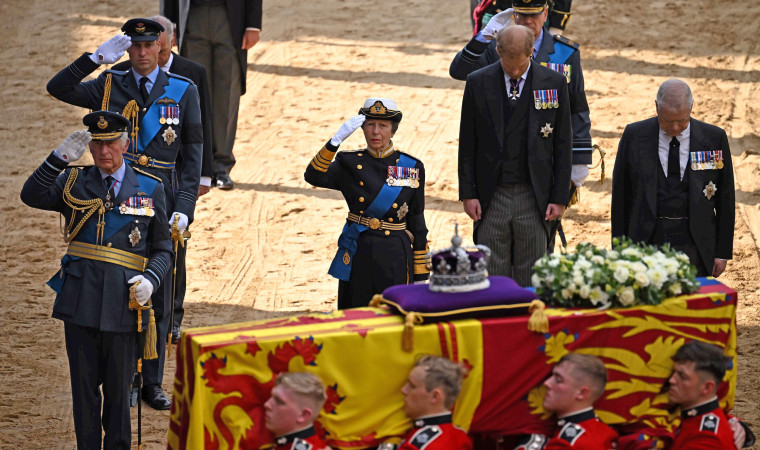 Mourners were given a strictly "nontransferrable" wristband that allows them to leave and rejoin the line.
While they waited, the late sovereign made her final return home to Buckingham Palace, where the hearse carrying her coffin after it was flown back from Scotland was greeted with applause Tuesday night from the thousands waiting outside.
On Wednesday, the coffin made the ceremonial journey from the palace to Westminster in a horse-drawn gun carriage, followed on foot by King Charles III, Prince William, Prince Harry and other royals. The route, lined with British and Commonwealth nation flags, was packed with mourners and well-wishers, while the procession was accompanied gun salutes in Hyde Park. Big Ben chimed every minute during the coffin's slow progress.
The queen's coffin left the palace at 2.22 p.m. (9:22 a.m. ET) — so timed so the procession would reach Westminster at 3 p.m.
The queen's coffin was covered in the royal standard, on which the crown jeweler placed imperial crown on a velvet cushion. A wreath contained flowers, wood and herbs from gardens at Balmoral and Windsor, two of the queen's most cherished residences.
Crowds greeted the cortege with applause that was almost drowned out by a band of Royal Marines and their drums beating the slow marching rhythm.
A pallbearer party of 10 soldiers carried the former sovereign inside, as the sounds of the Choir of Westminster Abbey rang out around the ancient hall, before a short service led by the archbishop of Canterbury, Justin Welby.
Not until 5 p.m. (1 p.m. ET) are people allowed to file past the queen.
Nanthakumaran said she brought with her a couple of croissants, some milk and a bottle of water to tide her over. But what she really appreciates is the company.
"We're doing this together," she said, nodding at Annie and Grace as the three sat beneath a shelter with a table behind them stacked with supplies like Golden Shred orange marmalade, which they said was a favorite of the queen. "It requires some stamina."
"But we are all supporting one another," said Grace, her shoulders covered with a Union Flag.
"It was gut-wrenching," Annie said, when asked what she felt when she learned that the queen had died. "She had this unique ability to speak to us as a nation," she added. "There were so many rituals involving the queen that united us."
Grace agreed. "She made us all feel welcome in this country," she said.
Reporters outnumbered the women at first. But as they spoke, the line of mourners began to grow as more and more began arriving.
Elizabeth's body will lie in state at Westminster Hall until Monday, the day of her funeral.
British newspapers have been reporting that police expect anywhere from 750,000 to a million people to camp out for miles to file past the coffin of the country's longest-serving monarch.
"That sounds about right," said a British security official watching over the growing line of mourners.