Pope Francis on Sunday led his first major service since his election, calling on crowd to shun corruption and reach out to "the humble, the poor, the forgotten."
"Let us look around: how many wounds are inflicted upon humanity by evil! Wars, violence, economic conflicts that hit the weakest, greed for money, power, corruption, divisions, crimes against human life and against creation," he said.
The new pope invoked the wisdom of his grandmother and used simple language at the Palm Sunday service, which marks the start of the holy week of Easter in celebration of the crucifixion and resurrection of Jesus Christ. 
Pope Francis departed from his prepared text and when he referred to wealth said: "You can't take it with you, my grandmother used to say." 
Some 250,000 people waving palm and olive branches gathered in St. Peter's Square to be part of the Catholic Church's most important liturgical season. Sprigs of olive trees were distributed to the faithful in remembrance of Jesus' triumphant entry into Jerusalem before his crucifixion.
After blessing palm and olive branches — symbols of peace —  the pontiff walked to the altar on the steps of St. Peter's Basilica to conduct the outdoor Mass.
He again urged defense of the environment, speaking of "our personal sins: our failures in love and respect towards God, towards our neighbor and towards the whole of creation."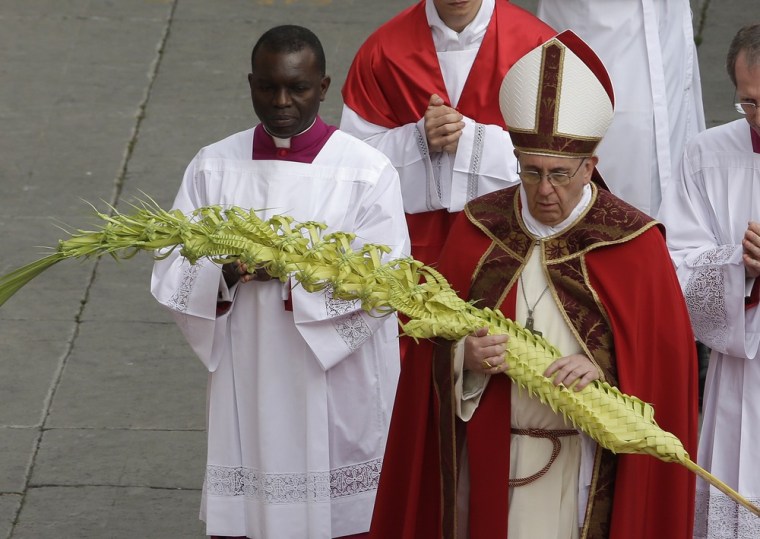 'I like him a lot'
The new pontiff arrived to the ceremonies in an uncovered car. Wearing bright red robes over a white cassock, Francis then walked along St. Peter's holding a palm frond and presided over the Mass from an altar sheltered by a canopy on the steps of St. Peter's. 
His message and style seemed to resonate with many in the crowd.  
Italian Angelica Recchiuto, 23, said the new pope was a breath of fresh air.
"I don't care he is not Italian, I like him a lot," she said.  "And frankly, (Francis' predecessor) Benedict XVI acted like a real foreigner. Francis doesn't."
After Sunday's Mass, the Pope Francis will lead six more liturgies during the week, culminating with the Easter Sunday Mass and Urbi et Orbi blessing
On Saturday, Pope Francis and Benedict prayed together before having lunch in a historic meeting.
The new pontiff had flown to the papal residence at Castel Gandolfo in the Alban Hills outside of Rome by helicopter. Pope Benedict XVI has been living there since he resigned Feb. 28, becoming the first pope to step down in 600 years. Both men wore white papal outfits.
Reuters and The Associated Press contributed to this report.
Related:
Pope Francis spoke of being 'dazzled' by girl, possible change of celibacy rule
Pope stuns newsstand owner by calling to cancel home delivery
Pope's personal touch with crowds a 'nightmare' for security, expert says