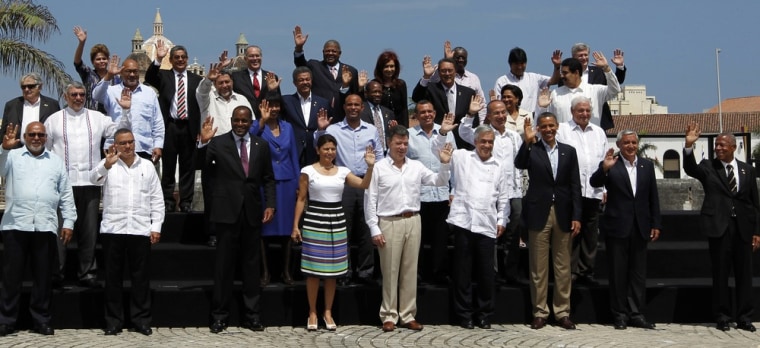 CARTAGENA, Colombia -- Unprecedented Latin American opposition to U.S. sanctions on communist Cuba left President Barack Obama isolated at the Summit of the Americas on Sunday and illustrated Washington's waning influence in the region.
In contrast to the rock-star status he enjoyed at the 2009 summit in Trinidad and Tobago shortly after taking office, Obama has had a bruising time at the two-day meeting in Colombia of some 30 heads of state from across the Americas. 
Eleven Secret Service agents and five military personnel were caught in an embarrassing prostitution scandal, Brazil and others have bashed Obama over U.S. monetary policy, and he has been on the defensive over calls to legalize drugs.
Thanks to the U.S. and Canadian line on Cuba, the heads of state were unable to produce a final declaration as the summit fizzled out on Sunday.
"There was no declaration because there was no consensus," said Colombian President Juan Manuel Santos, who hosted the summit.
"That is not a failure, on the contrary," he said, trying to spin the outcome and frank exchange of different views as a sign of strength.
At a press conference with Santos, Obama responded to a question about Cuba by saying that while his administration has eased travel by Cuban Americans to Cuba, the Cuban government had not taken steps toward democracy and "has not yet observed basic human rights."
The prostitution saga, above all, was a major blow to the prestige of Obama's Secret Service bodyguards and turned into the unexpected talk of the town in the historic city of Cartagena.
For the first time, conservative U.S-allied nations like Colombia are throwing their weight behind the traditional demand of leftist governments that Cuba be in the next meeting of the Organization of American States.
"The isolation, the embargo, the indifference, looking the other way, have been ineffective," Santos said.
A major U.S. ally in the region who has relied on Washington for financial and military help to fight guerrillas and drug traffickers, Santos has become vocal over Cuba despite his strong ideological differences with Havana.
In an ironic twist, Secretary of State Hillary Clinton went dancing after midnight on Sunday at a Cartagena bar called "Cafe Havana" where Cuban music is played.
Havana was kicked out of the OAS a few years after Fidel Castro's 1959 revolution, and has been excluded from its summits due to opposition from the United States and Canada. Latin Americans also oppose Washington's trade embargo on the island.
Argentine President Cristina Fernandez, who has insisted Washington recognize its claim to the Falkland Islands controlled by Britain, left the summit on Sunday morning, before its official closure.
Ecuador's President Rafael Correa boycotted the meeting over Cuba, and fellow leftist Daniel Ortega of Nicaragua also stayed at home. The leftist ALBA bloc of nations - including Venezuela, Ecuador, Bolivia, Nicaragua and some Caribbean nations - said they will not attend future summits without Cuba's presence.
"It's not a favor anyone would be doing to Cuba. It's a right they've had taken away from them," Ortega said from Managua. "At this meeting in Cartagena, I think it's time for the U.S. government, all President Obama's advisers, to listen to all the Latin American nations."
Though there were widespread hopes for a rapprochement with Cuba under Obama when he took office, Washington has done little beyond ease some travel restrictions, saying democratic changes must come on the island before any further steps can be taken.
Obama has not spoken of Cuba in Colombia, though he did complain that Cold War-era issues, some dating from before his birth, were hindering perspectives on regional integration.
"Sometimes I feel as if in some of these discussions, or at least the press reports, we're caught in a time warp, going back to the 1950s and gunboat diplomacy and Yankees and the Cold War, and this and that and the other," the 50-year-old Obama said.
"That's not the world we live in today."
The controversy at the summit added to strain on the Washington-dominated system of hemispheric diplomacy that was built around the OAS but is struggling to evolve with changes in the region. 
Perceived U.S. neglect of Latin America has allowed China to move strongly into the region and become the leading trade partner of Brazil and various other nations.
Regional economic powerhouse Brazil has led criticism at the summit of U.S. and other rich nations' expansionist monetary policy that is sending a flood of funds into developing nations, forcing up local currencies and hurting competitiveness.
Cheering the mood a bit, U.S. Trade Representative Ron Kirk announced that a U.S.-Colombia free trade agreement will come into force in the middle of May.
With a presidential election looming, Obama has portrayed his visit to the summit as a way to generate jobs at home by boosting trade with the region.
Reuters contributed to this report.
More from msnbc.com and NBC News:
Follow us on Twitter: @msnbc_world