HAVANA — An air of optimism can be felt in the humid breeze in Cuba's capital.
"We love Americans," said Amado Puentes, a tour guide who was seen greeting travelers at Havana's airport. "We love tourists."
Tour guides, hotel clerks, restaurant owners, taxi drivers — they're all readying for what they hope will be a big influx in the number of American visitors now that President Obama has relaxed many restrictions on travel to the communist island. That bold decision was part of a bigger White House effort to restore relations with Cuba, chilled since the Kennedy era, and one day open a U.S. embassy in Havana.
"My grandma called me and told me, 'Rush to the TV, Obama is talking'" said Talia Bustamante, reflecting on the president's Dec. 17 speech. That very day, Cuba released American government contractor Alan Gross, who had been imprisoned here for five years.
"Everyone was waiting for Obama's speech," said Paola Larramendi, a recent college graduate. "There were so many things this could mean for my job, for my life here, for my decision of staying or leaving."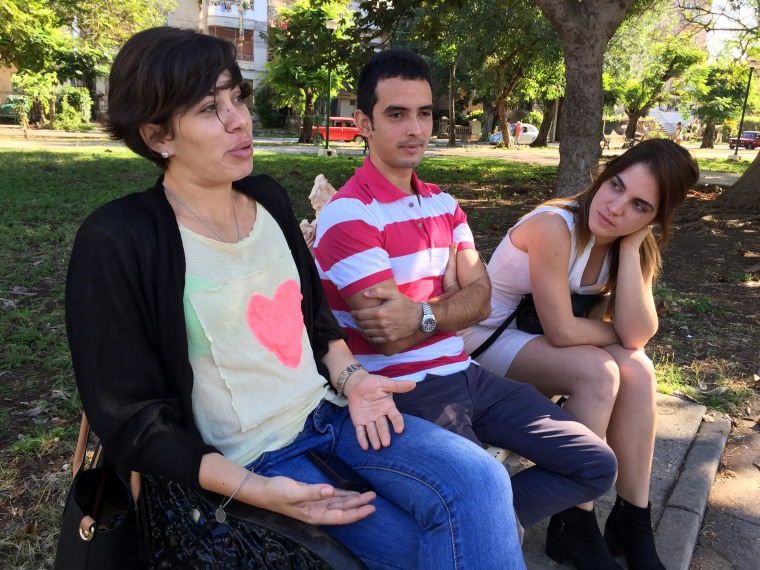 Normalization couldn't come at a better time
Closer ties between the U.S. and Cuba could be an economic boon for some Cubans. Many recent college graduates here have few job prospects and worry about making a living as adults. Access to the Internet — a privilege taken from granted by the educated in developed countries — requires a special government permit in Cuba.
Larramendi, a trained biologist, has been unable to find work in her chosen field. She mostly works odd jobs. "Life here is so hard," she said.
Cuba reported in 2013 that a record 46,000 residents had permanently left the Caribbean island the year before, according to Reuters. That number may have climbed in the last two years. All the while, many on the island fret about the "brain drain" — the loss of Cuba's sharpest young minds to other countries.
"The 'brain drain' is accurate. (It's) definitely what's happening," said Eloy Costa, 26, a university professor in Havana.
Now, more than a month after the Obama announcement, some in Cuba are concerned that the major changes in U.S.-Cuba relations might not come to fruition.
Larramendi wants to see concrete results. She worries President Raul Castro might change his mind about reconciling with the White House. "If our president says 'no' or 'this is the limit, this is the way is going to be,' then that there won't be changes," she said.
But Costa struck a more optimistic chord: "There is no going back," he said.
Travel experts are rolling out the red carpet for American visitors.
"For us, this is a very important moment," said tour guide Nelson Ramos. "We are just going to do our best."