BEIJING, China - Levels of cyanide in the waters close to the deadly Tianjin explosion site are as high as 356 times acceptable limits, Chinese authorities said Thursday – but they declared the city's drinking water was safe.
An update from the Tianjin Environmental Protection Bureau said that tests conducted Wednesday showed that cyanide levels in the river, sea and waste water in the evacuated area around the disaster zone had risen sharply since the blasts.
One testing site at the mouth of a rain water pipe recorded cyanide levels 356 times above acceptable standards, the bureau said.
Drinking water in Tianjin, however, met national standards, according to a separate statement from health authorities Tuesday reported by Reuters.
The government has confirmed there were about 700 tonnes of the deadly chemical sodium cyanide in a warehouse that blew up on Aug 12, killing at least 114 and devastating a huge swath of the city.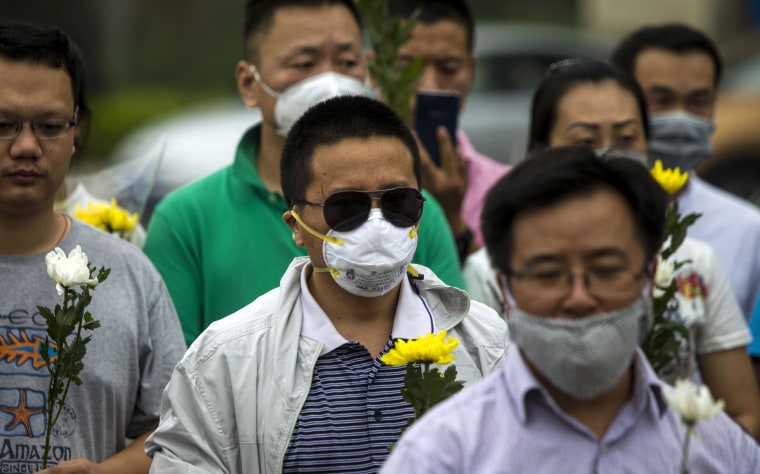 Workers in protective suits began clearing wreckage on Thursday, including charred car bodies and crumpled shipping containers, from the site.
Officials have ordered nationwide checks on dangerous materials, and the Chinese military said it was inspecting storage measures for weapons, ammunition, and fuel as well as chemical, explosive and toxic materials, the official newspaper People's Liberation Army Daily said.
Tianjin - the world's 10th-busiest port - will relocate its chemical plants from the blast zone to the Nangang Industrial Zone, 15.5 miles away, according to the official China Daily, citing Tianjin Mayor Huang Xingguo.
Among other chemicals stored at the warehouse were 1,300 tonnes of potentially explosive oxidising chemicals, including ammonium nitrate and potassium nitrate, 500 tonnes of flammables, including sodium and magnesium, and 700 tonnes of deadly poisons, mainly sodium cyanide, Reuters said.
Officials said they will assess whether to buy back some of the estimated 17,000 apartments damaged by the blasts, after hundreds of local residents demanded the government either provide compensation or buy back their damaged or destroyed property.
"Apartments that should be torn down will be torn down, apartments that need to be rebuilt will be rebuilt, apartments that need to be repurchased will be repurchased," said Tianjin deputy mayor Zong Guoying.
Alastair Jamieson reported from London.