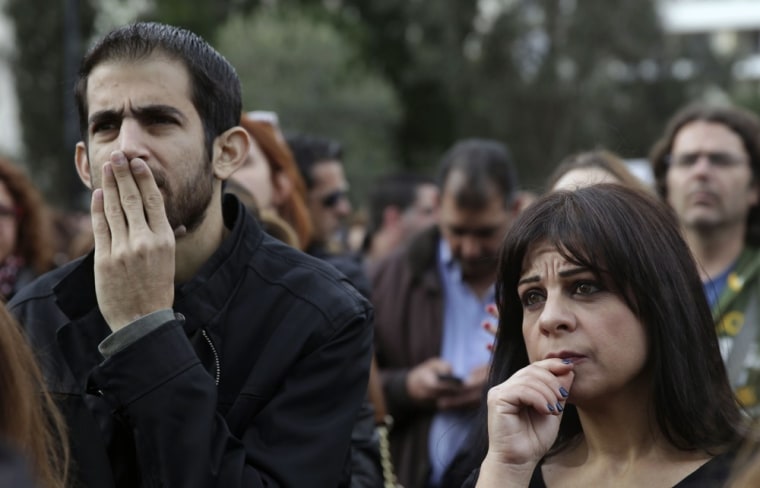 NICOSIA, Cyprus - Anguished Cypriots fear a run on banks when branches on the tiny tax haven reopen for first time in almost two weeks on Thursday.
Since March 16, customers have only been able to withdraw limited amounts of cash from ATMs after banks closed to allow Cypriot officials and European leaders to hammer out a 10-billion euro ($13-billion) rescue meant to avert a chaotic national bankruptcy.
However, some believe the deal will instead push the country further into economic crisis as thousands of bank employees lose their jobs. The country's unemployment rate is about 14 percent.
Under the terms of the EU bailout, accounts of more than 100,000 euros ($128,460) at the islands' two biggest banks will be frozen. Depositors with accounts at Laiki Bank, which is being liquidated, won't get paid for years and won't get all of their money back. CNBC sources estimate those with bank accounts in Laiki above 100,000 euros could lose 40 to 70 percent of their deposits.
Deposits above 100,000 euros with the Bank of Cyprus will be frozen and 40 percent of each account will be converted into bank stock. Accounts in both banks with balances under 100,000 euros will be fully protected.
Many Cypriots say they do not feel reassured by the bailout deal and are expected to besiege banks as soon as they open their doors Thursday.
"We have an uncertain future in in Cyprus," said Chris Sofroniou, as he waited in an ATM line in Nicosia. "There's uncertainty in our future in our children, and we are very, very disappointed with the European Union. We are being treated like third-class citizens and we are very, very angry."
A spokeswoman for the island's central bank said banks would not reopen until 12 p.m. local time (6 a.m. ET) on Thursday, according to Reuters.
The spokeswoman said banks would open their doors between midday and 6 p.m. (1600 GMT). The Cypriot authorities are expected later on Wednesday to detail the capital controls they plan to impose to prevent a flight of funds. 
The last-minute deal was reached Monday, just hours before the EU was due to cut off the country's financial lifelines.
The agreement ended a week of protests in Cyprus, long lines at cash machines, and a tense geopolitical standoff after European officials made the unprecedented demand that ordinary Cypriot savers share in the cost of any bank bailout.
Cyprus promoted itself as an offshore financial haven by making depositing money there attractive to foreigners. The result? A financial sector that dwarfed the rest of the economy.
Without that deal, Cyprus' banks would have collapsed, dragging down the economy and potentially pushing it out of the euro zone.
'Extremely unfair'
While the country's president, Nicos Anastasiades, called the deal "painful" but essential, Nobel laureate economist Christopher Pissarides said the bailout was "extremely unfair to the little guy."
"For the first time in the euro zone, depositors are (being) asked to bail out failing banks," he said. "Now that used to be the case in the 1930s, especially United States (and) caused big bank runs. It has been decided since then that we shouldn't allow that to happen again."
Finance Minister Michael Sarris said that the government was implementing measures to halt a run on the banks when they opened on Thursday, although he did not go into detail, according to Reuters.
It isn't only bankers and the wealthy who are angry, however. On Wednesday, around 3,000 high school students protested the plan agreed to with the European Union, International Monetary Fund and European Central Bank.
"They've just got rid of all our dreams, everything we've worked for, everything we've achieved up until now, what our parents have achieved," a student named Thomas told Reuters. 
So as Cyprus waited to see what Thursday would bring, citizens mourned what they saw as the end of an era. 
"It's the destruction of the country," Cypriot Aristos Sardi said. "Who they think they are? For this country the colonial days finished in the 1960s."
"I am heartbroken," he added.
NBC News' F. Brinley Bruton, Reuters and The Associated Press contributed to this report.
Related: 
In Cyprus deal, Russia may have the last laugh
Cypriots: Hope, but also fear they 'will be like slaves' to Russia