SILWAD, West Bank — New Orleans car dealer Abdel Wahab Khalek got the call every parent fears the most on Friday afternoon: "Dad, there's something going on," his daughter Bayan, 19, told him from Ramallah in the West Bank. "We've been trying to reach Orwah for the past 10, 15 minutes and he doesn't answer his phone."
A panicked Khalek, 48, called his son Mohammad and told him to search for 14-year-old Orwah — a quiet boy who loved horseback riding, swimming and karate.
Mohammad, 16, told his father that Orwah — who had been demonstrating against the Israeli occupation of the West Bank — was being held by soldiers and was alive.
But it didn't take long for the tragic truth to emerge.
Palestinian-American Orwah had been shot dead in a confrontation with Israeli forces in his hometown of Silwad, the second U.S. child to die in unrest which boiled over last week. On Wednesday, a Palestinian man plowed into a crowd at a transit stop, killing a three-month-old Israeli-American baby. A 22-year-old tourist from Ecuador later died from her injuries in that attack.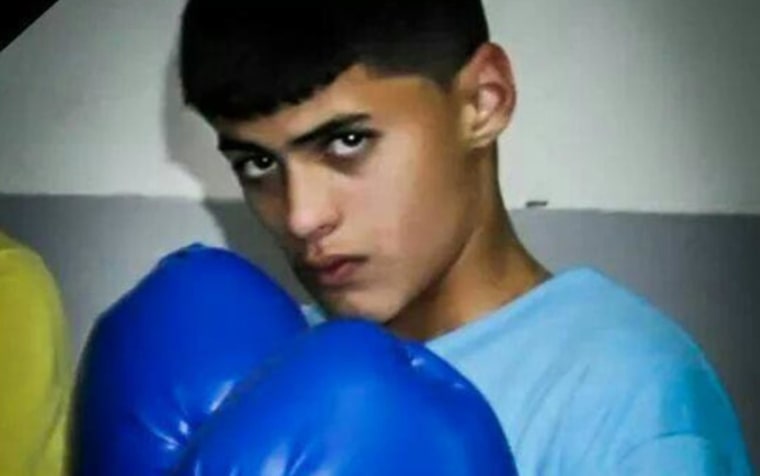 At first, Mohammad was convinced his brother was alive, the boys' father said.
"The soldiers were trying to carry him and his head was bouncing," Khalek said. "It took about 30 minutes before [Mohammad] found out or he was told that he had just departed this life or this earth for a better place."
The distraught father, who split his time between the United States and the West Bank, where his wife, three daughters, Orwah and two other sons lived, said it took the ambulance more than half-an-hour to reach his wounded son.
According to Israeli security officials, Orwah had been shot because he was hurling a firebomb.
"An IDF force in Silwad managed to prevent an attack when a Palestinian man was identified hurling a Molotov cocktail," an official to NBC News. "The soldiers immediately responded and eliminated the threat by firing at the direction of the perpetrator, and confirming a hit. The incident is under review."
Khalek, who traveled to the West Bank as soon as he heard the news, emphatically denied that version of events.
"My kid has never seen a weapon in his life. He has never touched a weapon in his life, ok?" he said. "And he's a kid."
Khalek made his living in the United States, but the family's roots were in the West Bank. Orwah — along with his brothers and sisters — attended school in the West Bank, and the last time he had visited the U.S. was in 2008, according to his father.
Orwah had American citizenship and the family deserved better treatment from the U.S. government, his father said.
"They started to call me from the [American] consulate, and they said we need to come down and just offer our condolences, and they were supposed to come down, I think, three days ago."
They didn't come that day — and have not since, Khalek said.
"It's hard to explain to you my feelings on the inside, but I'm so disappointed at my government and in their actions," he said.