TEL AVIV, Israel — A 15-year-old Palestinian has been arrested on suspicion of fatally stabbing a Jewish mother of six in her West Bank home, Israeli security officials said on Tuesday.
The male was detained in a raid late on Monday, according to police spokesman Micky Rosenfeld.
Dafna Meir, 38,died after an attacker entered her residence in the Jewish settlement of Otniel on Sunday, according the Israeli Defense Forces. She was killed while three of her children were in the house, according to officials.
"The suspect was apprehended following extensive operational and intelligence efforts," an IDF spokesman told NBC News on Tuesday.
Israeli officials would not name or in any other way identify the suspect, although Palestinian news sites ran what they said was his picture and name.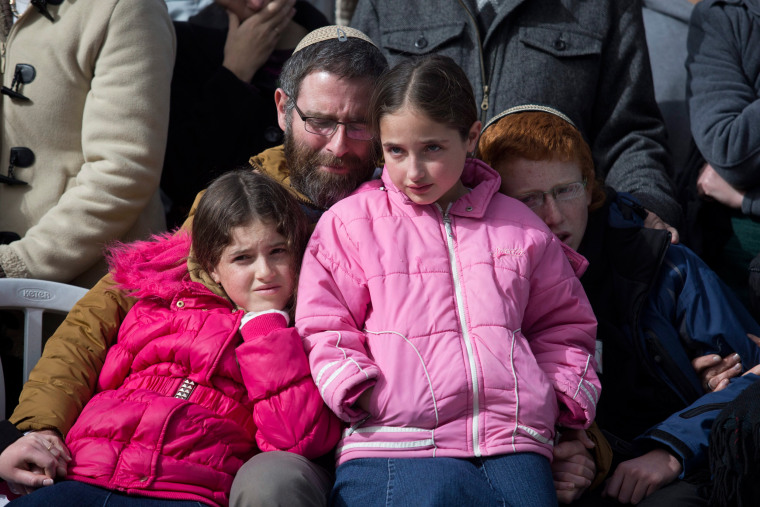 On Monday, a day after Meir was killed, a pregnant woman was stabbed in the Jewish settlement of Tekoa, south of Jerusalem.
Jewish settlements in the West Bank have long been a flashpoint for tensions. The international community considers the settlements, which are built on lands Israel captured in the 1967 war and claimed by the Palestinians, illegal or illegitimate. The State Department has called the continued building of the communities "illegitimate," and said it opposed "any effort to legalize settlement outposts."
On Monday, the State Department has condemned the latest spate of attacks on Israeli citizens.
"We were appalled and deeply saddened by the death of Dafna Meir," State Department Spokesman John Kirby said in a statement. "These horrific incidents underscore the importance of affirmative steps to restore calm, reduce tensions and bring an immediate end to the violence."
The last three and a half months have seen near-daily Palestinian attacks on Israeli civilians and soldiers that have killed 24 people. At least 141 Palestinians have been killed by Israeli fire since mid-September. About two-thirds of them are said by Israel to be attackers. The others were killed in clashes with troops.