Residents of the long-besieged Damascus suburb of Daraya beganevacuating on Friday under a deal seen as a major symbolic victory for the government of President Bashar al-Assad.
Daraya has been blockaded by regime forces since 2012, with residents accusing the government of using starvation as a tactic of war.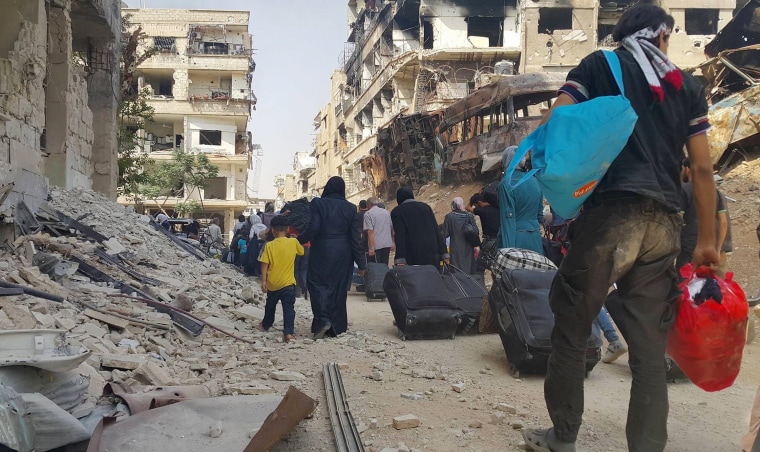 Rebels agreed to give up their positions under a deal unveiled late Thursday, yielding to the years-long pressure. The agreement stipulates that some 700 rebel fighters and their families will be allowed to move to Idlib province, according to the U.K.-based Syrian Observatory for Human Rights.
It also will reportedly see some 5,000 Daraya residents relocated from the once-burgeoning suburb that has seen of some of the worst atrocities of the Syrian war.
Buses filled with "grief-stricken" residents began pulling out of Daraya on Friday afternoon, according to activist Hussam Ayash. Footage showed at least two buses carrying men, women and children departing a bombed out neighborhood. Syrian soldiers waved the Syrian flag.
"Frankly the situation is painful — people are panicking. It is difficult to talk to people or even look at them in the face," Ayash said, sobbing as he spoke. "I don't want anyone to think that we wanted to leave — we were forced do to leave."
Daraya helped birth the peaceful 2011 pro-democracy movement that later evolved into Syria's long-running and bloody civil war.
Assad violently cracked down on activists, and residents fought off repeated attempts to retake the city by forces loyal to the government. Up until the end, Daraya was ruled by a civilian, not military, council.
The evacuation process was expected to take two or three days, Capt. Abu Jamal — the head of the large Liwa Shuda al Islam rebel group — told Reuters on Thursday.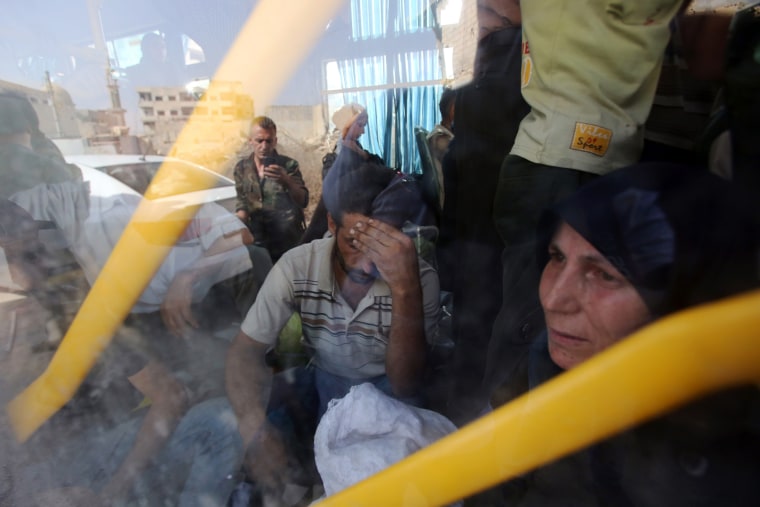 The U.N. was not involved in crafting the agreement and said it was "extremely concerned" for the people of Daraya.
"They have been living under siege for over three years without food, medical assistance or other lifesaving essentials," U.N. emergency relief coordinator Stephen O'Brien said in a statement. "We ... urge all parties to ensure that any movement of civilians now must be safe, voluntary and in accordance with international humanitarian principles and laws."
Daraya's effective surrender is the latest in a string of successes for the Assad regime, which has been clawing back territory in recent months.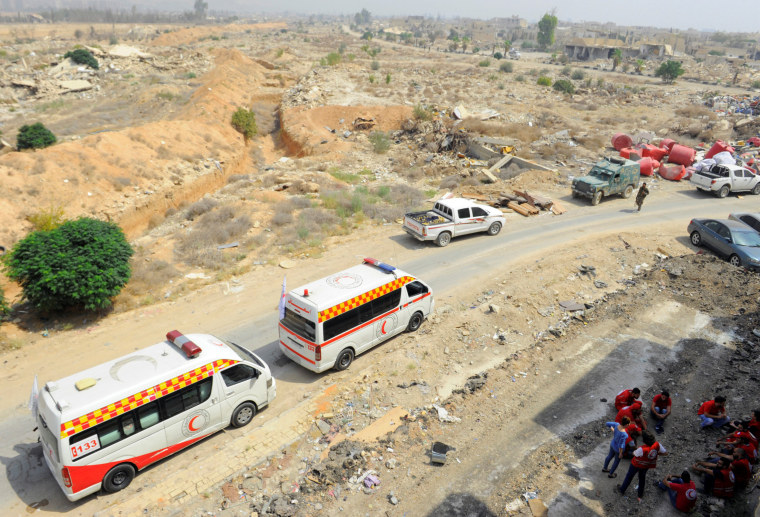 The city has been a symbol of resistance — and the significance of its retaking will send a discouraging message to other rebels holding out in cities like Aleppo.
Assad's army in recent weeks had stepped up its attacks on Daraya: Last week the city's only hospital was hit, according to rebels and aid workers.
Related: Aleppo: Children of War
The evacuation comes as the United States and Russia attempt to reach agreement on military and humanitarian cooperation on the ground. Alarm has been mounting over conditions in the city of Aleppo, which one United Nations official described as the "apex of horror."
Secretary of State John Kerry and Russian Foreign Minister Sergey Lavrov were meeting in Geneva on Friday, with Syria topping the agenda.