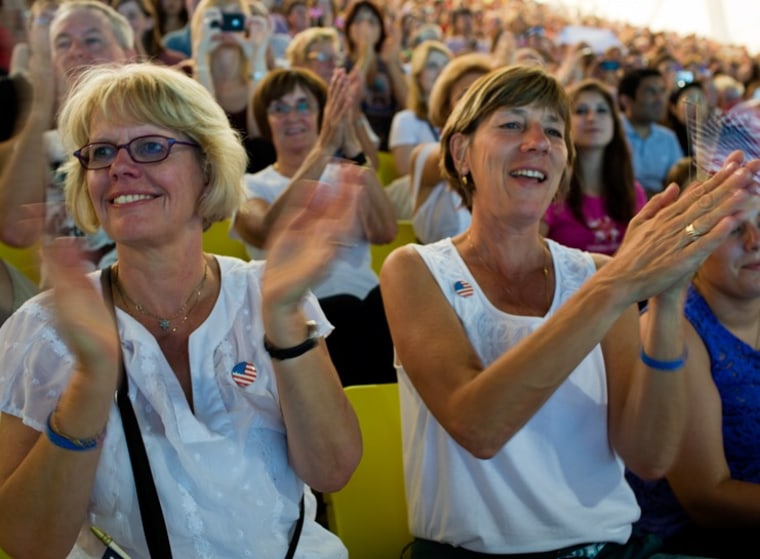 LONDON – A day at the Olympics in one of the most expensive cities on the planet was never going to cheap. But for a group of sports fans from New Jersey this "once in a lifetime experience" was well worth spending the equivalent of about $1,000 for a family of four.
Ticket prices for every event -- including the opening and closing ceremonies -- start at a symbolic GBP 20.12 ($32), but most seats cost considerably more, and getting access to smaller venues such as the 6,000-capacity velodrome has proved tough.
"It was so incredibly hard to get tickets," said Gail Serwick, from Woodbridge, N.J., who eventually managed to secure seven seats in the aquatics center at $110 each thanks to relatives who live in her native Wales.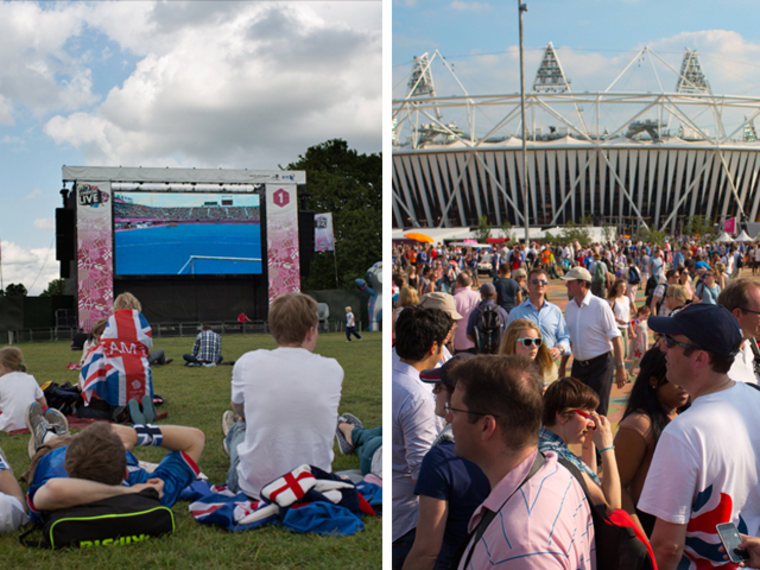 Five were for the women's 10m platform diving finals on Thursday morning, while two were for synchronized swimming in the afternoon.
"The allocation on sale in Britain was higher so it was the only real way we could get tickets. We tried everything and got so many rejections before we got these. You could get cheaper but we didn't want nosebleed seats where you can't see anything because we wanted it to be a special occasion," Serwick said.
She traveled to London with her husband Dennis and daughter Megan, 7, and another family -- Rick and Kim Van Liew and their sons Russell, 12 and Matthew, 11, from Randolph, N.J.
Their Olympic day out started with a shopping blitz for souvenirs and merchandise including London 2012 T-shirts and sweatshirts for the group and family and friends at home.
London 2012's legacy: No more UK couch potatoes or another Olympic 'white elephant'?
In total, Serwick and Kim Van Liew spent $907 in the official London 2012 store in Hyde Park near their hotel -- easy to do when a T-shirt costs $40.
Then there is the cost of food and drink inside the Olympic Park, where sponsors Coca-Cola, McDonald's and Heineken control the prices. A Big Mac costs $4.20, a Big Mac Meal $6.70 and an individual tub of Caramel ice cream $3.90. For drinks, a 500ml (16.9 fl oz) Coke costs $3.60 while a pint (19.2 fl oz) of Heineken is $7.20.
For China officials, Beijing's Olympic 'white elephants' were worth it
In total, the group spent $93, or $13.40 per head on lunch and snacks while enjoying the sprawling park their two events.
The only cost they didn't have to worry about was transport: Free one-day Oyster transit cards are included with all tickets.
"We got a bus then a train to get here," Van Liew said. "Everyone was very helpful – everywhere you looked there was somebody on hand to help."
Fears raised that London Games will see big increase in Big Brother surveillance
In total, their day at the Olympics cost $1,770 between seven -- equivalent to nearly $253 per head, or about $1,011 for a family of four. So was it worth it?
"I was very impressed, I think the tickets were good for the price," Dennis Serwick said. "I've been to Wimbledon and Roland Garros and these Olympic tickets were better value. We had a good view of the action, didn't need binoculars or anything."
Rick Van Liew said the tickets were equivalent to the price of seats to watch Major League Baseball at the Yankee's stadium.  Indeed, tickets for an October home game against the Boston Red Sox on sale Friday ranged from $38 to $200.
"This is a once in a lifetime experience," Gail Serwick said, "and it's hard to put an exact price on that."