TEL AVIV – The 15-mile trip from Ramallah to Jerusalem requires identification for security checkpoints, as well as patience for frequently long lines. And – for this month at least – a reminder that clocks should be set back an hour.
The Palestinian Authority rolled back daylight saving time on Sept. 27 so that it would be in line with neighboring Jordan. Israel, meanwhile, won't change its clocks until Oct. 27, when the rest of Europe "falls back."
As a result of the change, there has been confusion and added stress for the tens of thousands of Palestinians who work or study in Israel as many struggle to avoid missing appointments, classes, and business opportunities. Up to 40,000 Palestinians have permits to cross the Green Line to work in Israel or the settlements.
For Murad and Sana Klaeb, Palestinians living in the West Bank, that means a month of having to wear his and hers watches. But it's not a fashion statement for the Ramallah couple. His is set to Israeli time, hers to Palestinian. 
Murad Klaeb, 25, almost lost his job in the Israeli settlement of Burkan where 1,000 other Palestinians work. On the day the clocks were changed in the West Bank, Klaeb, along with 100 other workers, arrived an hour late to work in Burkan. 
"They warned us that we would lose our jobs if we were late again," he said. Klaeb changed his watch to Israeli time – late no more, but with new problems at home.
"My wife didn't wake up to make my breakfast before I went to work," he said. "She didn't want to wake up earlier since she said it was still too early." 
In June, Israeli Prime Minister Benjamin Netanyahu promoted his government's decision to synchronize clocks with Europe by moving the time change back several weeks. Europe is Israel's biggest trading partner and the economic benefits were seen as worth a potential inconvenience.
"Now we have a land of milk and honey and sun," Netanyahu said at the time. Israel estimates the move will boost the national economy by $85 million a year.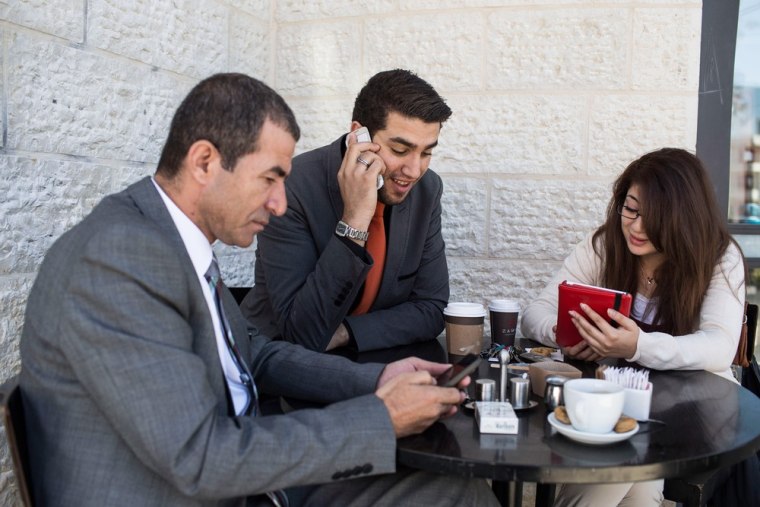 But for now, the change is being felt mostly in the form of headaches on the Palestinian side.
Samira Awad, a 37-year-old insurance worker from Ramallah, drives her three young children the normally 20-minute route into Jerusalem each day for school. But since the time change, the family has had to pack into the car much earlier – at 5:00 a.m. – because the checkpoint is far more congested.
At the end of the school day, "they're exhausted from having to get up so early," Awad said. "They don't want to take their [violin] lessons and they cant finish their homework because they need to go to bed earlier."
Israelis and Palestinians have always had staggered time changes, but this is the first time the discrepancy will last as long as a month.
Oadeh Shehada, the director of trade and industry for the Palestinian Authority, said that beyond the annoyances, the change should not be profoundly disruptive.
"There is no negative effect on our business'" he said. "Mainly people will be confused."
But for Israelis and Palestinians who already live with a separation barrier, the question right now of asking the time is yet another division for the two sides.
Related