TIANJIN, China – Massive explosions that rocked the port city of Tianjin were so strong that residents miles away thought they were experiencing an earthquake, witnesses said Thursday as the death toll rose to 50.
Twelve firefighters were among those killed in the twin blasts, which sent massive fireballs into the sky and devastated a warehouse district as well as nearby homes. More than 700 wounded were being treated at hospitals, including 71 in serious condition. No figure was given for those missing.
Chinese authorities did not say what caused the blasts. Local officials said firefighting was suspended on orders of the central government so that a team of chemical experts could assess hazardous materials on site.
As dawn broke over the area, the full extent of the destruction became clear. Buildings had collapsed, homes were littered with shattered glass and smoke was still visible across the scene more than 16 hours after the explosion. Shipping containers were scattered by the force of the blast, leaving them in bent, charred piles.
"It was like what we were told a nuclear bomb would be like"
"We haven't got any formal announcement from local government," local resident Tang Lei told NBC News. "All the information we got so far is from media or friends who are working in the field."
A large explosion followed by an even more powerful blast lit up the night sky over the city — about 75 miles east of Beijing — at about 11:30 p.m. local time Wednesday (11.30 a.m. ET).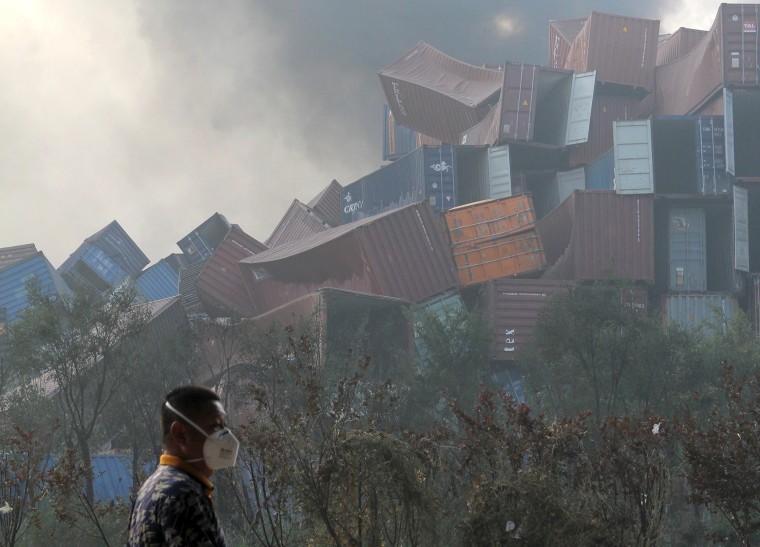 "I felt the ground shaking and my door was making a big noise," he said. "I thought it was an earthquake. Then I went to the window and saw a very huge cloud about [over one mile] from my house. Several minutes later, the second explosion happened and we could feel it very strongly. The cloud was as high as a 20-floor building."
Police said an initial blast took place in shipping containers at a warehouse owned by Ruihai Logistics, which says it stores hazardous materials including flammable petrochemicals, sodium cyanide and toluene diisocyanate. The state-backed China Daily newspaper said the company's manager had been detained by police. The company violated packaging standards during a safety inspection two years ago, China's safety bureau said.
The country's National Earthquake Bureau said the first blast had a force equivalent to three tons of TNT, and the second had the equivalent of 21 tons.
"At first I felt quakes on the bed and then I heard wind rushing into my room, my windows exploded. The door was shaking," Wendy Zhou, a 26-year-old primary school teacher, told NBC News. She was more than six miles away.
"It was like what we were told a nuclear bomb would be like," truck driver Zhao Zhencheng, who spent the night in the cab of his truck after the blasts, Told the Associated Press. "I've never even thought I'd see such a thing. It was terrifying, but also beautiful."
Vafa Anderson, a teacher originally from Canada, posted pictures of his devastated apartment — including shards of glass and blood — on Twitter.
"My wife and I woke up very suddenly to a very loud explosion and quickly ran to the window to catch the second explosion," he said. "A shockwave from the explosion slammed into the building that we live in and shattered both our bedroom, windows, caved in our office store. It blew out the front door, the pressure from the shockwave was so strong, it really just turned our apartment inside out."
Several thousand imported cars stored at the site were burned or destroyed, state media reported. They included more than 2,700 Volkswagens, 1,500 Renaults and 4,000 Hyundai and KIA vehicles.
Levels of air pollutants including toluene, a solvent, and other volatile organic compounds were above national limits in the local area, Chinese local media reported, citing official air monitoring data.
White House spokesman Ned Price said the explosion was a tragedy and that the U.S. was holding the victims and their families in its thoughts.
As often during disasters, Chinese authorities tried to keep a tight control over information. Users on China's Twitter-like Weibo complained that their posts about the blasts were deleted, and the number of searchable posts on the disaster fluctuated, in a sign that authorities were manipulating or placing limits on the number of posts.
NBC News' Alastair Jamieson reported from London.