MUMBAI - Eighteen Indian sailors were trapped and some were killed after an explosion and fire on a diesel-powered submarine berthed at a base in Mumbai on Wednesday.
Defense Minister A.K. Antony said crew members inside the Russian-built INS Sindhurakshak had died. He gave no details.
The explosion just after midnight was likely an accident, but an investigation was under way to establish the cause, the navy said.
"There are some people who are trapped on board, we are in the process of trying to rescue them," navy spokesman P.V.S. Satish said. "We will not give up until we get to them."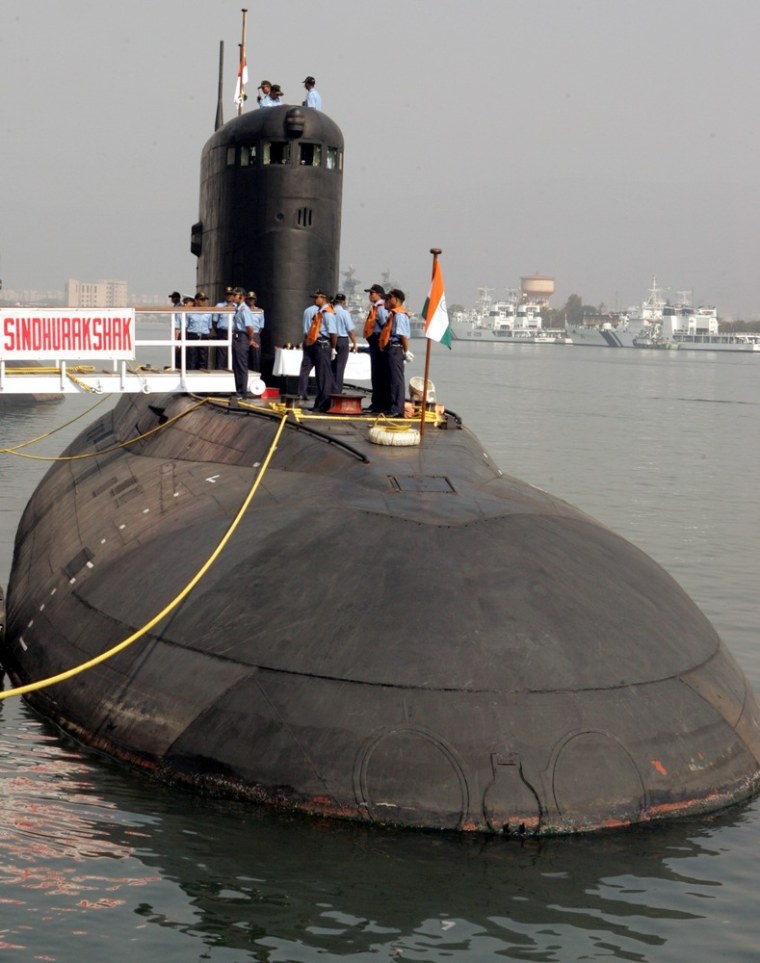 The incident raised memories of the explosion on the Russian nuclear attack submarine Kursk which sank to the bottom of the Barents Sea in 2000, killing all 118 crew members.
The Indian vessel, which returned from an upgrade in Russia earlier this year, had suffered a similar accident in 2010 in which one sailor was killed while it was docked in the southern port of Visakhapatnam.
Typically, such a submarine is fitted with torpedoes and missiles. Torpedoes are launched underwater to attack other submarines while missiles are used for long ranges above water. There was no immediate word on the status of the weapons on board the Sindhurakshak.
"Lot of things are in very close proximity, there is fuel, there is hydrogen, there is oxygen, there are weapons with high explosives on board," said retired Indian navy chief Arun Prakash.
"So a slightest mistake or slightest accident can trigger off a huge accident. The question of sabotage - I mean, all possibilities have to be considered - but sabotage is probably the last possibility."
Three people who were near the submarine at the time of the explosion were injured and being treated in hospital, spokesman Satish said.