Libya is engulfed in its deadliest fighting since the ouster of Moammar Gadhafi, pushing the country to the brink of collapse and creating a "giant black hole for security" in the region, experts warn.
Nearly 100 people have been killed, 400 others wounded, and much of the main airport has been destroyed in the recent battles that have gripped key cities. Violence has spiraled amid a power vacuum left by the removal of longtime dictator Gadhafi, with many placing the blame on shifting Western priorities.
The weak interim government has little power over the country's disparate and indistinct police and military forces. Newly-elected lawmakers are still struggling to find a safe location for their first sitting of the House of Representatives, scheduled for Monday. One of them was briefly kidnapped in Tripoli on Tuesday.
"Libya is so fragmented and factionalized that is hard to see what control - physically or politically – could be exerted anytime soon," said Robin Wright, author and scholar at the Washington-based Wilson Center. "The danger is Libya could become a failed state. In some ways it is bordering on that already."
The militant violence in the oil-rich country threatens to destabilize the region, and prove a big embarrassment to the Obama administration and other governments that helped topple Gadhafi.
In Benghazi, Islamic militants overran a key military base but were forced out of a hospital on Wednesday night by angry crowds. In Tripoli, a massive blaze at a fuel depot near the airport is raging out of control and threatens to cause an environmental catastrophe.
The crisis already has prompted the evacuation of the U.S. and other Western embassies and the United Nations, reducing the supply of credible information and fogging up the picture on the ground. Bomb damage at Tripoli airport has cut off almost all commercial air links, forcing civilians and foreign workers to flee by ship and across land borders – including 6,000 a day into Tunisia alone.
"We simply do not know what is going on," said Giuma Bukleb, Tripoli-born author and spokesman for the Libyan embassy in London. "The militias are all mad. They are panicking because they see themselves losing influence in elections. We are just watching and waiting - looking at social media, just like you."
Central government, military and security forces have had almost no control since Gadhafi's October 2011 ouster. Rival militias have filled the void, all with varying loyalties to local commanders, some with Islamist ideologies, while on the political front Islamist politicians and their opponents have wrangled for control of the government.
Many of the militias are the same rebel groups that fought to topple Gadhafi and were helped to ultimately achieve their goal by a NATO-backed intervention, spearheaded by Britain and France and joined - less enthusiastically - by the United States. Having liberated Libya from Gadhafi, those triumphant militias are now fighting each other – with control of the country's vast natural resources as the attractive prize.
Gadhafi's savage killing at the hands of those rebels – unverified video showed him being sodomized with a weapon – should have been a forewarning of the risk posed by a power vacuum. But the unfolding crisis in Syria and Egypt proved to be a distraction.
"NATO countries were always enthusiastic about ridding Libya of Gadhafi, of its old order, but have shown very limited interest or willingness to invest in creating a new order," said Wright. "That's not a problem limited to Libya."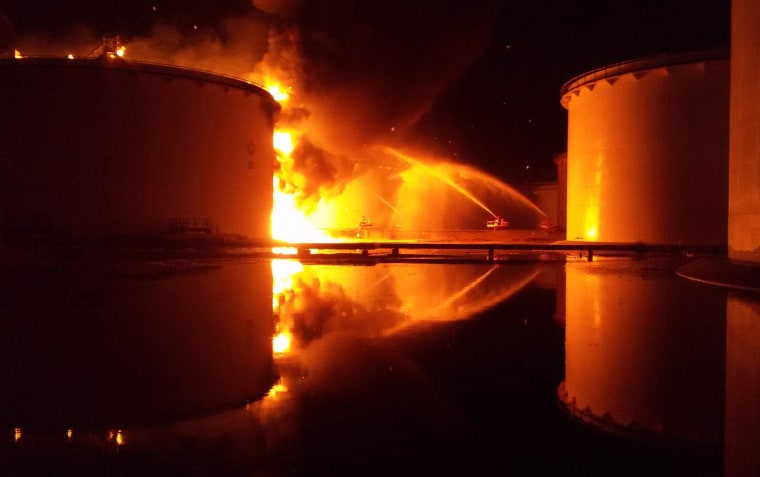 The general who led the NATO mission in Libya admitted this week that more should have been done to help Libya transition to a stable democracy, saying that he was proud of the mission but "disappointed" by the outcome.
"Our view was to create an environment where diplomacy and dialogue would take place, where people would start talking … we created that environment by stopping the violence, but at that point more was needed, and I'm not certain more was completed," retired Canadian Lt. Gen. Charles Bouchard, former commander of the NATO-led mission in Libya, told Canada's CBC News.
"Once the mission was finished we handed over the mission to a very limited U.N. organization which was limited in scope, limited in its mission, and limited in numbers — which certainly I would have assessed as insufficient to accomplish the stability objective that we set for ourselves."
At the time, President Barack Obama hailed Gadhafi's ouster as "the end of a long and painful chapter for the people of Libya." Less than three years on, the U.S. has seen one ambassador killed and another forced out of the country by the violence. The September 2012 killings of Christopher Stevens, and U.S. Foreign Service Information Management Officer Sean Smith, still pose serious political problems for the Obama administration.
Stevens' replacement, Deborah Jones, relocated to Malta on Saturday after violent clashes grew ever closer to the Embassy. She was among 158 Americans, including 80 heavily armed U.S. Marines, who departed in a five-hour land convoy across the border into Tunisia, shadowed by two American F-16 fighter jets and unmanned drones.
State Department spokeswoman Jen Psaki insisted that the U.S. is "committed to the future of Libya," telling reporters that "democratic transitions" are "never easy and require the long view before assessments can be made."
Republican lawmakers seized on the situation. "Unfortunately, this development was predictable, given the lack of direction and leadership from this administration since it ousted Moammar Gadhafi," said Rep. Ed Royce (R., Calif.), chairman of the House Foreign Affairs Committee, in a statement.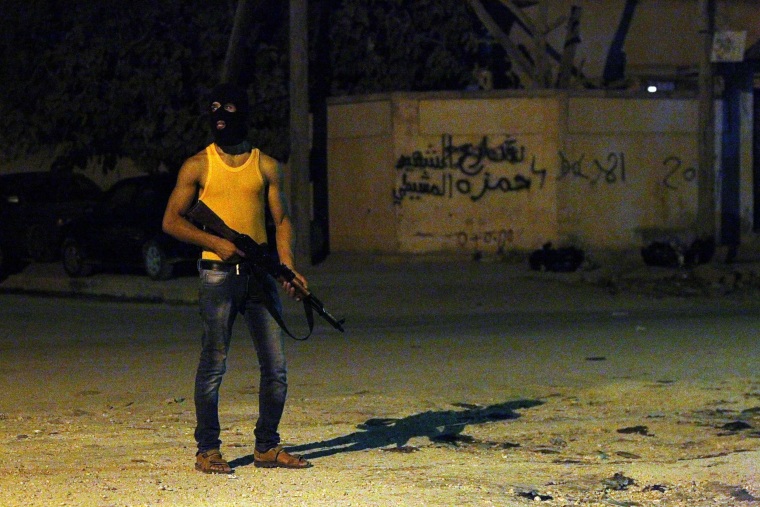 Libya's disintegration is not just an embarrassment for the United States but a potential security headache as it becomes a breeding ground for radical Islamists and threatens to further destabilize neighboring countries.
"America cannot simply stay out of it. This is a global security challenge," said regional political analyst Imad Mesdoua. "Libya is becoming a giant black hole for security and the risk posed by what is happening there right now is tremendous... Algeria shares almost 1,500 miles of border with Mali and Libya. That's 1,500 miles of instability."
He added that many of the Western jihadist fighters emerging in Syria and Iraq had been trained in Libya. "It's becoming a hub of instability, exporting fighters."
Tunisia's foreign minister warned his country cannot cope with the numbers fleeing the violence, threatening to close the border if necessary.
With Libya in the brink of collapse, the chances of new American action in Libya are virtually zero. "We believe that [Libya's] challenges are inherently political and must be solved through dialogue," Psaki said.
Rami El Obeidi, the former intelligence chief of the rebels during the uprising against Gadhafi, posted on Twitter: "Sadly, dialogue will not stop chaos in Libya - it never has in its entire history. Only overwhelming force and martial law can restore order."
Still, some see a chance that Libya can ride out the current violence - even if it takes months or years for fighting to die down.
"Libya could have a rosy future once a proper authority emerges that has acknowledged power over each part the country and Libya is back under the rule of law not the rule of the jungle," said Chris Doyle, director of the Council for Arab-British Understanding. "It is too early to tell if Libya is on the point of collapse. A partition is possible. But Libyans will look at what happened to Syria and realize that they don't want to go down that path."
Late Wednesday, thousands of young protesters raised signs in Benghazi reading "No militias. Yes to army and police." They marched to a central hospital called al-Jalaa controlled by Ansar al-Shariah, expelled the militias and took control over it, hospital spokeswoman Fadia al-Barghathi told The Associated Press.
Reuters and The Associated Press contributed to this report.