Australian police say they are treating a siege in Melbourne, Australia on Monday as a terrorist incident but are confident the perpetrator acted alone.
Twenty-nine-year-old Somali-born Australian Yacub Khayre was shot and killed by police after he killed a man and took a woman hostage in an apartment block. Three police officers were injured during the standoff.
Khayre had booked a prostitute to meet him at an address in the south of the city on Monday afternoon local time. But when the 36-year-old Colombian woman arrived, Khayre killed the building's concierge, a 36-year-old Chinese-Australian man, and took her hostage. It's alleged he then called the offices of NBC's Australian partners Channel 7 and told an employee "This is for IS [Islamic State], this is for Al Qaeda."
ISIS has issued a claim of responsibility through its news agency, Amaq, but Australian police say they are treating that with a heavy degree of skepticism.
"We're aware of online, them having claimed responsibility, but then they always tend to jump up and claim responsibility every time something happens so we note that that has happened. But he's also made statements last night around al Qaeda." State Police Commissioner Graham Ashton said.
Al Qaeda and ISIS also have no direct affiliation, and are effectively in opposition to one another, making the alleged claim by Khayre confusing.
Australian media have reported Khayre deliberately tampered with his court-issued GPS ankle bracelet to lure police to the address, and after a two hour siege he emerged from the building shooting, injuring three police before being killed. The woman escaped unharmed.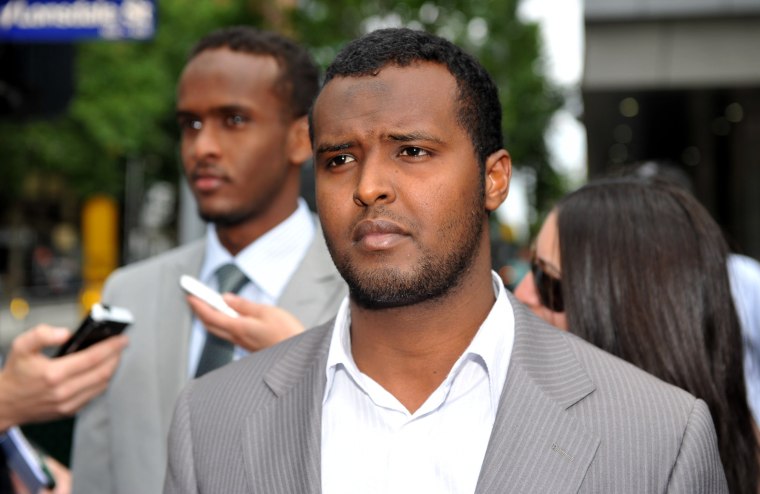 After immigrating to Australia with his parents from Somalia at the age of 3, Khrayre had a long history of violent crime and was on parole for a 2012 drug-affected home invasion.
He had previously been accused of involvement in a 2009 terror plot to attack an Australian army base, and although he was acquitted of those charges, three of his associates were jailed for 18 years. Khayre nevertheless had a criminal record of over 40 offenses, including aggravated burglary, unlawful assault and drug possession.
Australian Prime Minister Malcolm Turnbull said he would be asking for answers from state authorities on how Khayre was allowed to be out on parole.
"This terrorist attack by a known criminal, a man who was only recently released on parole, is a shocking, cowardly crime. It is a terrorist attack and it underlines the need for us to be constantly vigilant, never to be deterred, always defiant, in the face of Islamist terrorism." He told reporters this afternoon.
"He had a long record of violence. A very long record of violence. He had been charged with a terrorist offence some years ago and had been acquitted. He was known to have connections at least in the past with violent extremism, but he was a known violent offender. How was he on parole?"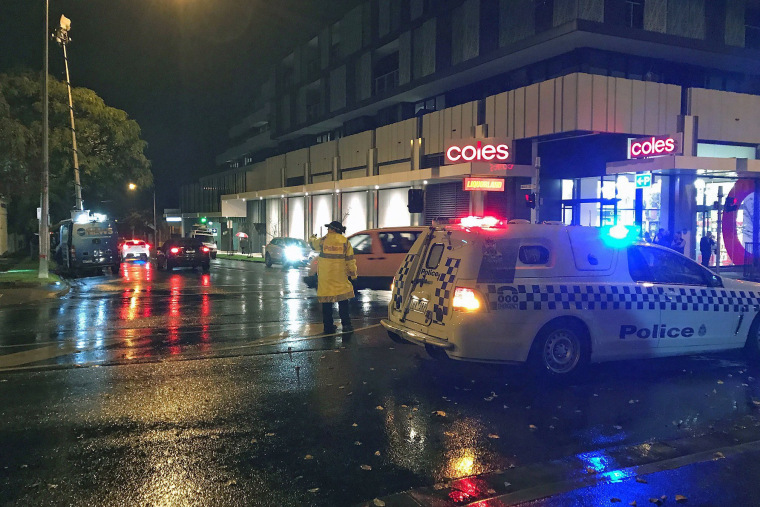 Australian authorities also have concerns the attacker may have been inspired by recent events in the UK and are looking to ensure the chain doesn't continue and others are inspired by Khayre's attack.
"We're always concerned about copy cats. And to that end, during the evening I was in constant contact with the chief commissioner of Victoria Police but also in contact with police commissioner colleagues around the country. And making sure that all the intelligence that was coming and information coming from this investigation is being passed around to all state jurisdictions so everybody is on the same page," Australia's acting police commissioner Michael Phelan said.
The Australian terror threat level remains at probable, the third-highest level on the government's scale, as police say they believe Khayre acted alone.
"All the indications thus far, there is nothing that we've found thus far that would suggest to us that this was anything that was planned or done in concert with others. We believe at this stage from the information we have that he was acting alone and there isn't a sort of ongoing threat in relation to any plot or anything around this individual," Ashton said.