With Ramadan drawing to a close on Tuesday, ISIS has fulfilled its promise of staining the Muslim holy month with bloodshed around the globe—taking credit for some of the deadly attacks that have killed hundreds in several countries, including in Iraq, Kuwait, Bangladesh, Turkey, Saudi Arabia.
The terrorist group vowed in May, just before Ramadan began, to make it "with God's permission, a month of pain for infidels everywhere." And that it was, with many countries remaining on high alert following the attacks.
The past few days have been particularly violent. Suicide bombs rocked two Saudi Arabian cities on Monday, killing at least four security officers, wounding five other people — and coming just hours after authorities in a third city stopped a bomber just feet from the U.S. Consulate.
Meanwhile, Baghdad experienced what is believed to be its worst attack in a decade and Bangladesh witnessing a gruesome standoff that left 20 hostages dead, many of them foreigners.
In Saudi Arabia, the attacks began Sunday night, when a suicide bomber was stopped by security personnel in a hospital parking lot about 30 feet from the U.S. Consulate in Jeddah.
The bomber detonated an explosive belt, killing himself and "slightly" injuring two officers, the Saudi Interior Ministry said in a statement. No Americans were hurt and all State Department personnel were accounted for.
Hours later, on the other side of the country, a pair of suicide bombers attacked the Persian Gulf city of Qatif, a Ministry of Interior source confirmed to NBC News. Details of casualties in the largely minority Shi'ite city were not immediately available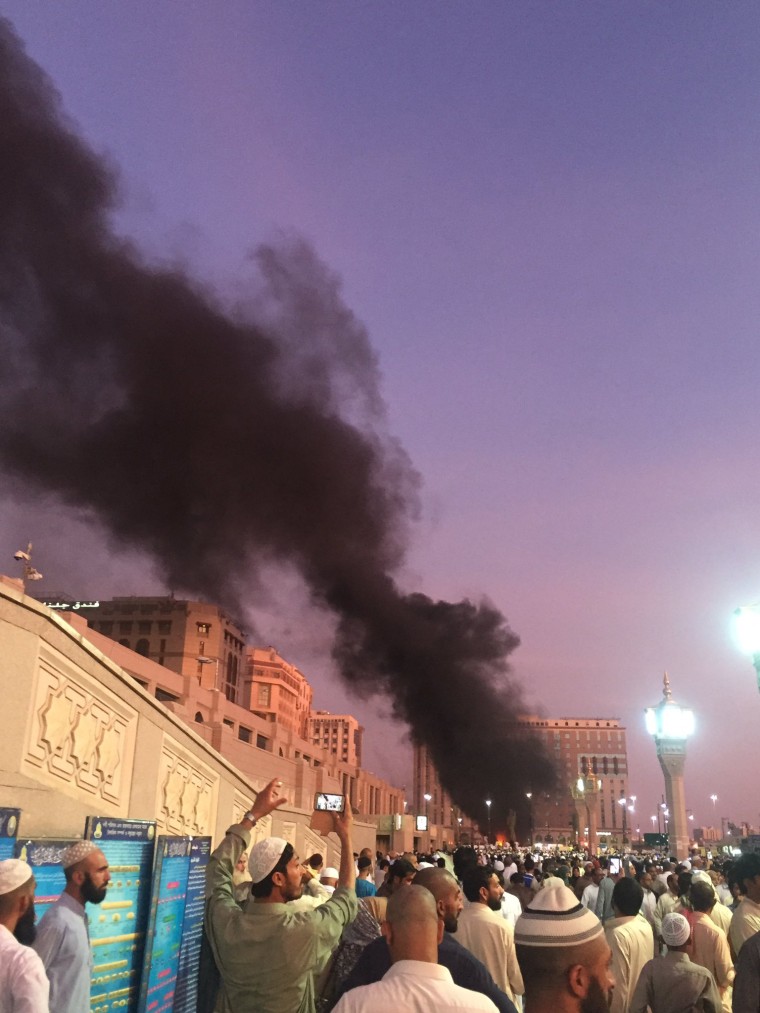 Shortly after that, four security officers were killed — as well as a suicide bomber — near the security headquarters of the Prophet's Mosque in Medina, a site considered to be the second holiest in Islam.
The attack occurred in a parking lot outside the mosque, during Maghreb prayers, when the bomber pretended to break the Ramadan fast with a group of security personnel, al Arabiya reported.
No one had claimed responsibility for the string of bombings, but since 2014, ISIS has stepped up its attacks in the Saudi kingdom, with bombings and shootings that have killed scores of security officials and Shi'ites.
Officials in Iraq and elsewhere have attributed the recent wave of suicide bombings linked to ISIS as a reaction to its own battlefield losses.
That counterattack appeared to stretch a bit further on Monday, as Malaysian authorities announced the country's first ISIS attack, the Associated Press reported.
That grenade blast at a bar last week killed eight and was carried out by two men instructed by a Malaysian man fighting with ISIS in Syria, according to the AP.
The bar, which was playing a soccer match at the time of the explosion was described as un-Islamic by the militants.
In addition, more than 40 people died and more than 200 were injured last during an attack, which bore the hallmarks of ISIS, in Turkey at Istanbul Ataturk Airport.