At least seven people were shot dead at a synagogue in east Jerusalem on Friday, Israeli police said, as violence escalated following a raid in the occupied West Bank city of Jenin.
The attack, one of the deadliest on Israelis in years, took place as worshippers were celebrating the Jewish Sabbath in the Neve Yaakov neighborhood, police said in a statement.
The shooter was "neutralized" in a shootout with officers after a police chase, the statement said, using a term that typically means he was killed.
"Seven innocent people were slaughtered and more were injured," it added.
The U.S. condemned the "apparent terrorist attack," a State Department spokesperson said soon after. "This is absolutely horrible. Our thoughts, prayers, and condolences go out to those killed and injured in this heinous act of violence," they said.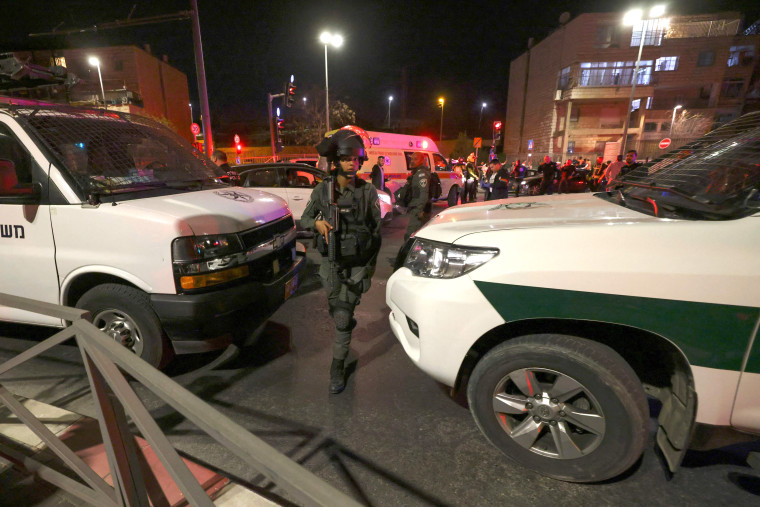 The U.S. "stands in solidarity with the Israeli people," the spokesperson said when asked whether the attack was related to frustrations over the West Bank raid, adding that "broadly" steps need to be taken to "de-escalate tensions" 
Prime Minister Benjamin Netanyahu later arrived scene, where some in the crowd chanted "death to Arabs."
The attack occurred in east Jerusalem, which was annexed by Israel in the 1967 Arab-Israeli war, and came after the deadly Israeli raid in the West Bank. Nine Palestinians, including a 61-year-old woman and seven militants were killed in Thursday's raid on Jenin, a rare daytime operation that Israel's military said was carried out to to prevent an imminent attack.
Israel then carried out airstrikes in Gaza early Friday after Palestinian militants fired rockets, a limited exchange that nonetheless raised concerns of further flare-ups.
Concerns that months of growing violence could worsen have been exacerbated by Netanyahu's return to power at the helm of a government considered to be Israel's most far-right ever.
The shooting come ahead of a visit to the region by Secretary of State Antony Blinken, which was announced just hours after Thursday's raid on the Jenin camp.
Palestinian militant groups identified seven of the nine people killed in Thursday's raid as their fighters, with 20 more people wounded. Israel said that it had killed a number of militants during a gunbattle and was looking into reports of other deaths.
Israel confirmed five rockets were later fired at its territory, and three were intercepted. One fell in an open area and another fell short inside Gaza, it said. Israeli airstrikes targeted an underground rocket manufacturing site for Hamas, as well as militant training areas, the military said.
"The terrorist organizations in the Gaza Strip suffered a blow tonight from IDF fire in a series of attacks," Israel's defense minister, Yoav Gallant, said Friday of the airstrikes on Twitter.
There were no reports of casualties on either side.
Across the Gaza strip, tens of thousands of Palestinian gathered in protest in various cities.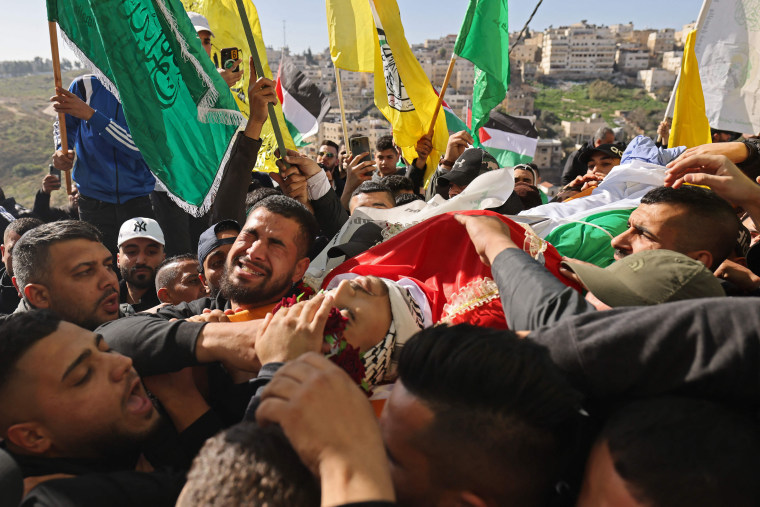 The violence comes amid tensions over the Palestinians' long campaign for an independent state in the West Bank, the Gaza Strip and east Jerusalem, which were captured by Israel in 1967. While much of the world views the West Bank as occupied, Israel considers it to be disputed territory and has built dozens of settlements that are now home to roughly 500,000 Jewish settlers.
Tensions have soared since last year, when the Israeli military began conducting frequent raids into Palestinian territory following several attacks targeting Israelis.
Jenin, where the Islamic Jihad militant group has a major foothold, has been at the center of the intensifying crackdown and was where veteran Palestinian American journalist Shireen Abu Akleh was killed last May.
The group called for Palestinians to participate in a mass protest after Friday prayers, in support of those killed in Thursday's raid.
The Palestinian Authority, which has scant control over the camp and waning influence over the territory as a whole, responded to the raid by declaring that it would halt the ties its security forces maintain with Israel in a shared effort to contain Islamic militants.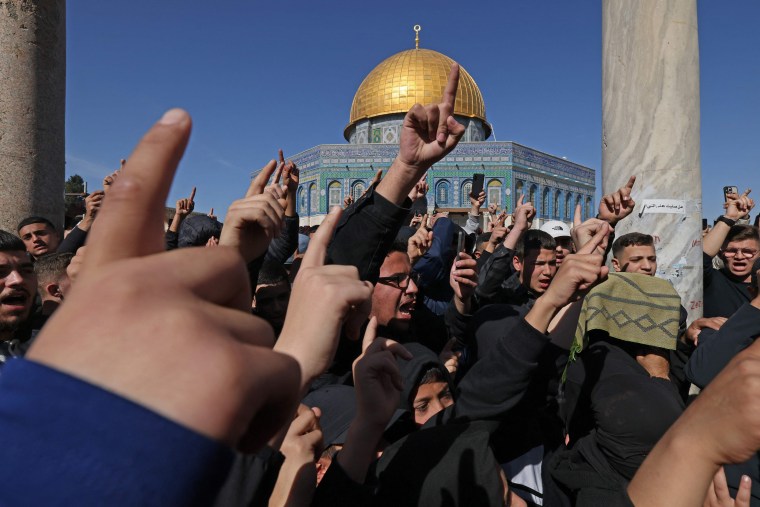 President Mahmoud Abbas on Thursday declared three days of mourning and for flags to fly at half-staff in mourning.
Palestinian Authority spokesman Nabil Abu Rudeineh said Abbas had decided to cut security coordination in "light of the repeated aggression against our people."
The announcement adds to the pressure ahead of Blinken's planned trip to the region early next week, where he will meet with both Netanyahu in Jerusalem and Abbas in Ramallah.
Amnesty International's Middle East and North Africa research and advocacy director, Philip Luther, condemned the actions of Israeli soldiers, who Palestinian officials said had blocked ambulance workers in Jenin from accessing the wounded and fired tear gas at a hospital.