LONDON — It wasn't until Gavin Reid was pulling himself up a 75-foot yacht mast in the dark in the middle of Pacific Ocean that he actually stopped to think about the peril he was putting himself in.
The 28-year-old, who has been deaf from birth, was competing in a round-the-world race when his boat received a distress signal from another vessel off the Australian coast.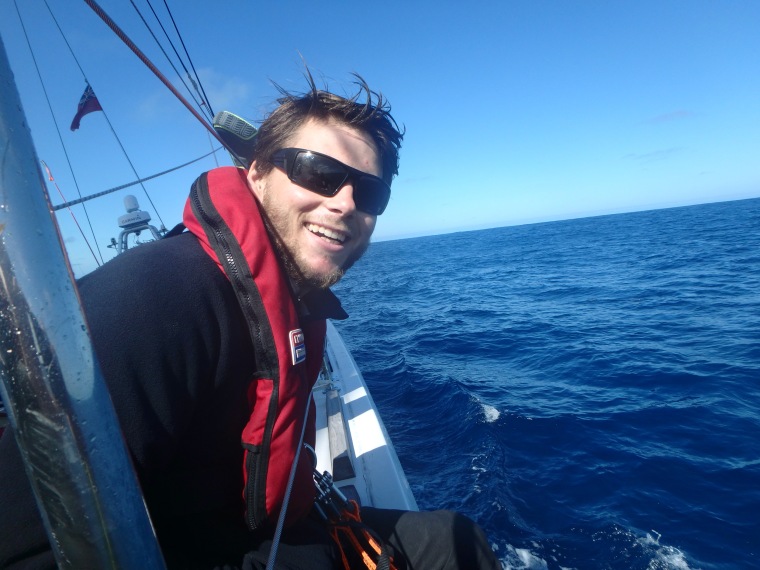 A crew member aboard the stricken yacht had become tangled high in the boat's rigging for an exhausting seven hours.
Despite his disability and his lack of any sailing experience before the trip, Reid volunteered to help.
"It didn't really connect with me just how dangerous it was until I was up the mast and started swinging about a bit," he told NBC News, recalling the rescue.
Reid recounted the experience after winning Yachtsman of the Year at the Yachting Journalists' Association awards in London this week. It's one of sailing's highest accolades, and has been dubbed the "knighthood of yachting" by a former winner.
Other hopefuls who Reid bested included Giles Scott, who won a gold medal at the Rio Olympics last year.
"I'm very humbled to win," Reid said after the ceremony. "I know I did something amazing and I've achieved recognition for it, but I didn't really expect more ... I'm just really happy that it's happened … It's just amazing."
His award wasn't earned lightly, however.
Reid, who lives in the English city of Cambridge, was participating in the Clipper Round the World Yacht Race. The annual event allows amateur sailors guided by professional skippers to circumnavigate the planet in a 46,000-mile course split into eight legs.
It's just as demanding as it sounds. This year, two people died during the challenge, one after being knocked unconscious and other who was swept overboard by strong winds in the Pacific.
Reid's boat, Mission Performance, received an SOS call from an Australian vessel that was returning from another event, the Sydney-Hobart Yacht Race.
One of its crewmates had been stuck up the mast for seven hours. He was tangled in the ropes and the other three on board crew had sustained injuries — they needed help.
Reid volunteered because he had a reasonable amount of experience climbing the mast of his own boat.
Getting to the other vessel, however, was far from straightforward.
"Because the conditions were so rough, the skipper said, 'You've got to put your dry suit on and jump in the water,'" Reid said. "In that moment it was like, 'Oh, I'm actually going into the water,' and it kind of hit home what I was going to do."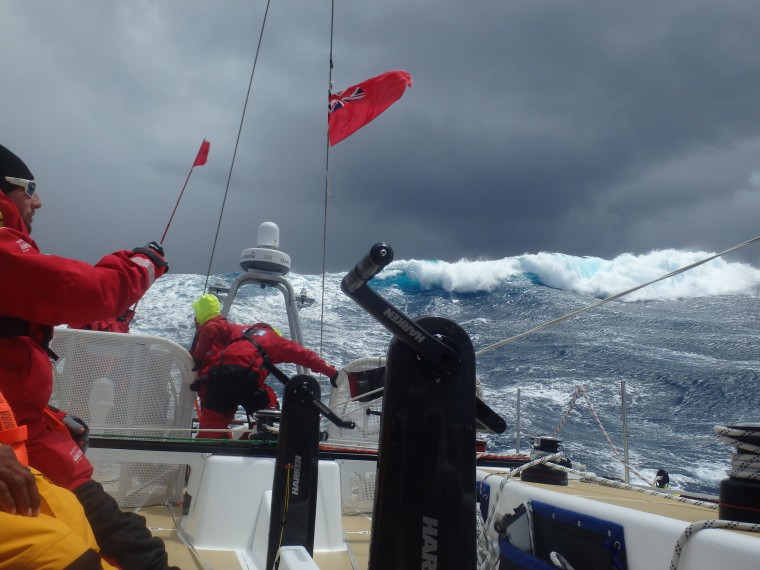 It took him a further two hours to untangle the stranded crew member, a task made no easier by the communication barrier.
"The only problem is I'm deaf and they're Australian, so I don't know if I'll be able to hear them," he said with a chuckle, recalling his thoughts at the time. "I'm just amazed that I managed to do the job that I set out to do."
In fact, communicating during the race was a struggle at the best of times. Reid's team members even attempted to use glow-in-the-dark lip gloss so he could lip-read them at night.
He can laugh now, but at the time the situation was desperate.
"He was getting banged into the spreaders," Reid said, referring to the metal poles attached the mast that support the sail. "He was very, very, close to being in a total panic. I have a lot of admiration for him as he was relatively calm for a man who'd been stuck up there for nine hours."
Reid managed to untangle him and bring him down to safety. The ship's four crew members recovered from their injuries and were back sailing shortly afterwards.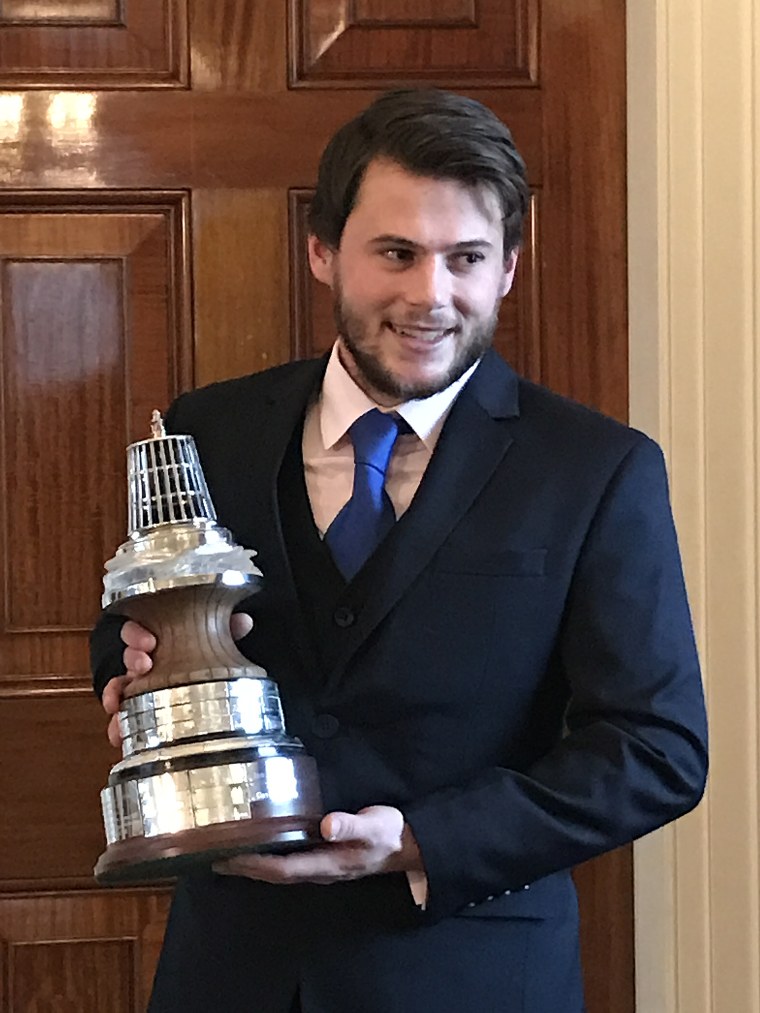 In helping their fellow seamen, however, Reid's boat, Mission Performance, had to temporarily suspend its around-the-world bid. His team were in 5th position before picking up the distress signal, and even after the lost time was accounted for, they got caught in a storm and eventually finished in last place on that leg.
Sensing the injustice of being punished for helping a life-or-death situation, the organizers eventually reinstated the crew into 5th place overall.
Back on dry land, Reid has returned to Cambridge, where, 40 miles from the ocean, he joked he is "a bit landlocked at the moment." Nevertheless, the experience has given him the confidence to pursue sailing as a career.
In quiet moment moments after receiving the award Tuesday, however, his eyes filled with tears as he contemplated more personal matters.
"They're tears for my mum. She passed away two weeks before I finished the race," he told NBC News. "So I was just thinking about her, and how she wasn't here to see me win it … I'm very happy to win it, real honor, but I was just thinking about her."