At least two people are dead after gunmen stormed a Western-friendly Mali resort just outside the nation's capital, Bamako, on Sunday evening, authorities said.
Gunfire could be heard and smoke could be seen rising from Le Campement Kangaba in Dougourakoro, a luxury resort popular with Western tourists on the weekends, according to Diakate Benson, a spokesman for the Malian President of the National Assembly.
French and Malian troops responded to the attack that killed at least two people, according to Security Ministry spokesman Baba Cisse. One was identified as French-Gabonese, and the other's nationality had not been confirmed.
"Security forces are in place. Campement Kangaba is blocked off and an operation is under way," Cisse told Reuters. "The situation is under control."
Residents nearby said they heard gunshots and could see smoke.
"I heard gunfire coming from the camp and I saw people running out of the site," Modibo Diarra, a nearby resident, told the Associated Press. "I learned that it was a terrorist attack."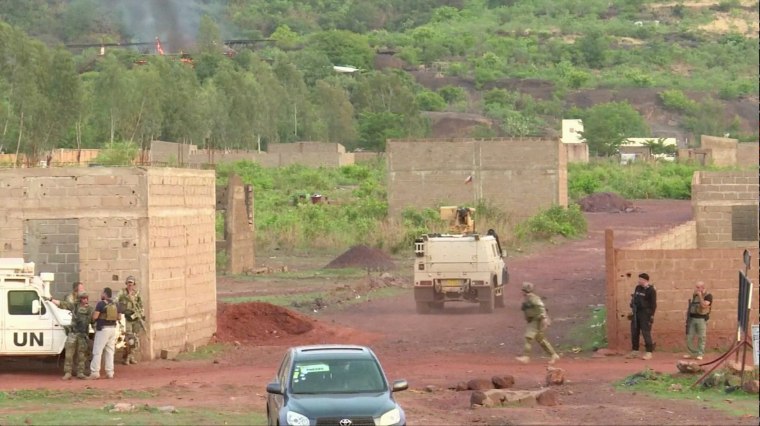 Cisse later told Reuters that security forces had successfully rescued 32 guests from the resort.
The Malian military said in a statement that two people were injured, one civilian and one member of the security forces. The military called the attackers "terrorists" and said one injured gunman was able to escape, leaving behind a machine gun and bottle containing explosive substances.
There were three or four assailants, according to the Associated Press.
The European Union Training Mission in Mali said in a tweet that they were aware of the attack and responding alongside Malian Security Forces.
An American official at the U.S. Embassy in Bamako confirmed details of the attack to NBC News and said the embassy had no knowledge of any Americans at the site of the attack.
The U.S. Embassy in Bamako warned American citizens that there was an increased threat of attack against locations in Bamako frequented by Westerners earlier in June.
In the same message, the U.S. Department of State advised against travel to Mali.
Mali was once a staging area for al-Qaeda's North African activities, led by Mokhtar Belmokhtar. They claimed responsibility for a similar attack on a Bamaoko hotel in 2015.